Elizabeth Lee
May 30, 2018
Vivian Jou, an ABF (Academy for Business and Finance) senior at Bergen County Academies, currently interns at the commercial lending department at Columbia Bank Headquarters in Fair Lawn. Academy Chronicle: Why and how did you choose to do this internship? Vivian:  I was introduced to the Columbia Bank internship through Olivia Lee, a former ABF student who is one year above me.  She had worked in the data analysis department during her senior year and told me that it was a great learning experience for her.  It also seemed like a perfect fit for me because I had wanted to find an internship related to business. AC: What was the application process like? Was it competitive? Do you know many students applied for the internship? Vivian: The application process was pretty straightforward.  I sent in my resume and cover letter and waited for a reply.  What complicated the process was the fact that I was out of the country in July– the month they began interviews– because I was participating in a volunteer program in Taiwan.  However, Columbia Bank was very accommodating and we had the interview in August after I had recovered from the jet lag. AC: Could you describe a typical workday? How many hours do you work in a typical day? Vivian:  I typically work from 9:00 a.m. to 4:00 p.m., with an hour-long lunch period in between.  I arrive at around 8:30 a.m., get myself settled in, and check in with my mentor at 9:00 a.m.  I work on my assigned project until 12:00 p.m., which is when I take my lunch break. After lunch I continue working and I meet with my mentor at 4:00 p.m. so that I can get advice on how I'm progressing.    AC: What skills are necessary to do this internship? Vivian: For this internship I think you need to be familiar with how to handle a large amount of data.  These days, I look at many financial statements and organize different loan data into financial reports. Also, being well-versed in all of the Microsoft Office software, especially Excel, is pretty important. AC: What's the best part of your internship? Vivian: The best part about my internship is how food is so accessible!  It seems like people bring in food every day and just a couple weeks ago, we had a huge bagel breakfast.  Also, my getting my lunch is really convenient; I can either go to the cafeteria downstairs or the Fair Lawn Promenade, which is about a 3-5 minute walk away. It has restaurants like Qdoba and Starbucks.   AC: Are there any negatives to your job? Vivian: There really isn't any negative I can think of except for the possible weight gain! Luckily, my internship is also situated near a gym. AC: How would you describe the culture in your workspace? Vivian:  The people are very friendly here.  Every Wednesday morning, I exchange greetings with dozens of people on my way to getting coffee.  Everyone is very willing to talk to you and help you with any problems you might be having trouble with.   AC: Are there any big projects coming up? Vivian: I'm not currently aware of any culmination projects. Right now, I'm still working on the financial reports for a future presentation.  Hopefully I'll be done by the holidays so that I can get started on the two other big projects my mentor has in mind! AC: From your experiences at your internship, would you like to pursue a career in a similar field? Vivian: I definitely think I want to pursue a career in something similar to what I'm doing right now.  I feel like Columbia Bank is a great way for me to apply my business knowledge and figure out what I want to be.
Elizabeth Lee
May 30, 2018
David Ni is an ABF (Academy for Business and Finance) senior at Bergen County Academies. He currently interns at Wrightson ICAP, an economics research firm in Jersey City, New Jersey. Academy Chronicle: Why did you choose to do this internship? David: Well, by junior year, I knew I wanted to do something related to the economy for my senior internship. My prior experiences with economics at BCA, namely the Euro Challenge and Fed Challenge teams, have been great. After talking to Mr. Schwimmer (my Econ teacher), guidance counselor, and many upperclassmen, I decided that the internship at Wrightson was most suitable for me. AC: What was the application process like? David: The application process was pretty simple, actually. I just reached out to the senior intern at the time for the mentor's contact info and emailed the mentor afterward with a resume and cover letter. After hearing back from the mentor, I scheduled an informal interview for a convenient time. I went to Jersey City for the interview, which lasted for about an hour and a half. A few days later, I heard back and got the internship! AC: Could you describe a typical workday? How many hours do you work in a typical day? David: Usually, I leave my house at about 7:30 AM and take the train. Then, I take a light rail to arrive at work at around 9 AM. After greeting my coworkers and checking in with my mentor, I mainly focus on the intern tasks that need to get done every week. Lunch is usually around 11 to 11:30 (when there isn't much trading going on the floor). Afterward, I work on medium-term to long-term projects that are either quantitative, like modifying databases and creating charts in Excel, or qualitative, like writing short reviews of current economic conditions and producing summaries of past Fed meeting minutes. AC: What skills are necessary to do this internship? David: There are not that many necessary prerequisites to my internship at Wrightson other than general knowledge of economics and central bank functions. Good writing skills are very useful when trying to communicate analysis in an understandable way. Technical skills like proficiency with Excel and Bloomberg are also good to have. AC: What's the best part of your internship? David: The most enjoyable part of my internship is the fact that I get to work with great mentors and coworkers. Since the vast majority of economics research focuses on either theoretical modeling (work that is done by college professors) or equity and industry research (research departments in Investment Banks), it's an extremely rare opportunity to combine theoretical concepts and practical applications into one's work. My mentor is one of the most well-respected economists in his field, and I cherish my chance to be working with him and part of his team! AC: Are there any negatives to your job? David: The most frustrating part of my internship is definitely the traveling. Jersey City is pretty far away, so I have to spend 2 to 3 hours a day on the road. And my internship is unpaid, unlike the ones some of my friends have. That kind of sucks! AC: How would you describe the culture in your workspace? David: Since I am only working with a very small part of the company (a team of 5 people), the culture is very friendly and relaxed. Each one of my co-workers has had very interesting life experiences that they are willing to share, which always lightens up the mood. One of them works as a part-time lecturer at St. John's University School of Law, for example. AC: Are there any big projects coming up? David: So the major project that I have worked on for a few weeks is about the recent decision of the Fed shrinking its balance sheet.  The way the Fed does this is by selling its securities. The goal of my current project is to establish a live tracking of the average duration of these securities holdings. AC: You seem to be enjoying your internship! So, do you want to pursue a career in a similar field? The same company, perhaps? David: After doing this internship, I am more certain that I want to work in economics research. I'd love to work at Wrightson as well. The work I do is interesting and interdisciplinary, qualities that I value dearly. Through this internship, I also gained exposure to many other areas of economics and finance. After my school year internship, I am thinking about the possibility of interning at Wrightson again over the summer. This internship was amazing and I definitely see myself working at the company long term! AC: Thank you for your time! David: The pleasure is mine.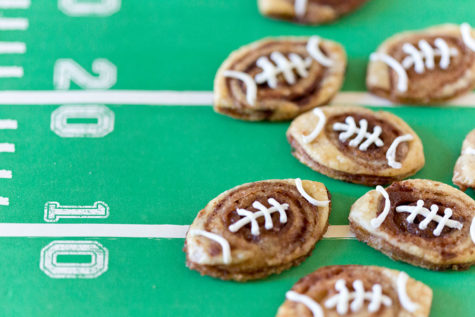 Rachel Holliday
February 2, 2018
It's almost game day, and you are set to go; guest list, flatscreen, drinks, commercial games and quarters to bet... except, you need TV fuel! This compilation of top hit recipes will make you the best host for Sunday night's game. Onto the eeeeats: SAVORY Game Day Nachos Bacon-Wrapped Jalapeno Poppers    "Pigskins" in a Blanket  Fried Pickles Mini Meatballs Buffalo Ranch Chicken Wings  Hot and Spicy Buffalo Wings  Spicy Sriracha Chex Mix Mac and Cheese Bites Slow Cooker Pulled Pork Sandwiches with Buttermilk Coleslaw  Two-Bite Football Pastrami Sandwiches  THE DIPS   Blender Salsa- 6 ways! Guacamole  Buffalo Chicken Dip 7-Layer Dip   Spinach and Artichoke Dip  Cheese-Ball and Crackers  THE SWEETS  Chocolate Football- Dipped Strawberries Cinnamon Roll Cookies  Caramel Apple Taquitos S'mores Dip Touchdown Cupcakes Team Pride Oreo Truffles 
Jamie Yun Lee and Elizabeth Lee
March 20, 2018
This year, the Society for Science and the Public approved the Bergen County Academies to run our own ISEF-affiliated fair: The BCA Research Exposition! On Sunday March 4th, 2018, over 200 BCA research students presented their research projects to judges. Two students from the BCA Research Expo go on to represent BCA at the International Science and Engineering Fair (ISEF). The Academy Chronicle had the opportunity to sit down with Mrs. Donna Leonardi, a research teacher and the director of the BCA Research Exposition, as well as participating students Julie Karam, Julia Jeong, Jennifer Kong, and Sunay Joshi, to discuss the fair. Mrs. Leonardi has years of experience running the Middle School Science Fair at BCA as well as attending science fairs at state, national, and international levels. "We should be considered very fortunate because feeder fairs are usually regional or state fairs, at which they select the students to go to the international fair," said Mrs. Leonardi. "There are only a few magnet schools that have been affiliated with the national organization to have their own feeder fair to ISEF." The research exposition gave BCA students a chance to finally see the work that their peers have done. "Before the expo, everyone had been working in their own labs, and there wasn't a lot of time to share all the wonderful things that they did," said Mrs. Leonardi. "This event gave everyone the opportunity to see what their friends had been doing in the research labs. To me, that was the most fortunate and amazing outcome of having our fair here at BCA." This fair provides a comfortable environment for students to showcase the many projects that they have worked on, which range from agriscience to robotics to cancer research. AMST junior Julie Karam shared similar thoughts about the school's first-ever research exposition: "Many students at BCA are involved in research, but not everyone necessarily receives opportunities to present their work. This fair provides a comfortable environment for students to showcase the many projects that they have worked on, which range from agriscience to robotics to cancer research." Julia Jeong, a junior from AAST, said that she was excited in the days leading up to the expo because it was exclusively for students she knew, and being able to formally learn from her friends about the research projects they were working on made the event more than just any other research fair. AAST sophomore Sunay Joshi, who has been working on his research since December 2017, shared that he really enjoyed learning about his friends' projects, as well as explaining his work to fellow students. The research exposition surpassed the expectations of AAST junior Jennifer Kong who said that it was a unique learning experience, as she met judges knowledgeable in scientific research and medical professionals. "I think the most unique opportunity the expo provided was meeting these judges: I was even able to connect with an anesthesiologist who said he worked with seniors from BCA for their Senior Experience," Jenn explained. She also shared the unexpected fun she had at the exposition: "This research event was different from others I have attended in that there existed a different, more comfortable environment: the judges were friendly and did not seem to purposely interrogate you. The competitors were more supportive as well, as many of us are friends." Sunay appreciated the constructive criticism that his judges offered. "They pushed me to think of new application of my research and how it could be applied in real life," he said. His math research was on the use of generating functions in brick packing and tiling problems. Unfamiliar to many, a classic example of a tiling problem includes the following: given an 8-by-8 chessboard with two opposite corners removed, can the resulting board be completely covered by dominoes? The BCA Research Exposition had three divisions: novice, local, and ISEF. Only the highest division‒ISEF‒were allowed to qualify for the Intel ISEF Symposium and represent BCA. The novice division held its event in the Upper Cafeteria, and the local and ISEF division were located in the gym. Julia shared that her novice division's format was different from that of other substituents of the expo: "We were categorized by the type of our research and presented in front of our peers in our respective categories. These fellow researchers judged us as we presented our work according to a scoring rubric we were given. Afterwards, we attended two workshops of our choice where we learned skills ranging from squid dissections to preparing an ELISA [Enzyme Linked Immunosorbent Assay]." She added, "The workshops were student-taught and were just as engaging as they were informative to us research students!" Jennifer explained how her day went as a member of the local division: "The local and ISEF division were together in the gym. The first few hours were dedicated to judging, so multiple judges asked competitors to present and asked follow-up questions. The air was tense and buzzing with nervous but excited energy. We then had a break, and students had the chance to go around the gym and look at their peers' projects." Jennifer concluded, "After some more judging, the expo became open to the public, and seeing parents proudly listen to their children's' work with smiles on their faces was great to see!" Sunay shared how the research exposition taught valuable lessons about perseverance in long-term projects. "At times, research can be difficult and discouraging," he said. "But in the long run, your efforts pay off." The research exposition has certainly inspired BCA's research students to become more involved with their projects, as the research exposition provided an easier transition into participating in research fairs, which can be intimidating at times. Julie agreed, mentioning that presenting becomes easier with practice. She believes that the hard work everyone has put into the event has paid off and hopes that the research exposition will become a tradition at BCA for years to come! You can find out more about the BCA Expo here.
Elana Lane
May 13, 2018
As the school year draws to a close, spring brings along a push towards reflection and change for the better. "How can I make next year a better one for me?" is a question pondered by many students around this time. More often than not, change for the better starts with how you feel about yourself. Makeup is an agent some teenagers use to enhance their own attributes. Our social media feeds are consistently supplied with posts from beauty gurus who advocate for this eyebrow pencil, or that brand of mascara. Is makeup really a necessary part of our lives as BCA students, though? After studying the results of a survey of 215 students about makeup use at our school and interviewing a few individuals, here's what I found. Why the Makeup-Wearers of BCA Wear Makeup In a survey of 215 BCA students, about 60% of them choose to wear makeup– whether it be for special events, hanging out with friends on the weekends, or simple daily wear. Of this 60%, about 35% said they wear makeup to school. And why do those who wear makeup, wear makeup? Some students, like AAST sophomore, Sawya Brown, use makeup as a stress reliever. "I wear makeup because I find applying makeup to be very relaxing," said Sawya. "For me, makeup is a way to express myself. It's like a moment for me to take my mind off the stress of school and to just focus on not messing it up." Other students, like Olivia Chung, another sophomore in the Academy for the Advancement of Science and Technology, use makeup to ground themselves. Sometimes, the five-to-ten minutes it takes to apply makeup is the only "Me" time students at BCA can get. "When I put on makeup I feel a bit more put-together for the day," said Olivia. For some, this time is a necessary component of a morning routine– not necessarily to look any different than they naturally do but to center themselves for the day. Keep Your Priorities Straight The amount of time applying makeup takes can be therapeutic; the peaceful and ritualistic state of mind is an extremely positive aspect of makeup-wearing. Nonetheless, some students feel as though the sheer amount of time spent applying makeup somewhat outweighs makeup's other pros. It can take anywhere from five minutes to half-an-hour to put on makeup. With the little time we BCA students have to our personal lives, adding another process to our schedules requires a bit of time-management skills. "In freshman year, I cared about putting makeup on every morning– not even a full face, but just to look functional," said Madelaine Tew, a sophomore in Academy for Business and Finance. "But as the workload increases [for me], makeup is becoming less and less of a priority. I think that once you're accustomed to not wearing makeup you start to realize that you really don't need it to walk out the door." Wear Makeup if it Makes You Feel Good In the aforementioned makeup use survey, about 21% of participants either agreed or strongly agreed with the statement, "I wear makeup because I think I need it to be attractive," while about 54% of students either disagreed or strongly disagreed with the statement (25% of participants were neutral about the subject). In the same survey, about 57% of participants either agreed or strongly agreed with the statement, "I wear makeup because I feel it accentuates my already-attractive features," while about 17% either disagreed or strongly disagreed (with 26% of participants neutral about the subject). It is safe to say that Sara Mustafa, a sophomore in the Academy for Visual and Performing Arts (Theatre), agrees with the latter statement to a much higher degree than she does the former. "I wear makeup because I like that it accentuates the features that I like about my face," said Sara. "For example, I already have pretty long eyelashes but I like wearing mascara to make them pop." Social Media can be Both a Blessing and a Curse Social media platforms, such as Instagram or YouTube, are unequivocally some of the most prominent spaces to share about subjects that interest people. Beauty gurus like NikkieTutorials, PatrickStarrr, and Michelle Phan use their enormous platforms to create content catered to those in the makeup world. Makeup artists like these redefine the meaning of "beautiful" for many by creating a more diverse and creative space for makeup-wearers. Some students, like Hannah Schwartz, a sophomore in the Academy for Culinary Arts and Hospitality Administration, draw inspiration for makeup looks from online beauty gurus. Others, such as Sawya Brown, feel encouraged by the pacesetters of the online makeup community. "Social media has helped me feel more confident about makeup and has given an opportunity to learn more about it," said Sawya. "Seeing other people who enjoy makeup just as much as I do has encouraged me to wear it as much and as often as I want to and inspires me to try new things with my looks." Nonetheless, Tal Kamin, a senior in the Academy for Visual and Performing Arts (Theatre), recognizes the need to avoid comparisons between yourself, a teenager, and these makeup professionals. "The need to appear 'perfect' has definitely impacted both me and my friends," said Tal. "I find my friends feeling that they have to wear concealer and other types of makeup for a picture to be 'Instagram-worthy.'" Do What You Want with Makeup So, who can wear makeup? Many BCA students believe there are no unwritten rules regarding who can or can't partake in the makeup world. A whopping 76% of participants in the Makeup Use poll of 215 BCA students either disagree or strongly disagreed with the statement, "I believe daily wear of makeup should be limited to gender expression." Sanya Sharma, a sophomore in the Academy for the Advancement of Medical Science Technology, strongly believes in the positives of the makeup community's lack of "rules." "With so many people posting pictures of their makeup, I now recognize makeup as an art form…" said Sanya. "There are virtually no boundaries." A Message from the Makeup-Wearers of BCA If you are someone who wanted to start trying out makeup, are worried you may be made fun of for wearing it, consider these encouraging messages from these makeup-wearers at BCA: "Go for it!" said Hannah Schwartz. "You can basically do whatever you want with makeup and shouldn't worry about being judged or made fun of for it." "Just remember that you're wearing makeup for yourself, and as long as you're happy others' opinions shouldn't matter," said Sawya Brown. "If you just go out there and believe you look good, you'll be fine. Remember: confidence is key" "I felt the same way when I first started wearing makeup because I thought people would say I was trying too hard or I was too young," said Sara Mustafa. "Anything is worth trying, though. You may love it, or you may hate it, but you might regret not wearing it. I say go for it, and if people make fun of doing something that you made the personal choice to do, just ignore it and keep rocking it."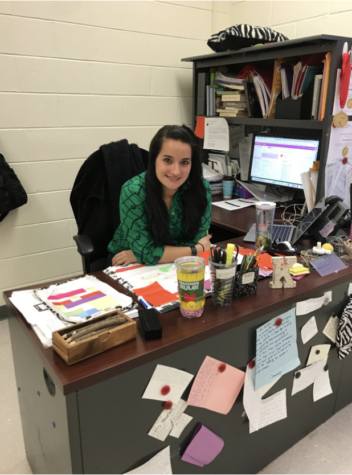 Meet the Makeup Artist: Ms. Kouefati
April 11, 2018
Hannah Noh, School News Editor
May 23, 2018
The warm stage lights dim as the seated audience ― filled with familiar smiling faces of parents, relatives, and friends ― clap and cheer for the first act of the night to commence. This year on June 8, BCA's first ever Heritage Night will take place in the THARTS facility, where students will be performing poetry, songs, and performances that celebrate their diverse heritages. For years, Mr. Hathaway has been assigning his sophomore literature students a creative journal entry to write about their heritages, after collectively reading the book My Ántonia. "Stories have always moved me, and some have even brought me to tears," said Mr. Hathaway. "And sometimes, they can really make me laugh out loud." Mr. Hathaway's students have also discovered the power and influence of these stories. "We had people share things like their father's first time trying a milkshake in America to their grandmother surviving a war," said AAST junior Grace Tan. "The stories actually brought everyone in the class closer together. We were all finding out something new about our classmates and where their families came from. And for many of us, there was a realization of, 'My parents went through that too,' or 'My family came from someplace like that, too.'" After listening to his students share their inspiring journal entries, Mr. Hathaway said that it struck him: these are stories that should be shared. He then reached out to some of his students to put together performances, either reciting their stories or creating new poems, songs, or dances that express their heritages in another way. Christine Choi, an ACAHA junior, was one of the many students who created an alternate version of her story: an original song with piano and violin instrumentals. "This is my first time singing in front of a crowd, and it's a bit nerve-wracking," said Christine. "But, having my fellow classmates support me through our Heritage Night is very motivational." Other students have likewise prepared creative forms of art that celebrate their families and backgrounds. "My piece recognizes that heritage and family go beyond biology. It is in my queerness that I've found my family, and in the love that we hold and in the bravery that we walk with," said Samuel Nardone, an AVPA-T senior. Another example is of AVPA-T sophomore Reanna Valencia, who will be performing a song about food and its importance in honoring where she came from. "[One of my classmates] Kyle Han and I created a piece that combines our stories, and one thing that I found so interesting and endearing is that both of our stories about our grandmothers are so incredibly similar, yet we had barely talked before working on this project with Mr. Hathaway," said Joyce Zheng, an AVPA-T junior. This is the beauty of our upcoming Heritage Night: bringing together and connecting BCA students who come from the same ― and from completely different ― backgrounds. Mr. Hathaway also values the interdisciplinary nature of this event, which combines writing with visual art, songs, and musical performances. In fact, Mr. Hathaway is attending a conference in November that features STEM schools. He will be travelling to Houston, Texas with a videotape of our Heritage Night in one hand, and a few copies of our poems in another, to inspire other schools to pursue similar projects. "[STEM students] are made up of more than just 'Science, Technology, Engineering, and Math.' What I don't want to see lost is the idea of liberal arts education, which I think rounds out [STEM students], so to speak," said Mr. Hathaway. This integration of the arts into STEM schools like BCA is one of the various goals of Heritage Night, along with the hope to successfully spend an exciting evening with diverse peers, teachers, friends, and family. "I think Heritage Night will be such a nice and wholesome opportunity to share my family's story. As BCA students, we're so caught up in our day-to-day lives that we often forget to step back and remember our roots," said Angela Lee, an ABF junior. 'Home' means something different to everybody. Each of us has our own story and our own means of telling it. As ATCS junior Cassandra Moe said, "The meaning behind this event is to reflect and share. In a time when everything is always about the latest updates, we need a space to step back and remember."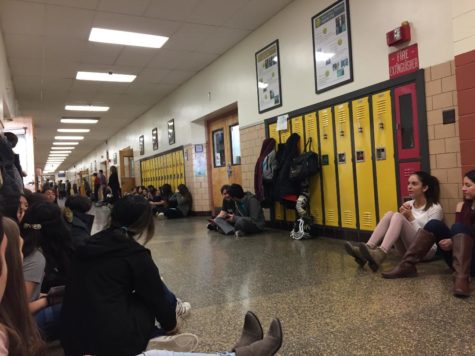 Peter Mitelman
May 3, 2018
On March 14, it was apparent that many of Bergen County Academies' students were filled with emotions, ranging from frustration to devotion. They were some of the students from all around the country that took part in the National School Walkout protest demanding the government to pass laws against gun violence. In BCA, a number of students agreed to participate. "I personally chose to walk out because I wanted to make a statement," said ABF junior Sophia Wolmer. "We need to raise awareness about issues of school safety and the impact of gun violence." The event was 17 minutes long in honor of the 17 teachers and students who were tragically killed after gunman Nikolas Cruz carried out a shooting in Marjory Stoneman Douglas High School in Parkland, Florida exactly one month prior to the walkout. 17 others were injured. The administration supported the walkout, but only by asking students to sit in the hallways quietly as a sign of protest. Many students, however, felt this was not a true protest nor would have a significant impact. "I was not going to sit in the hallway," Wolmer said. "The students at Stoneman Douglas died because the government is failing to protect its citizens." Still, a lot of students recognized that being asked to stay indoors was mainly because the staff wanted to keep them safe. Unlike BCA, some schools such as ones in Cobb County, Georgia , did not support the walkout at all and even penalized students who participated.  "If all administrations were as supportive as our high school, the difference would have been phenomenal," ABF freshman Heba Elsetouhi said. Others also recognized that that restricting the protest so that it is safe and in control was also important. One AVPA student stated that "they [administration] supported the one in the hallway and not the one outside because it jeopardizes students' safety." The student went on to add that the walkout nonetheless had an important purpose. "I think it's necessary at its heart. It shows unity around the country." Dozens of student protesters went outside in front of the school, holding signs and chanting phrases such as "enough is enough", "never again", and "protect kids, not guns". Shortly after, everyone participated in a few minutes of silence for the students who were shot. People driving along Hackensack Avenue witnessed the students' passion and desire for a society in which going to school was not a reason to experience fear. Within the last decade, tragedies such as the Sandy Hook Elementary School shooting back in 2012,  as well as both the Orlando nightclub and Las Vegas attacks in 2016 and 2017 respectively, contributed to a growing discussion about gun violence and a demand to do something before it gets out of hand. "I walked out because I believe in gun regulation," one AAST freshman said. "There have been so many school shootings this year and the year isn't even half over. Too many students have died because people have the 'right' to guns." The protests at BCA and at schools throughout the United States were aimed at conveying the message that an educational environment, as well as the country, as a whole should be safe. "I hope walking out will be one small stepping stone where students can attend school, and simply live their general lives, without the threat of being shot dead," said AVPA junior Eboni Edwards. Before the senseless Parkland attack in February of this year, numerous other school shootings, many of which were deadly, had occurred in the United States in 2018 alone. "I think it is beyond ridiculous and beyond disgusting that countless innocent students have been murdered in schools," Edwards stated. Considering how much encouragement the BCA staff provided, many saw that the need to take action was unanimous and so the issue should not be a political one. Elsetouhi said that without the support of the BCA staff, "we wouldn't have been able to protest as much." In fact, yet another overall objective of the walkouts was to prove that this is not a political debate and that the Parkland shooting was the tipping point for action regarding gun control regardless of one's political party. That being said, arguments still unfold. "I agree how important it is to show unity, but I don't agree with how people are making it political," an AVPA freshman explained. The specific action that must be taken next has not been decided upon. Some, including President Trump, propose arming teachers. Others suggest installing metal detectors at the school's entrance to better detect guns, or that teens such as Cruz, the Parkland shooter, should not be permitted to own firearms. Still others disapprove of all these ideas due to the fact that many believe that owning guns is a right and further gun control would be going against the Second Amendment and the Constitution as a whole. On March 24th, ten days after the National School Walkout, the March for Our Lives took place. It further showed the nation's anger at Congress' nonintervention. While the demonstration was mainly in Washington D.C., it was organized throughout the rest of the US as well. "The only way to bring attention to these ideas is to protest," ABF freshman Maria Savransky said. Even more grand than the National School Walkout, the march displays how important it is that the matter cannot be postponed any longer. Just four days before the March for our Lives, another school shooting occurred in a high school in Maryland where two students were wounded and the gunman was killed. A resource officer took charge of the situation before it could get worse. He was claimed a hero by the school for responding immediately. The events occurring throughout the country affect all American citizens in some way — whether they have been personally touched by them or simply have strong feelings about future policy in the country. "Obviously, we can't completely stop gun violence," Savransky admitted. "However, I think the walkout helps show that we aren't okay with what's happening. And that leads to change."
Elana Lane
May 11, 2018
Bergen County Academies students reflect on the annual Print Week celebration held at their school. Print Week at the Bergen County Academies is perhaps the most anticipated event of the year for students in the Academy for Visual Arts. Print Week serves as an event for Visual Arts students to come together as an academy, work together to produce an event to remember for years to come, and recognize and celebrate the wide range of talents their peers possess. The Print Week celebration at BCA is no easy feat. Up to three or even four months prior to the mid-January celebration, Visual students can be found coming up with ideas to make this year's Print Week better than the last. "Most people think of Print Week as just that one Visual event when all the artwork goes on stage [in the gallery], and you get to walk through it [and look around], but it actually takes months of preparation," said Phoebe Om, a sophomore in the Visual Academy. "There's so much work that goes into Print Week." Print Week at the Bergen County Academies is an extension of a much larger international event, dating back nearly one-hundred years. A constant for the annual event is that it is always held during the week of the birthday of Benjamin Franklin, a self-acclaimed printer before anything else. "The concept of Print Week started around 1928, and it wasn't anything formal," said Mr. Pavlu, a teacher of Visual Arts at BCA. "It was basically a father-son type thing where one day a year, the fathers [got together with] their boys who entered the printing field…[and] were basically given some recognition for that." At BCA, Print Week is nearing a historic anniversary of its own. Next year, in 2019, will be the twentieth year students and teachers of the Academy for Visual Arts comes together for this monumental celebration! How did a festivity which never fails to please the masses at the Bergen County Academies come to be? According to Mr. Pavlu, a retired teacher named Mr. Kragen is accredited with suggesting the idea for the original Print Week. Kragen was definitely correct in his prediction. Visual Arts students look forward to the Print Week festivities at BCA every year. From the guacamole served at the annual Print Week luncheon to the sheer satisfaction of being recognized for their talents, the event is undoubtedly a fan favorite. "I feel really honored to have my pieces exhibited in [the Print Week] gallery, along with of course every other Visual Academy student," said Alice Ipecki, a junior in the Visual Arts Academy. The celebration, which features the anticipated Print Week Gallery, allows Visual Arts students to feel appreciated for all of their efforts as an academy. Ellie DiCostanzo, a sophomore in the Academy for Visual Arts said: "It feels really great, especially because I feel like the Visual Academy is often overlooked, given that there are so many other academies in the school which are represented more often than we are… so I feel like Print Week is just a great time to feel appreciative of what our abilities can do." Sarah Applebaum, a sophomore in the Visual Arts Academy said: "It's really nice to see people looking at my work and appreciating it for all the time I put in it. And it's really nice to hear positive comments from people who like my work." Many students in the Visual Arts strive to have at least one– if not more– piece exhibited in the gallery to show their friends and family. Seeing their loved ones' faces when they take a look at the pieces they have worked so hard on is extremely valued to the students of Visual. Putting together an event which brings about this much satisfaction is truly a team effort. The original event occurred in 2004 and was nothing like the Print Week celebrations today. "Basically we just covered up the machines in random cloth, and we displayed the artwork– it was just kinda hodge-podge-lodge," Mr. Pavlu said. "And then, little by little it got to an event like this." Today, the juniors and seniors of the Academy for Visual Arts are often the ones to take charge of the annual Print Week festivities, with the seniors focusing on the luncheon, and the juniors honing in on the gallery setup and logistics. The anticipated student art gallery officially opens on the Thursday of every Print Week celebration at BCA. Before the official opening, an annual Visual Academy tradition is always upheld: the Print Week Luncheon. The luncheon gives Visual Arts students in all grades a chance to spend time together and to appreciate those who have created particularly exceptional work through a small awards ceremony. "It's always a really festive event that brings the entire academy together," said Renee Aliko, a senior in the Visual Arts Academy. Maansi Srivastava, another senior in the Visual Arts Academy, said the seniors are always put in charge of planning the luncheon. "I helped a little bit with the setup, but that was mostly up to the Juniors," she said. Some of the main driving forces behind the masterful setup of the Print Week gallery were the Visual Academy juniors. "Originally I was only supposed to collect the pieces, but then I worked together with Lexia and Esther to create the setup," reflected Vincent Kelly, a junior in the Academy for Visual Arts. "I came up with the setup of where things would be, what materials we would use, kind of just like a general area of where everything was going to be, and what would be hung on each wall." Planning the layout of the gallery was more difficult than simply coming up with ideas and making them come to life, though. There were a few minor setbacks, but as we say in the Visual Arts Academy, there is always enough time to do something over to get it right. Vincent continued: "Mr. Lang and I developed this idea that we were going to create different rooms this year. That was originally the plan, but when we found out we didn't have enough hanging walls. So we moved things around and found this layout to be better." Pieces featured included fine art, digital art, and everything in between. "We have a lot of fun stuff, like Maansi's music cage," Vincent said. "We had to create a whole area for it just so that it wouldn't interfere with the sounds coming from the trailer area and the C-SPAN area." Obviously, the event was a huge success. "I definitely am glad I came… I remember my sister had to do all this because she was in Visual," said Jordan Gutierrez, a sophomore in ACAHA. "She just graduated last year so yeah I remember her having to do all this work." This year was one of the most memorable Print Week celebrations for Visual Arts students. So next time you see a Visual kid, don't forget to congratulate them!
March 29, 2018
Meet the President and Vice President: Michael Murphy and Jessica Shi
March 20, 2018
Jamie Yun Lee and Ashley Kim
May 29, 2018
When we were 8th graders applying to BCA, we all had, at one point, stared at this school's list of academies on our computer screens. Some of us knew which academy to apply to immediately, some were indecisive until the last minute, and still others fell somewhere in between. No matter where on that spectrum we fell, we all found ourselves at BCA, both nervous and excited about the next four years to come. However, there are current BCA students who believe that choosing an academy at a young age has its downfalls: some students come to BCA only to realize that their academy ended up being not at all what they hoped for. The Academy Chronicle was interested in finding out whether this opinion was shared by the majority of the student population and what students thought about the current academy system. According to a recent survey of 182 students we conducted, 22% of those polled wish they had chosen a different academy, and 66% of the respondents realized freshman year. When explaining why they have regrets, students shared a variety of responses. For example, upon entering the Academies, AVPA-M junior Gordon Sherman stated that he often regrets his decision because he realized that his interests differed from the other students within the music academy and that he wanted to pursue studies in the STEM field instead. An anonymous AAST freshman also shared her thoughts about her academy choice. Because she has always had an interest in environmental science, she decided to enter the science academy, but she realized she didn't feel the same passion for environmental science now as she did in 8th grade. She said, "I wish AAST could be split into two academies so students with vastly different interests wouldn't have to study such a diverse field together." When asked about the hypothetical possibility of switching academies in freshman year, she said that, while she sometimes wishes she had that option, she believes that chaos would likely ensure. In her opinion, this chaos would outweigh the benefits of a flexible system. In fact, while some students agree that the current academy system is not the most efficient, many students also prefer to stay within their chosen academy. When asked the question, "If you could go back to freshman year and select a new academy, would you change or stay in the academy you are in now?" 76.7 % of students replied "stay," while only a small 23.3% of students replied "change." These results can be explained by a variety of reasons, such as a deepening interest in one's academy through academy-specific classes and opportunities, or even a comfort in being with people and friends who share similar interests. Yet the data certainly shows that BCA has assisted students in feeling "unrestricted" from other academies. However, many students seem to disagree with the early timing of the academy-selection process. AAST junior Michael Chu said, "Academy selection taking place before students attend the school is flawed, as actual knowledge of BCA during that time is limited, and not all kids have reached the point where they have a passion for something." ATCS junior Brian Cho had a similar viewpoint, sharing that the first trimester should be available for students to transfer academies. Alex Blumenfeld, a senior in ABF explained: "I don't want to say that the existing academy structure 'limits' students, but I do think it has its greatest negative effects on the application process. 14-year-olds shouldn't be expected to know what they want to do with their lives, and being asked to make a binding decision is tough. However, I also do think the large number of frees BCA students are given does allow you to get involved as much as you want." Other students were certain that the current academy set-up is most ideal. For instance, ABF senior Brian Kehoe stated that he understood students' issues with the inability to switch but believed it would be impossible to do so. To prove this point, he provided a hypothetical situation in which students would not have to declare an academy until the end of freshman year so that they have time to explore each one. Brian gave an example of a scenario in which students' schedules would be full of mandatory classes from every academy, both overwhelming them and giving them small glimpses of subjects without full understanding of what the academy is like. He said, "As a result, the interesting, higher-level concepts would either not be taught at all or be rushed. No matter how you try to set up an exploration system, kids are pretty much going to enter their academies blind anyways." Brian added, therefore, that he thinks the current system is best, because students can at least "begin to explore their field early and free up more time for more advanced projects and topics as upperclassmen." He explained that BCA has a diverse array of electives, clubs, and research opportunities so students can still explore interests they have outside their academy. ABF senior Matthew Katz made a similar point, agreeing that students do not take so much coursework specific to their academy to the point where it is unbearable for those who do not enjoy their academy's curriculum. Sharon Ahn, a senior in AVPA-M, explained: "As restrictive as these original stipulations may be, the restrictions definitely depend on each person and how serious they are in getting involved in an academy that is not their own. I think it's all about how your interests shift as you grow and how BCA accommodates that." In fact, choosing an academy in 8th grade can actually be beneficial in that it forces students to think about their future. Dan Hu, a junior in AAST, shared, "Half-forcing you into an academy actually somewhat makes you think more about what you want to do, and because it's high school, you don't actually have to stick with it. I think it's a beneficial system. These 'boundaries' actually cause me to think about other fields more." Ms. Pinke agreed with this notion and shared, "I think it does force you to think about it, but it's not realistic to think that you'd be able to make that decision that young. Ultimately, we hope that you find something you like, but we absolutely expect you to explore other areas." However, AMST junior Agustin Velasco did not agree completely with this viewpoint. He stated, "I don't think AMST kids who are not interested in their academy have a lot of freedom to explore. For example, why can ABF students participate in HOSA, but AMST students can't do DECA?" He continued, "I understand that I made the decision to enter the medical academy, and it obviously makes sense that AMST will have a lot of classes related to science and medicine. However, I think that, especially as a junior juggling all the work from my academy-required classes, I don't have time to do much else." Overall, it is clear that the students of BCA have quite mixed opinions on the current academy system. Although some students view the system as helpful in finding their passion, others find it difficult to navigate beyond an academy they chose at such an early age. Ultimately, it is up to BCA's students to make the most of what the school currently offers and create a one-of-a-kind high school experience that maximizes their happiness in their academy.
SUCCESS: The Hopeful Seven-Letter Word
April 18, 2018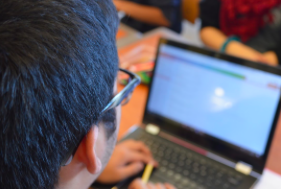 November 25, 2017