World Food Prize Laureates: Lawrence Haddad & Jan Low
Each year around UN World Food Day (October 16th), the World Food Prize is presented to those who have improved the quality, quantity, or availability of food around the world. Envisioned as the equal to the Nobel Peace Prize in the field of food and agriculture, it is the highest of honors for individuals in these fields.
During the 2022 Norman E. Borlaug International Dialogue, known as "the premier conference in the world on global agriculture," the Academy Chronicle had the wonderful opportunity to interview two World Food Prize laureates, Dr. Lawrence Haddad and Dr. Jan Low. In these interviews, the laureates spoke about their inspirations, career journeys, and advice for aspiring leaders in the field of food and agriculture.
Lawrence Haddad was the winner of the 2018 World Food Prize, and was granted this award with Dr. David Nabarro for their individual and complementary leadership in elevating maternal and child nutrition to the forefront of the global food security agenda. A pioneer in food policy research, Haddad used medical and economic research to push development leaders to prioritize this issue.

In the interview, Lawrence Haddad was asked about what inspired him to pursue this field. He explained that he lived with his mother and grandmother in London for two years when he was nine years old. Haddad's grandmother had a garden in her home, and told him one day, "You're in charge of the garden now." Through this small patch of land, Haddad learned to enjoy planting and appreciating the growing of food.
At the same time, Lawrence Haddad's mother volunteered at a Save the Children store in London, so he would often visit. At the store, he'd see campaign posters of struggling, malnourished children that started "a flame" for food security inside of him, as he called it.
"For something to motivate you," Haddad explained,  "it has to connect your brain, gut, and heart. This connected with my heart, and the fire hasn't gone out since."
Wanting to find a way to battle food insecurity, he completed his PhD for Food Research at Stanford University. Haddad liked science and economics, so he wanted to find a way to combine his interests for his cause. Since then, he has been the Director of the Food Consumption and Nutrition Division at the International Food Policy Research Institute, Director of the Institute of Development Studies, founding co-chair and lead author of the Global Nutrition Report, UK representative on the Steering Committee of the High Level Panel of Experts of the UN Committee on World Food Security, President of the UK and Ireland's Development Studies Association, and is currently GAIN's Executive Director.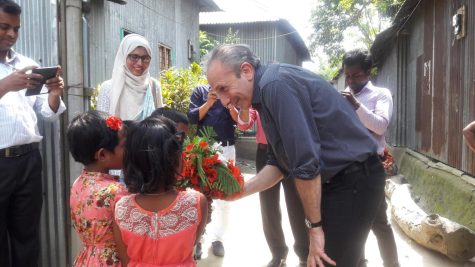 GAIN stands for The Global Alliance for Improved Nutrition (GAIN), and was launched at the United Nations in 2002 to battle malnutrition. Lawrence Haddad explained in the interview that there are three things that drive hunger: "a lack of food, a lack of income, and a lack of peace." GAIN works to improve the consumption of nutritious foods for all people, especially in countries with high levels of malnutrition.
Another World Food Prize laureate, Dr. Jan Low, was granted this award with Maria  Andrade and Robert Mwanga for undertaking a multi-year effort to develop a nutrient-fortified, Vitamin A rich, orange-fleshed sweet potato that would flourish in the soil and climate of Sub-Saharan Africa. Pioneers of the breeding and dissemination of orange-fleshed sweet potatoes, they created this variety to counter the detrimental effects of Vitamin A deficiency in this region, such as blindness, diarrhea, immune system disorders, and premature death in children and pregnant women.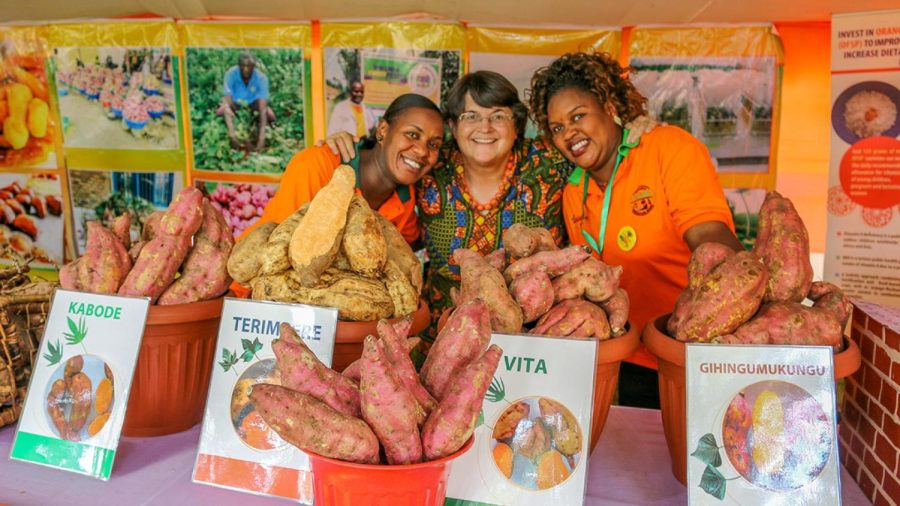 When asked about how she got into this field, Jan Low explained that she spent one year in Kenya as an undergraduate. During this time, she realized how pressing the issue of Vitamin A deficiency was in Africa and she wanted to make a difference.
As Low searched for a solution, she came across the orange-fleshed sweet potato, which she described as a "gold mine" due to its uncovered potential in breeding for nutrient-fortified crops. "Food is medicine," Jan Low said, so what better way to solve this issue than with food? The sweet potato would be able to grow in the harsh, dry conditions of Sub-Saharan Africa and would also be plentiful in nutrients.
After selecting sweet potato varieties that were more flavorful and more tolerant against droughts, Low developed a ten-year project: "Sweetpotato for Profit and Health Initiative." Here she worked to incorporate sweet potatoes in the food economies of Africa to reduce child malnutrition.
She also became the project manager of its foundation project, the Sweet Potato Action for Security and Health in Africa, and collaborated with the Alliance for a Green Revolution in Africa to train future sweet potato breeders and expand the presence of biofortified orange-fleshed sweet potato research throughout Africa. Currently, Jan Low is an adjunct professor in Cornell Global Development and works as a principal scientist in the International Potato Center in Nairobi, Kenya.

In the interview, Low was asked what she would recommend to students who aspire to become agricultural scientists like her. She responded: "Take advantage of your opportunities." Proving the importance of this message, Low's year in Kenya as an undergraduate changed not only her life, but the lives of so many others.
Today, the World Food Prize not only celebrates the achievements of those who have already worked towards elevating the nutrition and sustainability of the world food supply, but also guides students to become the future leaders of this field through the youth institutes held around the world. Through these institutes, students can share their ideas for addressing global food security issues with their peers, and learn from laureates and experts in the field.