Eileen Gu: Skiing to Stardom
From a 17 year old in San Francisco preparing to attend Stanford University to the youngest freeski Olympic gold medalist in history, Eileen Gu is currently in the spotlight after winning two golds and a silver medal at the 2022 Winter Olympics in Beijing. 
Eileen competed in three freestyle skiing events this year: women's big air, slopestyle, and halfpipe.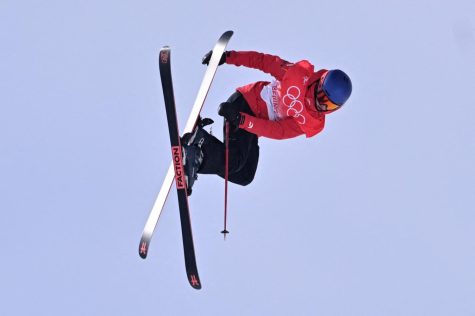 In her first event, the women's big air, Eileen finished with an astounding 188.25, winning by 0.75 points. Although behind in the rankings after her second run, Eileen landed a left double 1620 on her third run, thrusting her to first and enabling her to snatch gold. According to Eileen, this trick was extremely difficult and one that she had never attempted prior in competition. For her to not only land this dangerous trick but to conquer it in front of 160 million viewers, it was truly a dream come true for Eileen. 
In her second event, the slopestyle, Eileen won silver, falling only 0.33 points short of first. She scored a low 16.98 on her second run, dropping her to 10th place. However, Eileen made a comeback by scoring a 86.23 on her last attempt, propelling her to second. 
In her last and strongest event, the halfpipe, Eileen led the competition by several points in all three runs. Soaring over the treacherous hills with ease, Eileen finished with a 95.50, 6 points ahead of the runner up. By her third run, Eileen was already guaranteed gold since the score of her first run towered over that of her competitors. As a result, she completed a victory lap on her third run, skiing down the pipe merely for the thrill. 
Afterwards, Eileen became the youngest Olympics champion in freestyle skiing.
However, amidst her success, Eileen's journey came with its obstacles. Although she was born and raised in San Francisco, Eileen decided to represent her mother's nation and compete for China in this year's Olympics. In doing so, American critics argued that she was being "ungrateful" and "bratty". News channels like Fox called her a "traitor" for not representing the US after receiving most of her ski training within the country.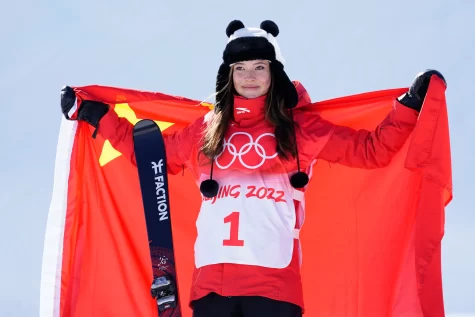 This debate sparked lots of controversy regarding Eileen's citizenship since China forbids dual citizenship. "I'm just as American as I am Chinese," Eileen responded objectively when asked about her nationality. She added, "I'm American when I'm in the US and Chinese when I'm in China," further indicating that she does not take a side. As of now, her citizenship has not been disclosed and she competed with an ambiguous citizenship status. 
In her Olympics interview, Eileen discussed the reason behind her decision to compete for China. "I chose to compete for China because there's this massive opportunity to spread the sport to people who haven't even heard of it before," she said. Through her participation in the Olympics, Eileen hopes to become an advocate for skiing, especially towards young girls in China. 
This is attributed to the fact that participation in sports is not heavily emphasized in China as it is in the US. Playing a sport is not ingrained in Chinese culture, and Eileen hopes to change this by inspiring younger generations to pursue a sport. 
"I feel like sports is really a way that we can unite people. It's something that doesn't have to be related to nationality. It's not something that can be used to divide people," Eileen said. 
In addition, Eileen emphasized that her mission has always been to "use sport as a force for unity." She explained how her skiing for China was not meant to divide, but instead to foster interconnection between countries to further promote the growth of sports participation. In her eyes, sports is an international activity that has lots of room for improvement. She shared in an interview with ESPN Asia prior that sports culture still has immense room for growth and that she wants to be a part of its development. 
Furthermore, through her involvement in an extreme sport, Eileen hopes to encourage young individuals to push their boundaries and take more risks, whether it be pursuing a sport dominated by the opposite gender, sitting next to a new person in school, or raising your hand in class. 
Along with her drive to forward change and motivate others, Eileen's decision was also influenced by her mother, Yan Gu, who was born and raised in Beijing. Since Eileen spends roughly 25% to 30% of every year in Beijing, the Olympic setting feels like home, prompting her to represent her mother's nation instead of the US. 
However, despite these controversies, Eileen's popularity skyrocketed. In China, her popularity soared just as much as her skiing. In just a matter of weeks, Eileen's Weibo amassed over 5 million followers, and her face quickly appeared on billboards, commercials, and magazine covers. She instantly became a national sensation who was hailed as "pride of China" and "ice princess". 
Choosing to compete for China has also brought Eileen many lucrative opportunities. This includes contracts with designer brands like Tiffany and Louis Vuitton, modeling opportunities for Vogue and Marie Claire, and sponsorships from countless other brands which in total has brought her nearly $31 million.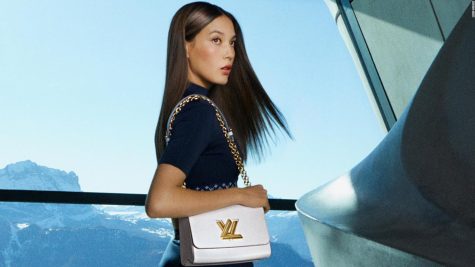 In the end, Eileen's story simply goes to show how sports is an international subject capable of uniting individuals from around the world. Through her journey from a regular teenage girl to one of the best female skiers worldwide, Eileen exemplifies how if you pour your blood, sweat, and tears into something you are truly passionate about, the sky's the limit. 
Sources: 
https://www.forbes.com/sites/martyswant/2022/02/08/american-skier-eileen-gu-who-won-gold-for-china-now-has-deal-prospects-on-both-sides-of-pacific/?sh=65314de46f87
https://www.cnn.com/2022/02/18/sport/eileen-gu-halfpipe-gold-olympics-intl-hnk-spt/index.html
https://www.cnn.com/2022/02/08/opinions/eileen-gu-gold-medal-for-china-mitchell/index.html
https://olympics.com/beijing-2022/olympic-games/en/results/freestyle-skiing/athlete-profile-n1058695-ailing-eileen-gu.htm