Dating in the Digital Age
With the rise of social media and platforms such as Bumble, the dating game has changed dramatically. In the past, the only way a relationship started was organically, but what exactly does that mean? It means classic rom-com style meets: eye-contact in a sea of faces in the halls, hands meeting as you reach for a book, or falling asleep on their shoulder on the bus. These sweet and memorable moments have been replaced by digital interactions via social media. Especially, due to the pandemic, people have relied on online dating more than ever. But now that the world is returning back to normal, how will relationships form and change at BCA?
Before the pandemic, there was not a necessity to use technology as a method of  communication between significant others. For many BCA couples, they initially met in-person, allowing them to develop close connections and leading to a strong relationship. One BCA junior said, "We met organically in elementary school. We were only friends at the time of course." Essentially, a majority of the couples who had dated before the pandemic met solely through in-person interaction.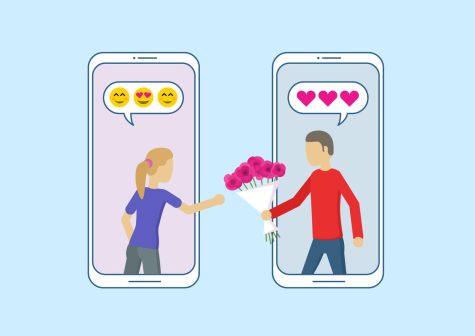 Even though these couples developed strong connections, the pandemic was a large hurdle to overcome. For many of these students, this is their first time in a serious relationship. Therefore, the sudden lack of in-person contact during quarantine altered the dynamic of their relationship. In response, many couples had to adapt to the circumstances and turn to technology, using apps such as Snapchat, Instagram, and Discord. For one BCA couple, "[Technology] played a bigger role in maintaining communications while we were dating." 
Another BCA junior said, "During the first part of the pandemic, I did find it difficult to talk over the phone rather than text since it wasn't something I was used to. Especially because technology didn't influence our relationship that much since my significant other and I were in the same class before the pandemic. Plus, we didn't even have phones at the time. We did bond over liking the same iPad games though." Essentially, many of these student couples found this new method of communication to be a difficult transition.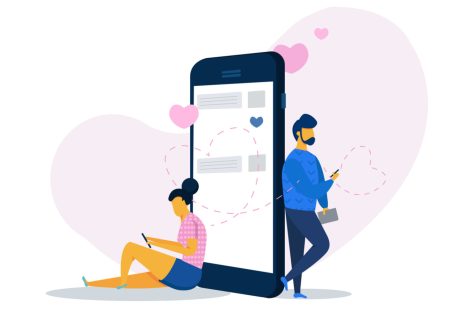 Yet, technology has also allowed some couples to grow closer together, or even help start new relationships. "Technology had a huge influence on us meeting, given that we didn't know each other too well before lockdown started and we really got to meet each other just by talking a lot every day or so and watching movies and TV shows together and such," said a BCA junior. "We met in person but really were only friends at best. We had one class together and didn't spend any time together outside of that class aside from five second exchanges in the cafeteria or in the halls. We only really got to know each other once lockdown started and my friends and I started making a whole slew of group chats and we ended up talking to each other a lot."
The integration of technology into everyday life has made an impact on student relationships at BCA. With the pandemic causing couples to be distanced from one another, social media and communication platforms such as Discord, Snapchat, and iMessages became crucial to maintain contact with a significant other. "Technology had a big impact on our relationship," said a BCA junior. "Technology is pretty much the reason why I gathered the courage to talk to [my boyfriend]. We used apps like Tuned, Locket, iMessage, Snapchat, TikTok, and Instagram to mainly talk. Zoom, too, for movie nights."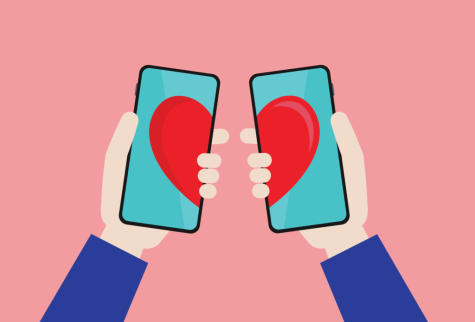 The rise of social media and technology has also helped create relationships, allowing students to grow closer to each other even when separated. As one BCA junior put it, "We started dating during the beginning of COVID-19 so we used technology initially but now we get more date nights and time to spend together."
As technology continues to grow in popularity, developing relationships may become dependent on technology, using it as an initial crutch to get to know each other. Nonetheless, some BCA couples continue to begin dating organically through school interactions. Now that the school has reopened and students have returned to the building, BCA students have the chance to hang out with one another in-person and possibly develop relationships organically. As of now, both organic and digital meetings will equally help BCA students connect with each other in a deeper way and help them develop into relationships.