Shop Talk with Hannah Shin: Spark Your Deco Inspiration
At BCA, there are many creatives among the student body. Students such as sophomore Hannah Shin, who devotes her time to sharing her creative skills with the community. Hannah is the owner of an online Etsy sticker store, StarlacedCo. The Academy Chronicle interviewed Hannah about her business and the inspiration and work that goes into running it. 
Q: Introduce yourself and tell us a bit about yourself!
A: Hello! My name is Hannah Shin and I'm a sophomore in AVPA-Music. I'm the owner of StarlacedCo, which is my sticker shop where I design, create, and sell my own stickers.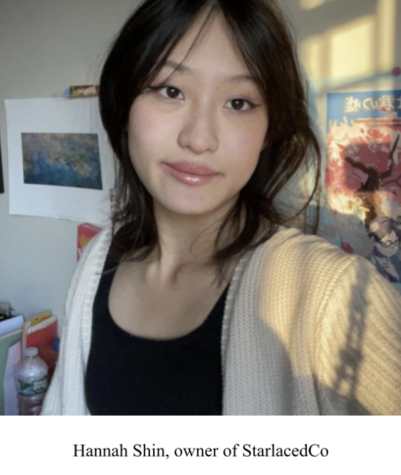 Q: Introduce your small business: What is it about? What do you sell?
A: The name of my sticker shop is StarlacedCo. The slogan of my shop is, "spark your deco inspiration." I aim to create stickers that can be used to decorate unconventional items – turning essentials into unique essentials. In terms of the items I create, I sell my own digitally drawn and designed sticker sheets.
Q: When did you start Starlaced? Can you tell us a little about the history?
A: StarlacedCo was a rebrand of my sticker shop. I first began my sticker shop with some start-up money I received from my 8th grade graduation, and I named my business PonzuStudios. Ponzu was the name of a duck character that I created and drew stickers with. The business had a more cute, fresh feel to it. However, after a few months into my business, I realized that I did not have a clear vision for PonzuStudios in the future. I also thought that I had put myself into a creative corner where I was tied to my character, Ponzu the duck. So, in the summer of 2022, I decided to rebrand. My new business, StarlacedCo, had a completely new vision: rather than simply being cute, I aimed to create products that would spark one's inspiration to decorate everything with stickers – especially everyday and unconventional items.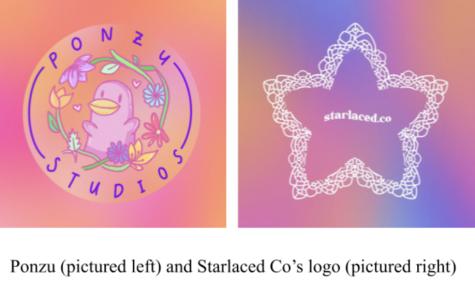 Q: Why did you want to start your own business?
A: I began journaling creatively in 2019 and often bought stickers from small businesses to use in my own journal. I realized how different of an experience it was than simply buying cheaper stickers on Amazon. Small business owners included personal notes, free sticker samples, and personal sticker styles that fascinated me. I felt inspired to create my own stickers which led me to start my own business!
Q: What interests you most about running a business? 
A: I love the process of creating products to run my business. I start with a list of random ideas that I have compiled on Notion, which I then bring into Procreate to sketch out. After that, I experiment with the color schemes, style, and arrangement of the stickers. After I create the design, I begin cutting my stickers. Going through each prototype can be tedious, but it is extremely rewarding. At the end of this process, I have a finished product that I can share with the world. I am extremely grateful to have shipped to California, Alabama, Georgia, Illinois, Pennsylvania, Utah, Las Vegas, Ohio, Texas, New York, and even Germany.
Q: What is the biggest challenge when running Starlaced?
A: One of my biggest challenges I've faced when running StarlacedCo is growing my business. As a BCA student, it's often difficult to balance school and my business, which leads to a lot of inconsistent posting on my end. I wish that I could be more active on my social media accounts for StarlacedCo, but with my schedule it is sometimes not possible. 
Q: What is your favorite product that you've designed?
A: My favorite products that I've designed are my Counting Rabbits sticker sheet and my Laced sticker sheet. "Laced" is an essential sticker sheet that defines my brand, and it adds a unique touch to anything it is put on. "Counting Rabbits" is a new art style that I tried, and it is my most recent sticker sheet. I'm happy with the cloud effect that I created with my designs!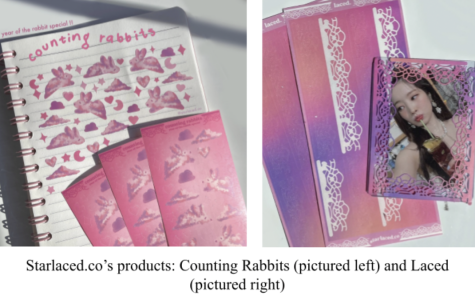 Q: Any suggestions on where I should stick my StarlacedCo stickers?
A: On everything! The goal of my stickers is to elevate everyday items with stickers. My stickers do appeal to the journaling community, but they don't have to be put in a journal. Calculators, headphones, laptops, school IDs, notebook covers, water bottles, cds, keyboards, and more can be decorated with StarlacedCo stickers. 
Q: Any advice for those who want to start their own sticker business?
A: Form a clear vision of the goal of your sticker business and how you aim to differentiate yourself in this highly saturated market. 
Q: Where can people reach out to you if they want to buy your stickers?
A: Etsy Store: starlacedco.etsy.com 
     Socials (Instagram, TikTok, Pinterest): @starlaced.co 
The Chronicle would like to thank Hannah for taking the time to do an interview with us. We are very impressed by her business and we wish her the best of luck.