Planning a Prom in a Pandemic
BCA Senior Class Council Attempts the Unimaginable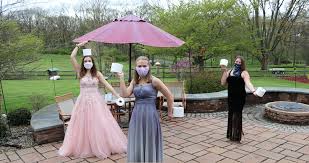 Alex Weber, Managing Editor
March 23, 2021|25 Views
The Senior Class of 2021 missed out on its Junior Prom last year due to the COVID-19 pandemic, and to ensure a successful prom this year, the Senior Class Council took a backward approach in planning the 100% outdoor event: planning first, and fundraising second. Currently, the Senior Prom is scheduled to take place on Thursday, June 10th at the Rockleigh County Club. Senior Class President Carissa Liu and Vice President Charis Yoon updated The Academy Chronicle on their progress thus far.
"With the help of the Class Moms, we have been able to book the venue DJ, and photographer." said Charis, "Safety is our #1 priority, so we chose a venue that could accommodate an all-outdoors prom with social distancing."
Carissa added that they "are strictly enforcing masks….and plan on scheduling the meal times so that not that many people have their masks off at one time."
In addition to the extra safety precautions, the Class Council has encountered challenges with fundraising and scheduling conflicts. "We are short on funds because our fundraisers that were supposed to happen never did," said Carissa, referencing Junior Cabaret, the most lucrative fundraiser for the Class of 2021, which was canceled last spring. Their lack of funds along with continuous uncertainty due to state guidelines have forced the Class Council to be extra cautious. Carissa explained that they "have to ask about refund policies and COVID-contingencies before signing every contract."
Last week, the changes to the AP exam schedule caused more havoc amongst the seniors. There are exams on and the day after prom which may deter some students from attending. Of those students is Julian Torres, an AMST senior, who said taking his AP Statistics exam at 4 p.m. the day of prom would be "beyond irritating."
However, aside from the conflict with tests, Julian and some of his fellow peers are still excited for prom. "I plan on going anyway," Julian said.
Bryant Kye, ACHAHA senior and Class Council Treasurer, said his "biggest reason for going to prom is for the experience," because he "would be quite upset if we were not able to have any of our senior traditions." Others are choosing not to attend prom to "minimize the risk of contracting COVID-19," according to one senior, adding "the main factor preventing me from going to prom is that my family and I will likely not be vaccinated by that time."
BCA Juniors also weighed-in on the prospect of prom, as it seems more likely that a Junior Prom will occur if Senior Prom is successful. "I'd go to prom under pretty much any circumstances," said Meera Patel. "I think an outdoor prom would be super cool, but if an indoor one is possible, that would be even better."
Other Juniors, like David Wang and Carrie Ward, are more in favor of an outdoor prom. "An indoor setting would be a dealbreaker," said David, noting how an outdoor venue would make him feel a lot safer. Carrie added that an outdoor setting "would be really fun on a warm spring day."
To attempt to reduce the cost of a Senior Prom ticket, the Senior Class Council is hosting an auction and a raffle from March 24-27th to raise money. When asked about how ticket prices might affect his attendance, Bryant said "even if there is a relatively high ticket price, I would still want to attend so that I could at least see my friends one last time." David agreed, "I'm not a big party person, but honestly just a chance to meet up with friends safely would be amazing."
Carissa and Charis noted how challenging it has been to plan prom because nothing is ever certain in the pandemic, but "hopefully it is all worth it in the end to give the seniors a great prom," said Charis.