Intelli-Buoy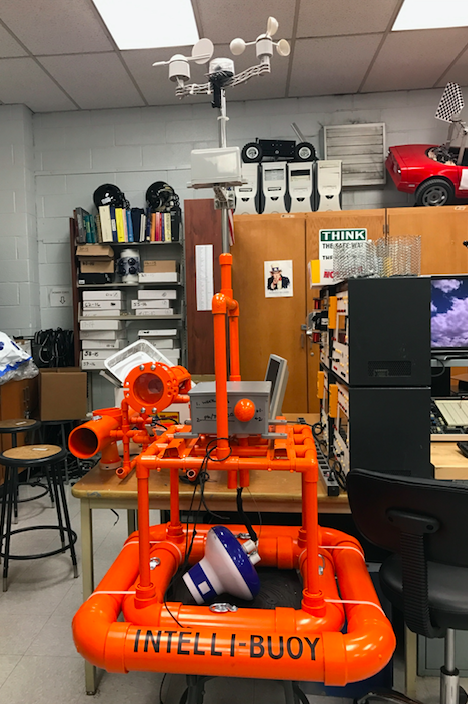 They dreamed, they planned, they succeeded. It was their love for the environment that kept them going. Mr. Nodarse's team of engineers, including Shannon Zhang and Laura Zhou, teamed up with ATCS junior Ohm Nabar in order to create their pollution detecting masterpiece, the Intelli-Buoy.
The students' research all started last year during their sophomore year when Shannon and Laura discovered their passion for environmental science. Shannon knew even in her freshman year that she wanted to be involved in mechatronics research with Mr. Nodarse. Then as a sophomore with some experience in engineering research, she moved on to environmental engineering, where she partnered up with Laura to create their research plan to build a device that would monitor bodies of water and collect data about water pollution.
While the two worked on assembling the Intelli-Buoy, Ohm Nabar joined in to work on the coding of the electronics. Shannon and Laura designed the project, built the outside shell, and then mounted the steel bars for a clean finish on the machine.
The students earned a grant of $400 when they applied for YSAP, the Young Science Achievers Program. The entire project was, according to Shannon, inexpensive in that the frames only cost around $100. The grant money was used for the creation of the pod, shown in the center of the buoy, which contains sensors that detect temperature, pH, oxygen levels, and turbidity, collecting an immense amount of data.
Currently, Ohm Nabar has taken up the project and is still working on the machine. The buoy was tested on water in the past summer by Mr. Nodarse, where it floated well without waves. A second ring was added after testing so that the buoy would be able to operate in rougher conditions where the water flow may be unstable. The researchers are still waiting for calmer weather for further testing with the buoy.
The students and their mentor are hoping that the buoy will be finalized soon for the use of the newly established Environmental Science Center to help detect the pollution of the bodies of water nearby. They hope that their passion can influence other students looking for engineering research opportunities.
When asked to share a word of advice for aspiring engineers of BCA, Shannon Zhang said, "It's good to get started on an engineering research project with one of Mr. Nodarse's electives or research prerequisites. The wide variety of engineering research topics, including mechatronics and robotics, are great opportunities to gain experience working with hands-on projects."
The Chronicle looks forward to seeing the Intelli-Buoy in action!