The New BCA Greenhouse Is Open!
 The new greenhouse at BCA is open for this school year, 2016-2017!
The newly constructed greenhouse, attached to the renovated Environmental Science Center (ESC), serves as a classroom for many courses. These include not only academy-specific or mandatory courses such as Biology, but also the Agricultural Sustainability project, Botany elective, Intro to Agriscience elective, FFA/Gardening Club, and Agriscience Research. Other electives may be offered in the near future. Students may also visit during their free time as long as another teacher is told of their presence.
At the start of this school year, Ms. Zepatos, Ms. Kennedy, and Dr. Pinto began teaching in the ESC. Ms. Kennedy has kept her classroom in the main building and shares room 103 in the ESC with Dr. Pinto.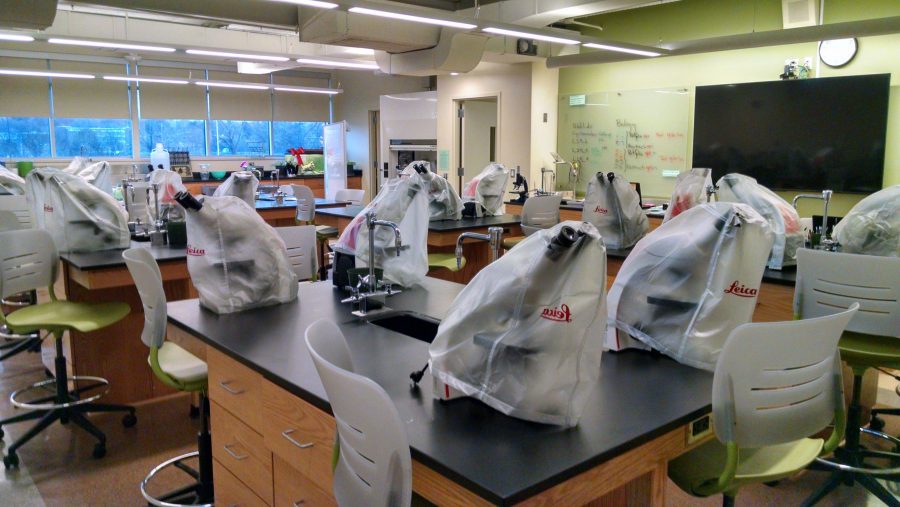 "The Environmental Science Center allows for students to perform Agriscience experiments during the winter months when school is in session," Ms. Kennedy said, who also runs the Agriscience Research program. " Normally the growing seasons for plants do not coincide with the school term and this allows for a controlled environment.  It also provides for an expansive space as well as equipment not always available in a traditional laboratory classroom." Projects involving LED lights, aeroponics, aquaponics, or the production of large crops such as corn "can only be accomplished in the greenhouse," she added.
The administration of BCTS felt that after more than 60 years (1954), it made more sense to build a new greenhouse than to simply renovate the ESC. Ms. Zepatos, Dr. Pinto, and Dr. Niedosik were able discuss the plans for the new ESC complex with the architects.
The center is comprised of two classrooms, a foyer, and three single-cell bathrooms, while the greenhouse includes the main room, research area, balcony, and other plant-sustaining equipment. Grow lights provide adequate daylight for the plants, and a compressor regulates temperature and humidity.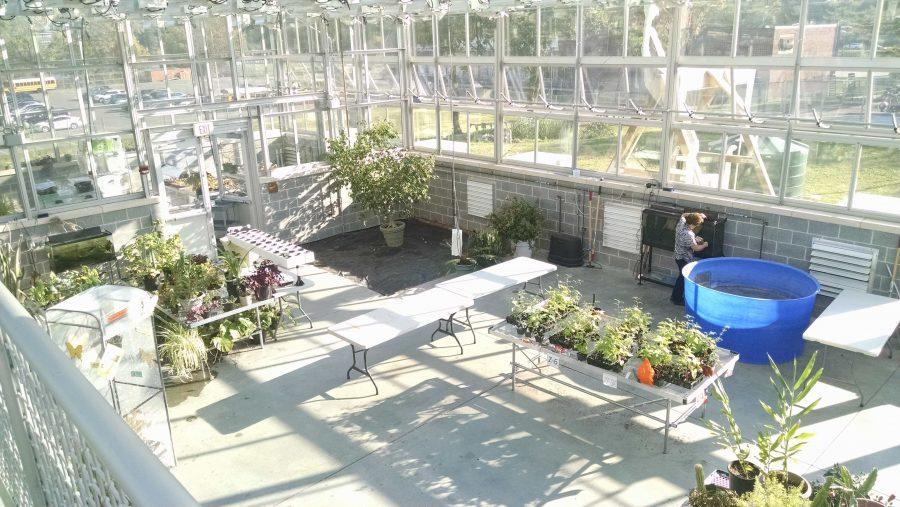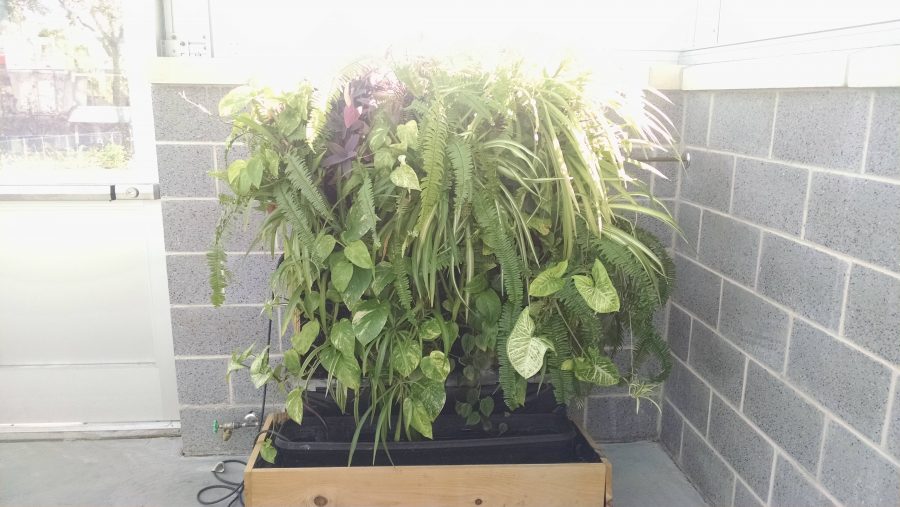 Only a few months after its opening, the greenhouse is exploding with plant life. A recycled hydroponic system featuring PVC pipes teems with buttercrunch lettuce ready for harvest, a vertical wood pallet hydroponic system that had been in the upper cafeteria last year now flourishes with tropical house plants, and the living wall installed in the main room begins to fill up with an assortment of plants. A gallery posted at the bottom of this article provides a peek at some of the many animals also kept in the greenhouse.
Students utilize the greenhouse to conduct research or take a hands-on approach to learning. Naomi Akiyama, a sophomore, takes Ms. Kennedy's Agricultural Sustainability project. "It provides many resources for students to perform hands-on agricultural activities and feel connected with the natural world. It's indoors and outdoors at the same time!" she joked. "And it's warmer in here than in the rest of the school."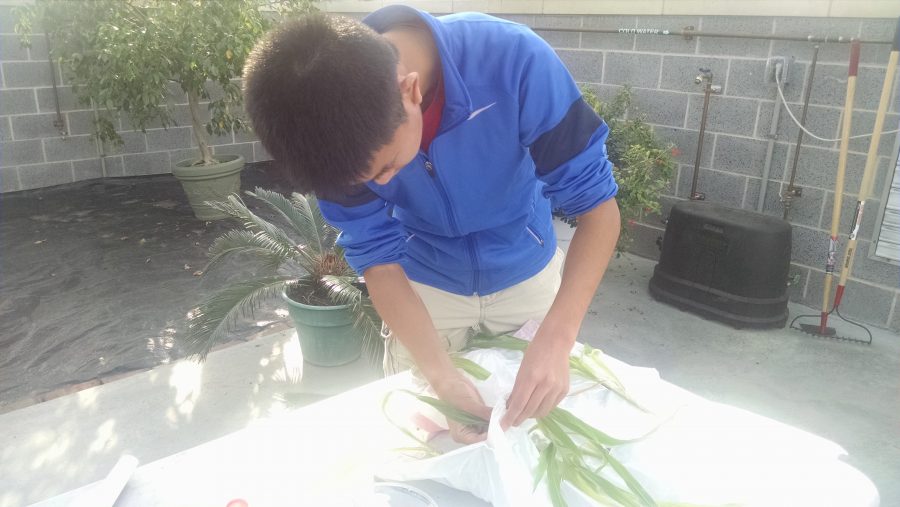 Kyle Han and Nikhil Lohe, sophomores in Ms. Kennedy's project, spoke about the hydroponic system their group built. Their group was able to test out the possibility of using a simple trash bag to effectively grow plants. The group agreed that the bag was a "convenient" choice for homeowners creating their own system.
Many projects are underway for the future. Ms. Kennedy plans to install raised garden beds this spring in the fenced-in area attached to the greenhouse. The area currently features a beautiful artificial pond which Ms. Zepatos hopes to refurbish.  Other big projects for the future include an indoor turtle pond and large scale composting (tumbler and pit).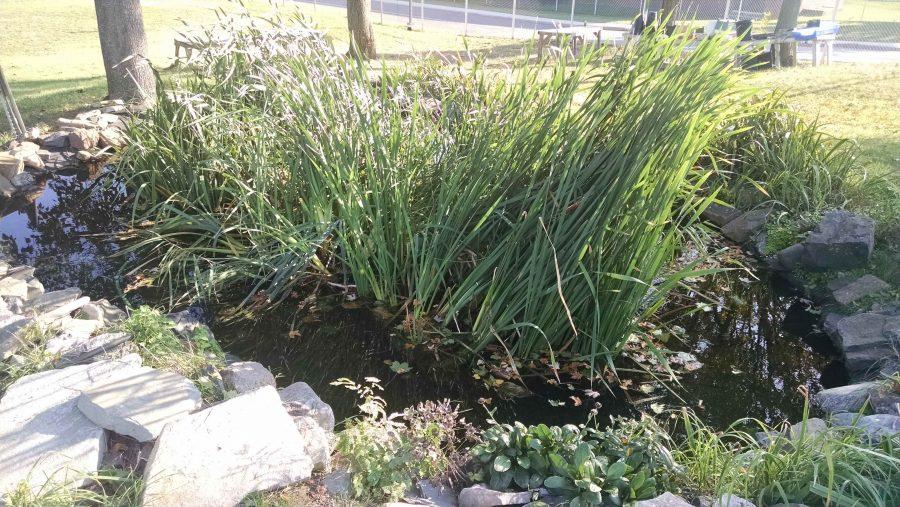 Ms. Kennedy also hopes to accept more students into her research program and spread agricultural awareness. She wrote, "We are also starting a collaboration with a school in Japan on agriscience research topics.  We plan to travel there this winter and hope to then host students from Japan in our facility perhaps next summer.  We intend this collaboration to extend for many years and give more students the opportunity to participate in this global exchange of ideas."
Below is a gallery of some of the greenhouse pets. More animals kept in the greenhouse include the neon tetras, zebra fish, mollies crayfish, a xenopus and albino xenopus, trapdoor snails, fire bellied toads, albino mice, and a large tilapia named Grande.
Of course, students are welcome to visit the ESC and greenhouse themselves for a quick tour or information on how to get involved!