Oz Noy Showcases New Album "Twisted Blues Vol. 2" Live at the Iridium
Nicholas Cho
May 27, 2014|30 Views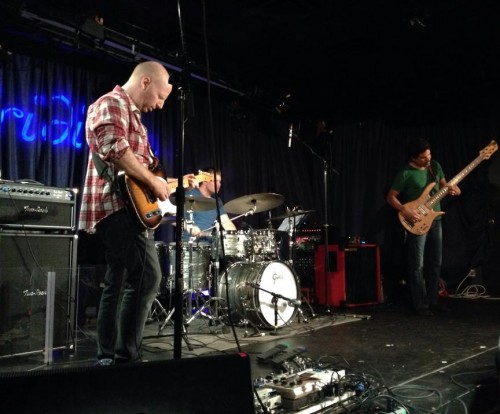 On the evening of Saturday May 17th, Israeli jazz fusion guitarist Oz Noy performed a set of fresh cuts from his new album, Twisted Blues Vol. 2, at the Iridium Jazz Club in New York City with his group, the Oz Noy Trio. The guitarist was backed by world-renowned drummer Keith Carlock (John Mayer/ Steely Dan/ Toto) and six-string bass virtuoso Oteil Burbridge (Allman Brothers Band/ Tedeschi Trucks Band), and the trio played jazz songs that both rocked and mesmerized.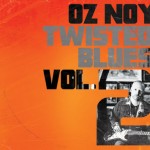 Oz Noy is well-known for his tight grooves and whirring guitar effects, both of which are featured on Twisted Blues Vol. 2. The album is the sequel to his 2011 release, Twisted Blues Vol. 1, and it continues on the predecessor's vein of funky jazz songs and slower instrumental ballads that have their foundations in the blues. The common thread between the diverse songs highlights Noy's creativity and constant expansion of his sound. When listening to this album, expect the unexpected: Noy roots his songs in traditional forms while adding his own twists to create a refreshingly unique album.
I was fortunate enough to catch the first set that night, during which the Oz Noy Trio performed eight of the ten songs off of the new album. The show started with "Get Down," which has an eerie guitar intro that builds in intensity with the rest of the band. The song features Noy using a Leslie rotary speaker pedal, allowing him to accent certain notes so that they sound like an organ. An unexpected harmonic sounded particularly spooky with the effect, and it captured my attention immediately.   Near the end of the song, Noy filled the Iridium with a cascade of sounds as he used his loop and pitch shifter pedals to create layers of dissonant ambiance.
Next was "Rhumba Tumba," a song filled with Caribbean grooves and Latin flair that served as a rhythmic improvisational platform for bassist Oteil Burbridge. During his solo, Burbridge navigated his fingers all over the fretboard as his chord melodies and fast bass plucking awed everyone in the audience.
After that, Noy took time to explain the title of his next song, "Blue Ball Blues." Having grown up in Israel, Noy explained that he did not know any of the slang here in the US. So, when his ex-girlfriend suggested the song title "Blue Ball Blues," he thought it was a cool pun on the blues and did not realize that she was joking. Anyway, he kept the name after discovering its meaning, and the loud, upbeat performance had a definite sense of urgency.
During the song, drummer Keith Carlock had the chance to solo as well. Carlock's solo began with common grooves that branched off with quick fills before intensifying into seemingly effortless waves of complex rhythms. He played his signature ghost notes on the snare drum throughout, quietly filling in the soundscape of his thunderous drum playing. His solo made me want to quit the drums, and I don't even play the drums.
The show then calmed down, only for a little though, as the trio started playing "Come Dance With Me." This song featured Noy's softer side of guitar playing. His dynamics in this song were impeccable: the crescendos were pushed to their limits and the diminuendos faded into the faintest guitar whispers. During his solo, Noy also accented certain notes throughout, adding to the fluidity of his melodies and the song as a whole.
The volume kicked back up with "Just Groove Me," a head-bobbing, catchy tune that prominently featured Noy's Leslie pedal again. Noy played both rhythm and lead guitar simultaneously, and when he focused solely on lead guitar, his speedy solo was jaw-dropping. "Slow Grease," a standard slow blues track soon followed.
By far, my favorite performance that night was the album opener's "You Dig," which sounds like jazz fusion meets the Old West. Noy said that if he were to have a hit off of this record, it would be this song, and I can tell why: it's funky, groovy, and gets you moving in your seat. This performance exemplified Noy's guitar skills. His technicality is incredible but his groove is even better, which is why his solos are always packed with so much musical depth and intensity.
To finish off the set, the trio performed the album's closer, "Freedom Jazz Dance," which is a cover of a song by Eddie Harris made famous by Miles Davis. Noy used his signature tremolo effect pedal that makes his guitar sound as if it is stuttering, and this effect was as mystifying live as it is in his studio recordings.
The two songs from the album that the trio did not play were "Come Let Me Make Your Love Come Down" and "EJ's Blues," both of which are homages to Austin, Texas's most famous guitarists, Stevie Ray Vaughan and Eric Johnson, respectively. The former is an instrumental cover of a Stevie Wonder track that featured Stevie Ray Vaughan while the latter is an original slow blues in 5/4 time in which Eric Johnson guests with his unmistakable fuzz guitar tone.
This concert was proof that Noy always pushes his musical boundaries in his performances and recordings, and luckily for us, there's no way to contain him.