Sweet Success: How BCA's ACAHA Students Prepare for the Chocolate Competition
Every March, the sweet aroma of chocolate fills BCA's upper cafeteria as dozens of extravagant cakes are put on display for ACAHA's Chocolate Competition. The competition is a highly anticipated moment in culinary students' careers at BCA, as it challenges them to apply the skills and knowledge they have acquired through their academy classes.
This year's event takes place on March 23rd, and many students are awaiting the chance to get a glimpse at the intricate finished cakes. However, students often don't realize the hours of time that culinary upperclassmen put into mixing, baking, and decorating in preparation for the competition.
"The process of making our cakes really depends from person to person, but usually we start with actually baking off the main components of the cake, assembling it, and decorating it last," says Anika Ha, a junior in the culinary academy. "In between baking and assembling, we usually make the smaller decorations or toppers for the cake. The last step usually takes the longest, since some of our designs are quite large. "
For much of the hard work put into the cake, students must consider the theme they have chosen for their decorations. Many use the theme as a way to instill their own creativity into the cake, as they choose to model their designs after their favorite movie or story."My partner and I have chosen to create a Winnie the Pooh cake this year," says junior Anezka Pospichalova. "Traditionally, all cakes will have three tiers and each tier is a new opportunity to show off your creativity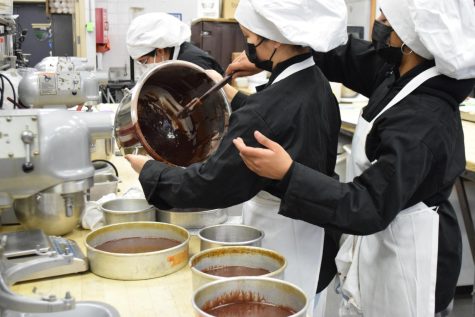 and baking skills. For example, our top tier will be in the shape of Pooh's honey pot."Anika also adds: "When choosing a theme, it's usually based on personal taste. I've seen many people base their cakes off their favorite movies or memories. Flavors depend on the theme, usually it's curated to fit the design of the cake."
Participants work with a partner throughout the entire Chocolate Competition process, requiring skills in partnership and coordination in addition to baking abilities. Luckily, Anika says that the ACAHA staff has instilled valuable teamwork skills into the culinary students from the very beginning.
"In my opinion, our culinary teachers have been preparing us since we entered BCA. Although it may not be purely for Chocolate Competition, they've taught us how to work efficiently. They've instilled habits within us that allow us to work comfortably in the kitchen and work neatly and accurately. I think that their lessons on teamwork as well as actual culinary skills have really enabled us to work freely and without struggling."
Being one of the smaller academies at BCA, ACAHA students have a close relationship with one another that also helps foster a seamless partnership experience. As Anezka says, "Not only do we learn from our partners, but culinary is a very close-knit academy and we communicate between groups as well to help teach ourselves. It barely feels like a competition, and more like a community."
Even so, BCA's culinary students have put countless hours of work into their creation and are looking forward to the payoff on the day of the competition. "I'm definitely excited," says Anika. "Last year, the sophomores were involved to a degree, but as juniors, it's a whole different experience. This is the first time I've dealt with such a large scale project, but the creative freedom makes Chocolate Competition the highlight of my highschool experience."
Again, the 2023 Chocolate Competition takes place on Thursday, March 23rd. While attendance to the competition is limited to ticket holders, students can congratulate their ACAHA peers and show appreciation for all the hard work they've put into their cakes!