The Great War: BCA's Experiences in the Race to Buy Taylor Swift Tickets
Whispers of "Taylor Swift" and "Ticketmaster" echoed throughout the BCA hallways on November 15th-16th, as BCA students frantically tried to buy tickets to Taylor Swift | The Eras Tour during the Verified Fan and Capital One presales. Many of those who attempted to purchase tickets experienced setbacks, website-crashes, and timing issues that made the process stressful and frustrating, but some students found solutions to improve their chances.
"It's been a long time coming," singer-songwriter Taylor Swift said in her tour announcement, and this certainly rings true for many of her fans. Since her 2018 stadium tour, she has released six studio albums, including her seventh album Lover, whose corresponding tour was canceled due to the COVID-19 pandemic. After waiting five long years to see her in concert, Swift's fans were very excited about the possibility of hearing her new content live.
Anybody who wanted tickets was offered three different methods of purchase. The Verified Fan Presale was the first, and it allowed people to enter in a randomized lottery for the chance to get early access to the tickets. Later that week, those with a Capital One credit card were given the opportunity to buy their tickets in an exclusive Capital One Cardholder Presale. After the two presales, a public sale was scheduled for those who were not chosen for the Verified Fan Presale and did not have a Capital One Card.
However, problems arose when Ticketmaster drastically underestimated the level of demand for Swift's concerts. Not only did her fans from 2018 enter the website on the day of the presale, but ticket resellers and new pandemic-era fans flocked to buy tickets as well. On November 15th, the digital queue to purchase tickets opened, allowing an unexpected and unprecedented number of users to enter the website. Throughout the ticket-buying process, many experienced long wait-times, delays, and even crashes on the Ticketmaster website, making it very difficult for fans to buy tickets before everything sold out.
"I got into the actual buying screen in less than 40 minutes, but Ticketmaster gave me an invalid presale code, not allowing me to buy any tickets," said Sophia Li, a junior in AMST. "One hour later of trying the presale code, it finally went through, and I was able to secure very good floor tickets, but it then kicked me out as I tried to move to the check out page."
In addition to the confusion and chaos of the presales, students had the added stress of purchasing tickets during school hours. Both presales began at 10:00 a.m., and 84.2% of BCA students experienced glitches and delays, which left many people's purchasing experience lasting multiple periods.
Visual freshman Valeria Penachi, another fan of Taylor Swift, says: "Both days I was walking around the hallway with my laptop in hand, and both times I saw tickets sell out in front of my eyes."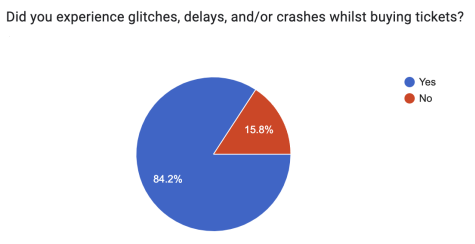 Many students actually anticipated this issue, and got around it by employing family members at home to do the purchasing for them. In fact, 57% of students relied on friends or family members to buy them tickets, and those who did not buy their tickets in school experienced 87.5% more success in purchasing their tickets.
By the end of the Capital One Cardholder Presale, demand for the tickets had proven to be far greater than Ticketmaster's expectations, causing tickets to sell out before the public on-sale, much to the dismay of fans without presale codes or Capital One cards. To add to disappointment, many fans who had bought Taylor Swift merchandise in the past received an email prior to the presale promising a boost in the ticket queue, yet experienced equal – if not worse – luck buying their tickets. 
However, Ticketmaster did provide some good news to those who received a boost email but were unsuccessful in buying tickets. On December 12th, this group of fans received an email offering a limited-time opportunity to request to blindly purchase up to two tickets. While only 14% of students who wanted to buy tickets received this opportunity, it definitely came as a relief to die-hard fans of Swift's work.
With the New Jersey shows of The Eras Tour set to take place at MetLife Stadium on May 26-28th, students with tickets are memorizing lyrics, planning pre-game activities, and coordinating outfits in anticipation of seeing the pop star live. Hopefully, the challenging experience of purchasing tickets will not deter fans from enjoying the concert and making unforgettable memories.