BCA Gets a Kick Out of the World Cup
It seems like just yesterday that the BCA halls rang with emotion as students cheered victoriously or hung their heads in defeat. Such a memory can be attributed to none other than the World Cup. The major soccer tournament which usually happens in the summer, ran from November 20 to December 18 this school year due to the hot temperatures in the host country of Qatar. However, for many BCA students, this felt like a blessing in disguise as they were able to enjoy the emotional ups and downs of the competition with their friends, classmates, and teachers. 
The Academy Chronicle asked students to reflect on their thoughts about the World Cup and how its presence was felt at BCA. Of a survey of 73 students, a whopping 100% said that their classmates showed interest in the World Cup. Another 72.2% said their teachers showed interest in the games with many expressing their gratitude toward teachers who let them watch the matches in class. 
"A lot of people streamed it on the lower cafeteria TVs and it was really fun to watch it as a community," one student said.
Despite the diverse student population at BCA, only 35.7% said that their nationality was represented in this year's World Cup. Nearly 20% of students stated that they supported Argentina and about 23% supported South Korea, due to the large number of Korean students at BCA. However, many students, despite not having their nationality represented, continued to support teams in the World Cup.
Other commonly supported teams included France, Morocco, and the U.S., with many students rooting for multiple teams. Notably, the majority of BCA students watched the World Cup with a substantial amount viewing and following it regularly.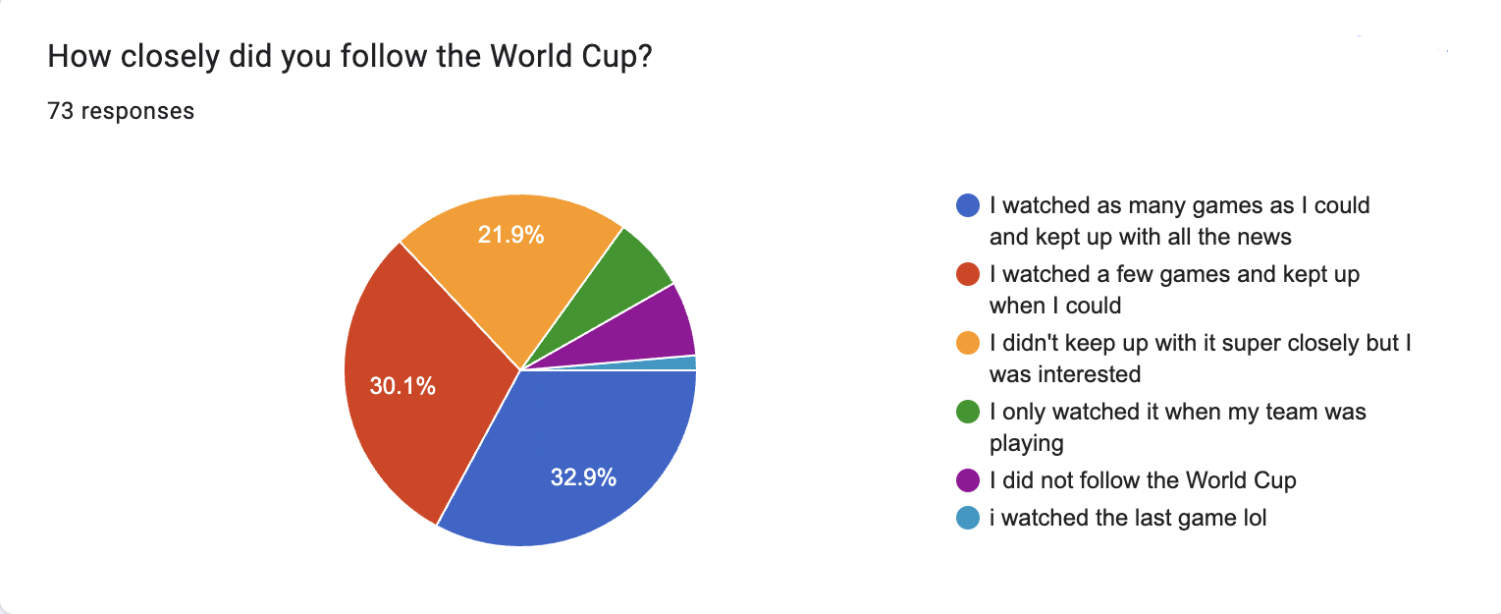 Many students also commented about how the World Cup brought the BCA community together. "Whether you're really into soccer, or you barely know what the sport even is, this event brings everyone together because it's an intense and super exciting competition to watch," said Collin Lee, a freshman in AEDT. "I remember seeing so many different groups of people in the hallways asking, 'What game is on?' or, 'What's the score?' Big sporting events like the World Cup can do some wonders to bring people together."
As a result of its occurrence during the school year, the intensity of the matches was largely felt by students. "There were so many games that had me on the edge of my seat," said Collin. Nevertheless, Collin said that the most intense game was probably the final in which Argentina challenged the returning champions, France.
The World Cup final finished with a nail-biting penalty shoot out. Collin describes that Argentina's 2-0 lead until the 80th minute made him think Argentina would be the champions. However, to his surprise, the France team came back to even the score by the end of regular time. During extra time, each team scored making it 3-3 and leading to a penalty shoot out. "Once the game was tied up, I literally could not walk away. It was so intense!"
As the excitement from the World Cup wears off, students are beginning to think about what the future holds for up and coming national teams. 
"There are so many teams that I'm looking forward to see play in future World Cups," Collin said. "One big team, though, is South Korea. South Korea has definitely improved massively over the years, and this year, they truly played like they belonged. If they can build off of that momentum from this year, we could see them become a true World Cup contender like Argentina or Brazil." He also noted that he sees a lot of potential in the Morocco and U.S. teams going forward.
Overall, BCA students thoroughly enjoyed the World Cup and it helped to bring the BCA community together. Students are already anticipating 2026, in which the competition will take place across the U.S., Canada, and Mexico. While the matches will go back to taking place in the summer, as usual, we can certainly still expect to see an excited student body.