Ninth Period Sports and Student Sacrifices
Historically, BCA hasn't exactly been known for its sports — unless you count the math and debate team, that is. Yet many academy students still partake in these organized athletic activities both inside and out of school. In fact, it is not uncommon to see tennis bags, lacrosse sticks, or cleats lined up on the benches outside of the auditorium. But considering both the prevalence of sports and their timing during the period nine elective, it is apparent that many student have made the hefty decision between being part of a school team or experiencing period nine electives and Wednesday hour clubs. To gauge opinions on this issue, the Academy Chronicle surveyed and interviewed BCA students. 
The primary reason for starting sports during period nine is BCA's extended day, which is not applicable to the rest of the BCTS schools that have a combined sports team with the academies. Yet, in contrast to the current situation, 61.4% of 57 surveyed students agreed that sports should not be held during elective/club hour. One AMST sophomore considering to do spring track agreed with this view: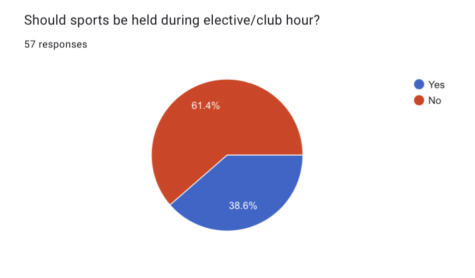 "Starting after school would be more accommodating for my schedule, since I am already committed to a year long elective."
Larissa Itondo, an AMST sophomore who played sports all three trimesters last year offered a different perspective: "Sports should be held during the ninth period because starting after [that] is pretty late," she said. 
For students at an academically demanding school such as BCA, time can be a precious resource. Indeed, eight out of 29 survey respondents  said that they have a difficult time managing their workload with sports.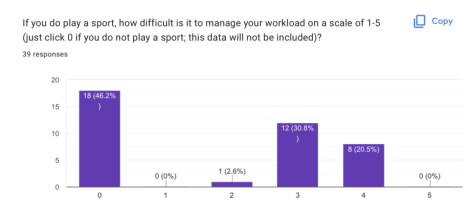 To Sabrina Lewis, an AMST sophomore on the JV basketball team, "the workload is manageable" but "not always easy." She also preferred having sports during period nine  because "it allows [her] a little more time to get work done." 
In order to deal with the decrease in time due to sports, the Academy Chronicle also surveyed students about giving athletes accommodations, such as extensions on assignments. An overwhelming majority — 86.7% — of the respondents said yes.
Larissa agreed with this statement, saying that "teachers should account for [hours lost to sports] where other students would normally get work done." 
Similarly one AMST sophomore who plays JV volleyball expressed a similar view, although acknowledging that "others may view it as unfair." She added: "I think it would be good if students have extensions when there are games."
On the other hand, Sabrina expressed an opposing opinion:  "If you do a sport you are making a choice. The responsibility of homework ultimately falls on the student." 
What also cannot be ignored is the fact that Wednesday clubs take place during ninth period, meaning that BCA athletes have no chance to participate in them. This may mean that these students also miss out on a chance to socialize with other students in what Sabrina described as a "relaxed, no pressure environment." Multiple students expressed that they were open to the idea of moving clubs earlier in the day, in order to solve this issue.
"Clubs should be moved because I miss a lot of opportunities for leadership in clubs due to sports coming in the way," said another AMST sophomore on the JV tennis team.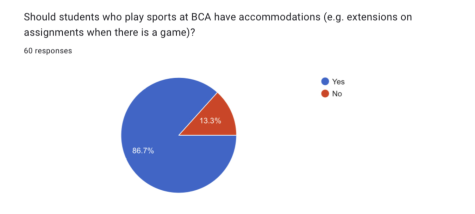 Yet interestingly enough, respondents of the survey did not seem to agree. In fact, 62.7% of surveyed students — whether participating in BCA sports or not — believed that clubs should not be held earlier in the day. Larissa agreed with this data and said that clubs are simply "extracurricular activit[ies] that students can do after school." 
Perhaps this consideration is also why 26.5% of surveyed students ultimately decided to play a sport at BCA rather than participate in clubs and certain electives.
In the end, all of the interviewed students seemed to be satisfied with the decision they made to participate in sports. Asf Alex Kim, a sophomore in AAST who played soccer in the first trimester of freshman year, made clear: "The option is ultimately up to you and there is no right answer."