BCA's First De-Stress Fest Brings Insight Into Student Wellness
On May 23rd to May 24th, BCA experienced its first ever De-Stress Fest that had been postponed until after the pandemic.
BCA is known to be a highly stressful environment, with its academic rigor and challenging classes. However, student-led organizations such as Student Council and the Wellness Club have strived to bring such activities that would hopefully alleviate stress levels. 
This year, the Wellness Club organized multiple school-wide events. Olivia Orlowski, one of the student leaders of the Wellness Club, provided the inside scoop on the behind-the-scenes of the Wellness Club's latest event: the De-Stress Fest. 
Olivia first explained how the De-Stress Fest came to be. "Basically, before Covid happened, there was a plan for a De-Stress Fest that the Mental Health Club was supposed to do with StuCo, so [this year] we kind of took over and adjusted a few things." 
As with most activities, the global pandemic caused multiple school activities to come to a halt. Despite the postponement of a wide array of school activities, the Wellness Club smoothly was able to successfully implement them back into the school year. According to Olivia, this year's first-ever De-Stress Fest was planned with a certain timing in mind.
"I really don't know how [StuCo] came up with [the De-Stress Fest], but I know that the supervisor of our club thought it would be a really good idea, especially having it after all the AP tests and everything." 
May was certainly the busiest month for upperclassmen who had exams. With announcements of exams every day over the loudspeaker, stress was inevitable. The De-Stress Fest was purposefully held at the end of May to manage the excessive stress levels students were experiencing.
So, how was the event run? Students were ordered to report to the gymnasium during their physical education period for the event. When walking into the gymnasium, they were faced with a variety of creative stations to participate in.
Once split into groups of twelve, students were accompanied by their physical education teachers, serving as chaperones, and then had the opportunity to participate in the activities planned at each station.
Activities included spikeball, ultimate frisbee, coloring, gratitude post-its, cornhole, a beanbag toss, Jenga, and stress-ball making. "We kind of just tried to figure out what stuff would be engaging," said Olivia. "I know people could do a lot of activities, but no one would really be into them. So we were thinking based off of what we would like to do, what our club members would like to do, and what we think our grade would enjoy doing."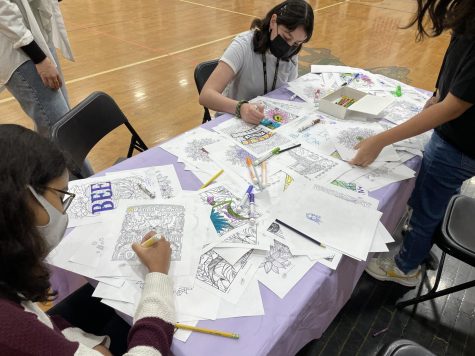 Some activities were commonly enjoyed among the students, while others were less popular. "I thought that some of the activities were really nice," said Vidhi Bansal, a freshman in AMST. "And the cornhole was really fun." But she also added, "The coloring was not that fun. And Jenga was pretty stressful. We didn't have that much time per station, so it's not like we got to enjoy it."
The time limit on each station was a downside for others as well. Sean Kim, a freshman in AMST, said, "You had to spend a set amount of time at a certain place so I thought, 'I kind of wish I had more time to do certain activities.'" 
Despite students wishing the De-Stress Fest was longer in duration, their eyes were caught by one particular event: stress-ball making. "My favorite activity was probably the stress ball making, because I liked fidgeting with it," said Sean. In fact, during the week of the De-Stress Fest, students were spotted in classrooms holding their homemade stress balls during class.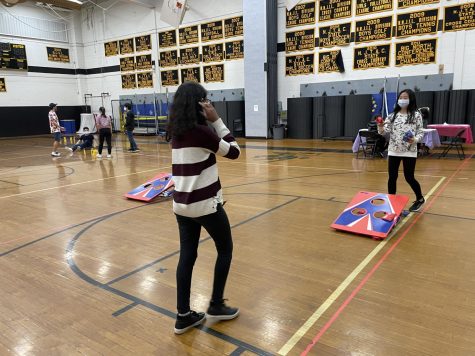 Vidhi, however, expressed her disappointment as she recalled that materials had run out to make stress balls by the time she arrived at the station. She said, "Getting the sand for the stress balls was very stressful, because all the sand was on the floor – so we had to scrape it off – and it was just not worth it." 
In light of the De-Stress Fest, wellness and mental health are two large issues that students have brought up to administrators this year. "I can't say about mental health," said Olivia, "but I know that in the moment a lot of people enjoy [the Wellness Club's activities], and I think it helps their well-being for at least a day, or at least the moment when they're doing it."
Perhaps it's the small moments that count towards improving student stress levels. Although students may have not felt that their overall levels of stress dramatically declined from the De-Stress Fest, there is no doubt that Wellness Club has put an effort to try and improve student life by creating memorable moments through their events. After all, these fun and interactive moments caught between students are what made the event remain in high popularity throughout the school. 
"I was really looking forward to seeing everyone's excitement or at least people being able to change up their day in some way," said Olivia. Sean also acknowledged, "[The De-Stress Fest] was fun in the moment, for those 50 minutes."
And with that, BCA's first De-Stress Fest came to a close. But that's not all. The Wellness Club will be back with more events next year, bringing more memorable moments for students in years to come.