Journey to the Bronx Zoo: an AMST Freshman Experience
The weather only entailed mild precipitation and gray skies, but for the  AMST freshman students in Mr. Zhang's biology classes, it meant a possible hinderance to their biome scavenger hunt. On the first Wednesday of May, 2022, when students in their respective three-person groups explored the Bronx Zoo in search of animals corresponding to their assigned biomes.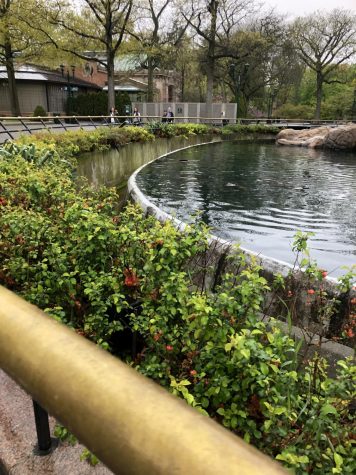 Boarding the bus, most students seemed to be at least mildly  excited to embark on the second freshman off-campus trip since the pandemic began. Even i
f the initial joy was simply due to skipping class, the landscaped zoo was a refreshing change from the typical, sedentary classroom setting.
The task itself was also a change from the typical video or diorama project. In order to get full credit, Mr. Zhang required students to make profiles of eight unique animals from their biomes that will later be featured on each group's website. Adding variety, each group was randomly assigned to explore the taiga, chaparral, tundra, savanna, temperate forest, tropical forest, temperate grassland or desert.
But of course, not all biomes are created equal: some had more Bronx Zoo exhibits than others. The varying biomes certainly defined the experience of a few zoo-goers. When surveying about scavenging for animals of the various biomes, 40 percent of the 20 participants said that a different biome would have made their trip more enjoyable.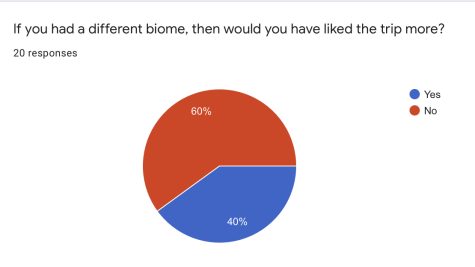 Eesha Oza, 2025 class council treasurer and one of the organizers of the trip, said this about her biome:
"Since I had chaparral, my group looked at a variety of mice, snakes, butterflies, and birds of prey, but we didn't get to see the bigger animals such as tigers, bison, zebras, etc. The chaparral is definitely like the hardest biome, so I would've probably preferred to have a biome that was more diverse so I could have profiled more interesting animals."  
This data may also have been heavily influenced by the fact that eight completed profiles were necessary to have a chance at Mr. Zhang's long anticipated extra credit. For the groups with more challenging biomes, a limited number of animal profiles could have led to missing the opportunity to obtain eight extra points! That is certainly a great amount in any class. 
In fact, Mr. Zhang's extra credit opportunity was one of the most eventful occurrences of the day. Just after 11:30 AM, Mr. Zhang posted the Schoology clue: "What did the buffalo say the day his son left for college?" Immediately after seeing this, my group members and I began running as fast as we could to the American bison exhibit.  
Still, we weren't the only ones to decode the message. When I was running, groups both ahead and behind raced against us to reach Mr. Zhang, many with printed animal profiles gripped tightly in their hands. While no one seemed to go to the extent to cut through the bushes, there was fierce competition, both to the exhibit and within the crowd around Mr. Zhang. In the chaos, one student even fell down when turning the corner, scraping his knee. 
But while this event was tumultuous, unpredictability is what makes an adventure exciting —especially if it ends in winning extra credit. After surveying the freshmen, responses to the extra credit were mixed, although more than a few people found it to be one of the most memorable experiences of the day. Amusingly, every responder who discussed the topic said that they were specifically "running to find Mr. Zhang." 
Mr. Zhang agreed with the varied results, saying that "students are naturally competitive at BCA, some of the competition is fun, but there is a thin line between fun competitive and overly competitive." Nonetheless, he would "like to think that [the trip] is enjoyable."
And the majority of surveyed students agreed. 70 percent enjoyed this project more than the previous diorama or video projects done in biology class. As an even more telling sign of the trip's success, not one surveyed student said they had an unpleasant  experience. After witnessing many come home with stuffed animals as souvenirs, I am sure at least some came out of the experience feeling fulfilled.

In the end, the only complaint of a few survey responders was that they wished they could have spent more time at the zoo. Eesha, who had a unique perspective as one of the organizers, thought that "everyone's collaboration and effort made [the trip] turn out even better than expected."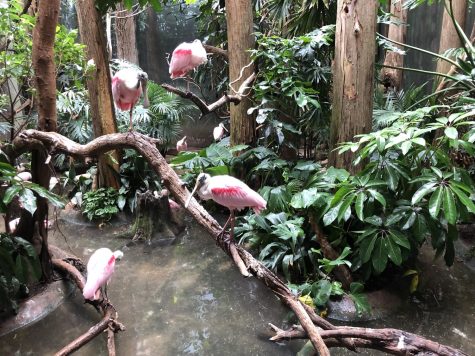 According to Mr. Zhang, students enjoyed the trip more than previous years — especially since students only had to complete one biome, not two. "There were less complaints about how much running" was required for the project, he says. 
After the positive feedback this trip has received, hopefully our school can begin to go on more off-campus trips. And, of course, thank you to Mr. Zhang, Vidhi Bansal, Eesha Oza and all the other students, teachers, staff, and the BCA administration; your teamwork made this event possible.