Are The Oscars On the Decline?
Leading up to this year's 94th Academy Awards, viewership was of big uncertainty. Would the Oscars reflect yet another year of decrease in viewers? Or would it bring a resurgence in popularity with the pandemic slowing down? The answer is quite clear.
This year's Oscars drew in 16.6 million viewers, displaying a 58% increase from last year's record low audience of 10.5 million viewers, according to Nielsen, a global marketing research firm. However, unsurprisingly, it still marks the 2022 Oscars as the second-worst in terms of viewership and for ratings. 
58 BCA students were polled to see if this trend was also present in our own student body. A majority of students reported that they had not seen the Oscars, with 58.6% stating they had not seen this year's Academy Awards and 41.4% stating that they had. Similarly, of the people that had watched the Oscars this year, 21.8% of students said they had only watched from anywhere between less than five minutes to a maximum of 30 minutes.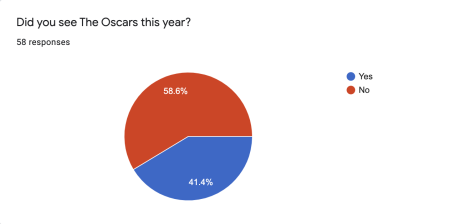 So why has viewership been on a steady decline over the past few years for the Academy Awards? One possible explanation is that the Oscars are geared too much for movie fans and aren't casual friendly enough. Evident in its nominees for different awards, it is quite clear that people don't watch the movies that get nominated. In a poll conducted by the Los Angeles Times, a majority of consumers who had seen the numerous best picture nominees were unaware that the particular movie was even nominated for an Academy Award. 
Similarly, the same group of BCA students were polled to see how many had seen this year's best picture nominees. Almost a majority of students reported that they had not seen any movie nominated for best picture, with the two most seen movies being Don't Look Up and West Side Story, the more mainstream of the bunch. If popularity and accessibility are any forms of metric in determining mainstream appeal, many of the movies nominated for awards don't bring in any commercial appeal because they typically aren't popular amongst casual movie-watchers. 

The box office is one form of quantifying movie success and popularity. The winners for best picture in the previous five years have reflected the trend that best picture winners do not make much money at all at the box office. In 2018, Peter Farrelly's Green Book, managed to win best picture over A Star Is Born and Bohemian Rhapsody, despite only making 85 million dollars. While monetary success shouldn't be the driving factor in winning an Oscar, or even being nominated for one, without commercially successful films, people have no reason to watch the Academy Awards over films they haven't seen. 
Award shows of all types have displayed a similar trend. While their waning popularity is no secret, it is not a stretch to say people aren't interested in awards shows as much when compared to the 1980s. The 1980s were a period of time when celebrities were not at the front of media reports. The Oscars provided a live show, full of celebrities in which the public were able to get a better connection with these people. As Vox states, "they [were] fascinated with Hollywood, with the glamour, with seeing stars in a few rare semi-unscripted moments."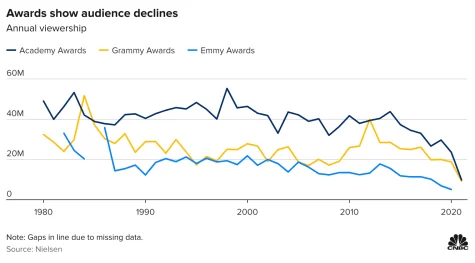 Now, actors and actresses are all over the media. People see them in the news daily and the notion of being a celebrity isn't as enigmatic as it once was. The Oscars do not provide an exclusive experience to the public anymore, and the decline in the viewership of the Academy Awards is no surprise.