Chef J: A Reflection of 19 Years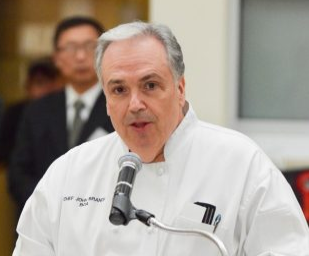 For 19 years, Chef John Branda (Chef J) has been a part of the BCA staff as one of the teachers in the Culinary Academy. He has inspired many students to strive to do their very best and encouraged them to go on to do great things.
Before becoming a teacher here at BCA, Chef J had a flourishing career that all began in a guidance counselor's room in the 10th grade. He said he "wanted to be a history teacher, but my guidance counselor talked me out of it" as there weren't many jobs in that field at the time. Later, he expressed his interest in one day "wanting to become a chef and own a restaurant."
Already working at a local bakery and a fruit and vegetable store, Chef J's counselor encouraged him to "look at the Culinary Institute of America and Johnson and Wales University as post-secondary options." His father also advised him "to write a letter to the Executive Chef of the Waldorf Astoria."
This ambition resulted in a response on a "beautiful gold-embossed letterhead." Eventually, after keeping contact with the Executive Chef at the Waldorf, Chef J was hired there after graduating from the CIA. Chef J went on to work his way up the ladder at the Waldorf and eventually own a restaurant of his own.
After 30 years of working in the hospitality industry, Chef J received news of a new opportunity. "My brother (who works at Bergen Tech) told me that there was a job opening at BCA and that I should apply," said Chef J. "I was very excited about teaching as I saw my two early passions, teaching and culinary/hospitality, intersecting. So, I immediately applied, was interviewed, and in a matter of a week or two, hired and on my way to becoming a teacher."
Soon approaching his 20th year at BCA, Chef J's passion and love for teaching never wavered. "Challenging oneself to meet and exceed expectations was a great training ground and mindset for teaching. I always tried to set myself on a course to be successful but have fun and set an example of professionalism for my employees and for my students."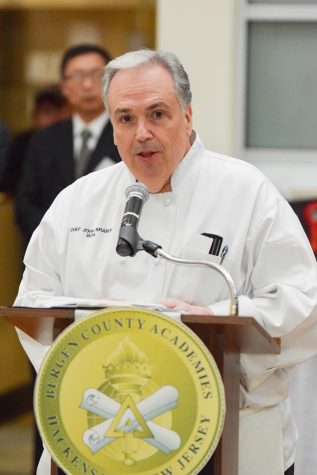 Through the years the Culinary academy has seen significant changes. "When I started at BCA, only one student even applied to Cornell. Now, Cornell and many other hospitality schools accept our students in large numbers."
With the growth of the academy came more "involvement of our alumni." Many ACAHA graduates have attended BCA events and have become a part of our advisory board. In addition to this, some alumni have also become teachers such as the new instructor at BCA, Chef T, who was also a part of the culinary academy.
Through all the changes in the academy, Chef J said his favorite thing about teaching has always been, "providing a fun learning experience and 'learning by doing' atmosphere BCA."
Chef J has always held his students to the highest standards. "To be hospitable, caring, and to set high expectations for themselves. Also, to strive to become leaders, remain good people, and treat people the way that they would want to be treated."
In his 19 years teaching at BCA, Chef J has had many "memorable moments" with students, staff, parents, and alumni. "The most memorable moment stretched from October of 2020 to September 2021, when the staff, families, friends, and students of BCA rallied around and supported my family when my wife fell ill and then again when my house was deeply impacted by Hurricane Ida. There were many unforgettable, meaningful, and amazing gestures of kindness which I know that I can never repay."
Chef J concluded with this heartfelt thought, "It's an amazing place, filled with amazing people. I used to tell people that my 14 years at the Waldorf was the best job I ever had but being at BCA made that a distant second a long time ago."