End of Trimester 1: Hell Week at BCA
The end of the trimester is one of the most stressful times for BCA students, with seemingly never-ending piles of homework, countless exams to study for, and an eye always trailed on fluctuant grades. The two weeks preceding the official end of the trimester overwhelm students with assignments and assessments as teachers rush to finish units and enter final grades. Because projects and electives come to an end, students must complete final projects or exams in those classes while thinking about what courses to take next trimester. Meanwhile, the flow of regular assignments does not slow. In fact, this hectic time earned itself a special name: hell week. With the first trimester having come to a close on December 8th, I conducted a survey asking students about their end of trimester experience to quantify the difficulty of hell week for the student body.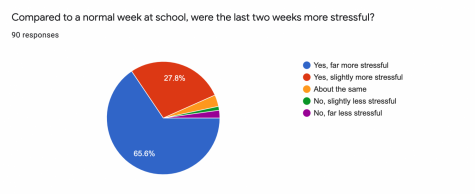 Almost all respondents agreed that the last two weeks of the trimester were more stressful than an average week at BCA. Over the ten-day hell week, the average student had three tests, four quizzes, one presentation, and three major assignments due. 
In general, the assessments caused students the most stress. However, the added challenge of college applications loomed over seniors since early decisions came out near the end of the first trimester and regular applications are due very soon. Additionally, several seniors noted that this trimester is the last one that gets reported to colleges, increasing the pressure on seniors to do well.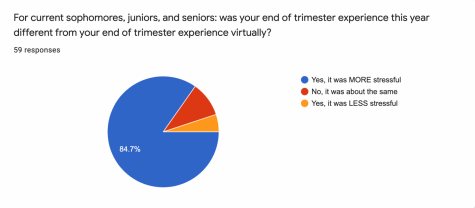 Aside from that, BCA's student body also had to adjust to in-person hell week after over a year of virtual learning. Students almost unanimously agree that in-person exams are more stressful than virtually administered ones, and students also face longer classes and added commute time. All of this contributed to the last few weeks of this trimester being more taxing than any increase in workload experienced last year.
Unfortunately, the end of the first trimester did not mark the end of the overwhelming workload for most students because many classes plan curriculums to finish units before winter break, making the final week before break equally hectic for many students.
On the bright side, however, students can use the ten day winter break to relax and recharge, spending the holidays with friends and family without overhanging assignments. And, of course, the second trimester has just begun, so students don't have to worry about another hell week for a while.