Fall Must-Trys
     Once September rolls around and you go to school, summer is already over. You start to see beginnings of fall and suddenly have the urge to have some apple cider. The fresh scents of cinnamon and apples float in the air as crisp multi-colored leaves fall from trees.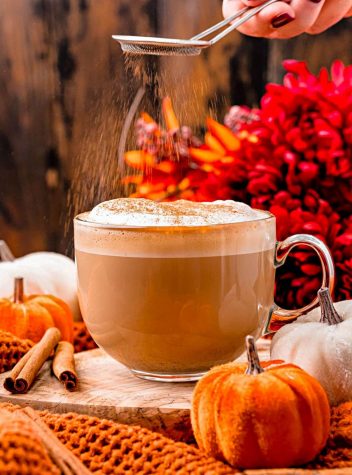 Fall wouldn't be so special without fall-themed hot drinks and lattes. Everyone has their own drink of choice. Jisae Son said that, "Pumpkin spice lattes are my favorite fall treat." Aniyah Thorpe said, "Pumpkin spice lattes are also my favorite. They're the only fall drink that I like."
Chai lattes are also a huge favorite of many people. Zoe Gossa said, "I love chai lattes. I drink them year round, but I especially love them in the fall."
For many people, the start of fall means "pumpkin spice latte" or "chai latte" mode for a whole three months. But even if pumpkin spice lattes and chai lattes aren't your thing, you can still celebrate the start of fall with some warm, autumn flavors!
     A classic fall dish is a butternut squash pasta bake. Don't let the name intimidate you: really, the hardest part of this dish is cutting the squash.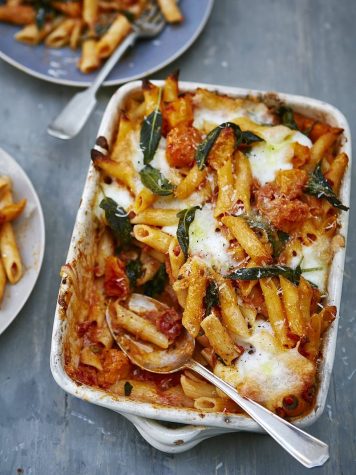 First, follow the instructions on the package of whatever tubular pasta you have. Cook it for 3-4 minutes less than what it says on the package so that you undercook it just a bit. 

Make sure to reserve 1 cup of pasta water. While that is cooking, chop your medium butternut squash into cubes. Make sure to remove the seeds and peel the skin. Heat oil on a pan and then add the squash plus salt and your favorite spices to season it. Do this until they are browned in some spots and are tender.
     Preheat the oven to 400 degrees. Add 1 cup of vegetable broth or water to the squash until it is soft. Turn off the heat, and then use a potato masher or the back of a wooden spoon to crush most of the squash. Add the pasta, reserved pasta water, and spinach to the pan with the squash. Mix them together. Place your pasta in a baking dish and top with mozzarella, ricotta cheese, and basil. Bake for about 12-15 minutes until the top is melted, and indulge!
     
      One of the most popular fall desserts are apple cider donuts (rightfully so). Sofia Vergara said "My favorite fall snack is definitely apple cider donuts. My family always gets them during the fall." Julia Zawadzki said "The best apple cider donuts are the ones I get whenever we go apple picking." 
      It's always so sad when the apple cider donuts from apple picking are all eaten. But you don't have to wait to go apple picking again to get them. You can make them yourself!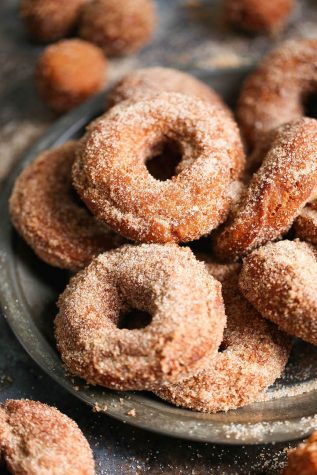 First, heat the oven to 350 degrees. Lightly grease a donut pan (or a muffin pan if you don't own one).
In a bowl, mix 1 ¾ cup flour, 1 ¼ teaspoon baking powder, ¾ teaspoon salt, 1 teaspoon cinnamon, and ½ teaspoon grated nutmeg. 
In a bowl of a stand mixer, cream 10 tablespoons butter, ¾ cup brown sugar, and ¼ cup granulated sugar until light and fluffy, about 3-4 minutes.
Add 2 large eggs one at a time. Then add 1 teaspoon of vanilla extract. Add the dry ingredients and mix until well combined. 
 With the mixer running, pour in ½ cup of apple cider. Spoon the batter into your trays. Bake for about 12-15 minutes, or until evenly golden brown. Use a toothpick to check if they are done.
     While they are still baking, melt 6 tablespoons of butter. Brush the donuts with melted butter and dip into a mixture of ½ cup granulated sugar and 1 teaspoon of cinnamon. You can eat them both warm and cool!
     If you don't have time to make your own fall dishes, that's ok! There are plenty of options at grocery stores that are quick to warm up as lunch or dinner. They're super easy and quick to make when in need of a quick meal while studying or doing homework! Enjoy!
Image Credits:
https://www.momontimeout.com/pumpkin-spice-latte/
https://www.jamieoliver.com/recipes/pasta-recipes/squash-and-ricotta-pasta-bake/
https://damndelicious.net/2017/12/19/apple-cider-donuts/