Academy After Hours Returns!

The entire world has suffered through a long-lasting pandemic, eagerly waiting for things to return to normal. From being able to hang out with friends and go to school in-person, to being able to travel, we all have something that we look forward to as the pandemic hopefully comes to a close. One sign that this normal would be returning would be that after a long, awaited year, Bergen County Academies' virtual Academy After Hours is finally up and running in Spring 2021! So, what exactly is Academy After Hours?
Academy After Hours is a program coordinated by Mrs. Feuss. This program is designed to allow elementary and middle school students to begin studies in academics involving mathematics, literature, computer science, and in the past, courses involving scientific experimentation, starting businesses, and learning things!
This program runs during the springtime as well as in the summer; this year's spring AAH is currently in session, but the plans for summer are still undetermined. Several of the classes are taught by BCA teachers, whereas other courses are covered by teachers in various towns in Bergen County. In previous years, classes in AAH have been taught by Mr. Zhang, Mr. Djedji, Mrs. Villanova, and Mr. Paul.
However, BCA teachers aren't the only people involved- students at BCA have volunteered in the past, and various students are helping out with the classes that are running this year. A major difference in the way that AAH has run in the past is that the classes were more diverse in terms of not only subjects, but for grade levels. Some classes were designed for middle school students whereas others were for elementary students; the classes that are running right now are mostly, if not all, for students in grades 5-8.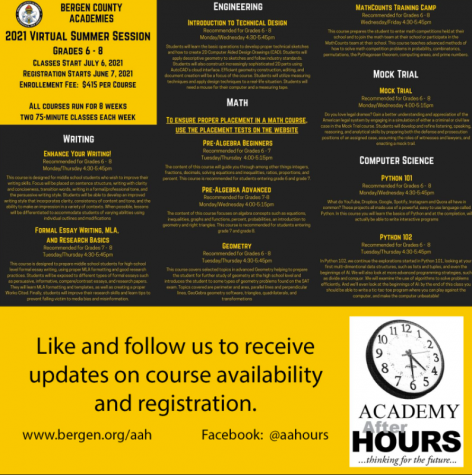 Mr. Zhang, a freshmen biology teacher, commented on his experience in teaching several classes for AAH in the past, including Strategy through Board Games, Sports Science, Science of Flight, Science of Cooking, Introduction to Business, and Algebra.
"For the science of cooking, I remember making dumplings and we learned about the different taste receptors on our tongue that sense the 5 tastes," Mr. Zhang said. "For introduction to business, students created their own companies and we went around to other AAH courses to sell candy. With the money the companies made and tracked, we bought ice cream for all the students at the end of the program."
After being asked what he would do if any of his programs were running virtually, Mr. Zhang had this to say: "I think the courses would not be very fun virtually. The fun part of AAH was the hands-on activities we did in class. The kids got to meet all sorts of people from all over Bergen County that were like them. If I were to teach these courses again, I would dream up of new, fun activities that we could do together."
Mr. Zhang's words described how not only did students learn interesting things with hands-on activities, but teachers also enjoyed connecting with the students.
"Now that I've reflected about teaching in AAH, I kind of miss it. Those were some great times over the summer."
Although not the same as in-person classes, certain classes have resumed this year. Mr. Seventko, a BCA mathematics teacher, is currently teaching a class called Non-Routine Problem Solving. He described how his experience has been a unique one.
"Virtual learning comes with many advantages, but also some disadvantages too. I think it's awesome that students can take the class wherever they are without having to travel to the BCA Campus. Tools like Zoom, Jamboard and Google Docs also make it possible for students to work together remotely… Of course, there are activities and experiences that would be better in-person, but oftentimes, I'm able to find a suitable replacement."
As Mr. Seventko suggested, there are both good and bad aspects of running AAH online. Mr. Seventko also commented on the idea of collaboration between students- a common theme among AAH classes is meeting students from all over Bergen County and forming some close relationships with them.
"To that last point about building a community, one thing that seemed to work well last class was having students work together on sets of math competition problems. After seeing how that went, I wished that I started introducing competitions earlier in my class. Virtual learning (and teaching) is a learning experience for both students and teachers alike!"
Mr. Seventko's thoughts reflect the concept of how even over zoom, teachers and students experience some level of bonding as they figure out how to navigate these classes using online tools. Some students have described their own experiences with volunteering at AAH in the past.
Woohyun Kwen, a current senior, reflected on her middle school and high school experiences in AAH.
"During my experience in AAH, I really enjoyed my experience because the teachers created a very collaborative, enjoyable environment for the students. The student volunteers really helped with these courses because when I was lost or confused, they always helped me understand on the side and the teachers were also very attentive as well. I would say that the format for both experiences as a student and a volunteer was almost identical."
She explained how volunteering at AAH gave her "teaching opportunities which really helped with learning skills such as leadership and communication." She suggested "spending time at AAH" volunteering "since it really develops [one's] communication and leadership skills as you work with younger students in a classroom setting. You have lots of interactions with the students."
Woohyun had a lot to say about what a wonderful experience it was volunteering at AAH in-person, but there are also students that are doing what they can to help with the online courses. Mia Wasserman, an ABF sophomore, and Himani Patel, an AMST sophomore, described the jobs they have while volunteering for an online class called Enhance Your Writing. Although they are unable to meet with the students face-to-face, they help out in any way they can.
Mia said that her "jobs include creating and presenting lesson plans, grading student classwork, and working individually with students on their writing assignments."
Himani added, "Our job is mainly to provide assistance to the students when they are working on their individual assignments in breakout rooms. Sometimes we also create and teach a portion of the main lesson for the day."
"I got to understand a lot more about what it means to teach and create lessons, and having that experience will probably help me in future work that I do," Himani said. "Everything from the environment to the enthusiasm makes it something that I look forward to every week."
Finally, Sujana Rajesh, another AMST sophomore, helping out with a math course called MathCounts Training Camp described how she grades "assignments and [helps] the students with their classwork." She also reflected on her experience as an assistant teacher so far.
"I really like it since it isn't very labor intensive, but still allows me to use my knowledge in math. I like interacting with the middle school students as well. I would love to volunteer for the summer session later on, perhaps for a different course."
Each student described how wonderful their experience was, or has been so far, regardless of whether the program is virtual or in-person. And even though there have been differences, BCA teachers and students have worked hard to make AAH this year just as comprehensive, inclusive and enjoyable as it has been in previous years.
"For middle school students, I suggest AAH to those who want to be challenged and also learn in a more small, personalized environment," Woohyun advised. "For volunteers, I recommend spending time at AAH since it really develops your communication and leadership skills as you work with younger students in a classroom setting. You have lots of interactions with the students."