Post-Pandemic Accolades for FFA
When America locked down in March of 2020, most high school students expected a mini-vacation at home. When those two weeks turned into two months, and then an entire year, students conducting laboratory research found ways to continue despite the untimely interruption.
This was especially so for students at the Bergen County Academies; in just the 2020-2021 school year, the students of the BCA Future Farmers of America (FFA) club won numerous accolades for agriscience research–in a virtual setting.
The National FFA Organization is all about "food, fibers, and fun," as Mrs. Kennedy, the BCA FFA advisor, exclaims to her students every year. Being the oldest career and technical organization in the nation, it prepares members for leadership, personal growth, and career success through agricultural education.
In a normal school year, the BCA FFA club operates in-person on Wednesdays, where members prepare for FFA tests, presentations, and various competitive events. Under Mrs. Kennedy's guidance, many FFA members also conduct agriscience research in BCA's greenhouse facilities. Although the pandemic forced FFA members away from school, some students found ways to continue at home, while others worked with the data they had been able to collect in person.
Usually, BCA FFA members also attend seven different competitions, many of which are held out of state. However, this year, six out of seven were held virtually for the first time. Unfortunately, some parts of the competition experience were missed at the virtual competitions this year. "It's important to see what other students at other schools have produced. At an event with tables, you can look around at other students' work, but this hasn't been recreated over zoom," said Mrs. Kennedy.
Although Zoom events could not replicate the full competition experience, FFA members were able to present their projects in front of judges through screen sharing methods and performed very well regardless.
Abigail Saks, a member of FFA and a senior in AAST, shared that she wasn't able to gather as much data as she wished because of the pandemic. She placed 2nd in the Environmental Resources division of the National Agriscience Fair for her work with Pauline Liu, a senior in AAST, on coral reefs. Abigail and Pauline attempted to identify whether the harmful effects of excess nitrate on coral can be counteracted with the addition of P. stutzeri, a marine denitrifying bacteria previously identified as an option for bioremediation. Although their research was interrupted by the pandemic,
Abigail said she was grateful to have the extra time during the lockdown to work on her poster and write-ups. Similar sentiments were echoed by Sarah Bae, a senior in AAST, who said she was disappointed that the pandemic interfered with her research process. Because she could only get two data points before the lockdown, it was difficult to establish a convincing argument. Nevertheless, Sarah placed second in the Plant Science division of the National FFA Agriscience Fair for her research on acyl glucose treatment for whitefly infestation of Poinsettias and aphid infestation of tomato plants. Sarah expressed that she was lucky she could present what data she had collected and that she believes "[the judges] were really looking for how you got to your results and how you interpreted [the data]."
Aside from national competitions, the research students of FFA also had the opportunity to participate in BCA's Research Expo over Zoom. This is an annual event where students can compete individually or as a team at one of three levels: associate, local, or Intel International Science and Engineering Fair (ISEF).
"The in-person event was usually full of energy, with students helping others set up and cheering each other on. That excitement was greatly missed this year; however, the event was a lot less stressful," shared Leena Memon, a senior in AEDT. Under the guidance of her mentor, Mrs. Kennedy, Leena was inspired to design a solar-powered water distillation device after seeing the devastation caused by Hurricane Maria in Puerto Rico. At the BCA Research Expo, her project earned her multiple awards from the ASM Materials Education Foundation, the American Meteorology Society, and the Stockholm Water Association.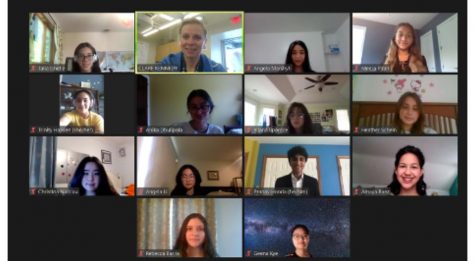 The BCA FFA club is still running in the current hybrid format, and they have taken advantage of Zoom's breakout room feature for competition preparations and research pursuits this school year. Despite the challenges that the pandemic brought, the FFA club is a great example of how students at BCA were able to quickly adjust to new situations instead of being discouraged by this past year.