Working the Musical: Overture
Yilin Xie, Design Editor, Writer
March 24, 2021|8 Views
This article is a part of a series.
Every year, the Bergen County Academies (BCA) puts on a musical, and this year is no exception. The original plan, as announced over the summer, was to put on The Sound of Music. However, as it became clear that producing a regular, on-stage, live musical would be very improbable, Mr Stephen Kaplan,  BCA's Lead Teacher for the Academy for Visual & Performing Arts/Theatre, decided to change the show. "[The Sound of Music] wasn't a show that I was excited to do virtually," Mr Kaplan said. "There was nothing about the show that lends itself to that, so I switched the show to Working."
Working is a musical by Stephen Schwartz (with contributions from other composers and writers), based on a book by Studs Terkel, very descriptively and aptly titled Working: People Talk About What They Do All Day and How They Feel About What They Do. Though the musical has no linear narrative, the workers' stories are united through their humanity: discontentment and fulfilment, desires and reality.
Structurally, Working is much more naturally suited for a virtual production: the entire cast consists of workers who do not interact with each other, there is no direct contact, no scene, no ensemble, and not even leads. In fact, according to Mr Kaplan, many other schools are also producing this musical in light of pandemic restrictions. That being said, the production will still be very different from a regular show besides the obvious difference in the environment: consider the technological difficulties of putting on multiple live shows — lags, Internet instability, microphone and camera issues, et cetera — this year's show will be like a movie, shot individually by the actors and compiled by an editing team. Though this is a new experience for everyone, the cast and crew's versatility and resourcefulness have overcome many obstacles along the way. 
Not only is Working feasible to adapt from stage to film, but it also gives many skilful student writers and composers a unique opportunity: they can write for the school musical. Even before the pandemic, Working has been revised to account for the changes in occupations over time. Aside from the official productions, schools and local theatres have also replaced or added characters to make the musical relevant to their lives. With permission from the musical's original creator, Stephen Schwartz, a team of student composers and writers set out to interview professionals and wrote monologues and songs based on these interviews, just like Mr Schwartz has done.
In BCA's production, there are now original pieces about a woman firefighter, a retiree, a FedEx worker, a teacher, a rabbi, a minister, a Broadway dancer, and a student. In addition to completely original pieces, the writers have supplemented an existing piece about flight attendants based on the changes they have experienced due to the pandemic. 
The writing team's effort to bring in pertinent, authentic, and unique perspectives into the show is reflected in their works: as Mr Kaplan said, "the pieces feel very alive, very in-the-moment." He, too, added that "it has been a great opportunity for [the writing team] to learn how to interview people, how to then take their words and put them into something, and that has been a really exciting process."
Besides the characters, the production process has changed quite a bit. First, the singers need to learn their music with Mr Louis Spinelli, a member of BCA's music department and the Vocal Director of the musical. Over Zoom, though, teaching music is "impossible," said Mr Kaplan. The solution is to have the singers record themselves, submit to Schoology, and receive feedback from Mr Spinelli. Once they get the green light from Mr Spinelli, the singers record the audio and a video of them lip-syncing to the audio, in order to get the best quality of both. 
Traditionally, BCA's musicals are accompanied by a live pit orchestra consisting of students. This year, though that is not possible, some student pit musicians are still working with another member of the music department and the show's Music Director, Mr Michael Lemma. This time, they are mixing sounds with Soundtrap, a digital audio workstation. Not only are they adding instrumentals to the piano backing track, but they are also adjusting each audio from the singers to produce a coherent conglomeration. 
After their edits, Mr David Wilson, a member of BCA's English department but also an experienced musician and sound-mixer, will further edit the audio and, in Mr Kaplan's words, "make it sound as good as possible." As for the addition of videos, Mr Scott Lang, who teaches video production and interactive design at BCA, will also be on board to help with the final production, stitching together the videos and audio to make a movie.
Speaking of stitching, the costume team is still in action this year. BCA's musicals have always had marvellous costumes, and the team is not lowering their standards. The first step, after designing the costumes, is to see what each actor already has. For getting pieces that the actors do not have, though, parents have offered their porches as pick-up locations, so the costume designers and the actors can safely transfer costumes. 
"It's a lot of logistics," Mr Kaplan said, regarding the coordination and procedures in place to ensure everyone's safety. "We have to make sure that everything is not contaminated, that it has been sitting out for an amount of time…all of these logistical concerns are being handled the best that we can."
For Mr Kaplan, directing a show like this is a new experience: "If I was directing a film, I would be with the actors, and we could move the camera…here, it's kind of fingers crossed, 'okay, this is where we hope it could be,' then [the actors] submit [their recordings] and we give it a thumbs-up and move on." 
For example, instead of working with the familiar space of the stage, the directors need to consider the unique topography of each student's home. For dance numbers, too, many students need to do the same actions at once, but each will have a different surrounding, which is a new challenge for the choreographer of the show and BCA's dance teacher, Ms Laurie Crochet. To keep track of the multitude of shots, the directors keep a two-column — a record of every action in each shot. Mr Kaplan thanks the student directors, managers, and supervisors for keeping everything on schedule, coordinating costume fittings, and, overall, organising the many, many components of the show.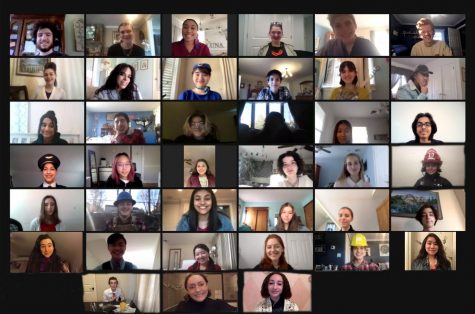 When asked what is the constant that has stayed true and independent from the circumstances, Mr Kaplan said, "We've talked a lot about the challenges, but the thing that most feels normal is the community…we're doing it in a different way, but that's what doing a show is." 
Lauding the skilfulness of the faculty members and the students, he added, "When I'm directing and working with the students on Zoom, we might as well be in the room. When they try something and they experiment and struggle and succeed, that's very normal as well."
Mr Kaplan ended the interview on this note, warm and wise: "We love to share things, we love to share stories, and we're just doing it in a different format this time. But the story-telling aspect is still at the heart of all of it. Every department, that's our goal: to tell the same story and to share it with an audience."