The Twenty-One Year Legacy of the International Day of Acceptance
Finale of IDA 2020 with Femme Fatale performing "Lean on Me" by Bill Withers.
With the annual return of the International Day of Acceptance, BCA students are given the opportunity to not only celebrate their cultures and the cultures of their peers, but to also learn about the different issues that impact the world around them. For many students, this is a time where they get to feel like a community, supporting one another and cheering on each performance. They are also given the opportunity to join workshops where guest speakers talk about a diverse range of topics from the politics of LGBTQ+ rights to how students can get involved in activism. In honor of Martin Luther King Jr. and his tireless work to fight for social justice and racial equality, IDA is generally held the week before Martin Luther King Jr. Day. The continuous effort of many students, teachers, and administrators make this event possible for the rest of the community to celebrate the diversity and unity within BCA.
In 2000,  the International Day of Tolerance, the previous name for IDA, was born! Its birth was initiated by all 50 states observing and celebrating MLK Jr. Day for the first time as a way to commemorate his impact on today's world. It was decided that the event should be held around the time of his birthday. The hope for the event was that it would inspire the student body to continue his work through celebrating our school's diversity in order to create a more compassionate and accepting community. At this point in time, the workshops were not yet introduced, but the show-stopping performance became a favorite memory from many students. Together, groups of students spent hours practicing each week, learning choreography and working on routines to showcase their unique cultures. With the leadership of Profesora Seltzer, who has continued to play a major role within its production from its birth to its twenty year history, IDA has made a positive cultural impact on many generations of BCA students. Her guidance and hard work has transformed the school into a more inclusive environment for the whole community here at BCA. 
Overtime, the event changed, and a new name was introduced to something that many current students will be more familiar with:  The International Day of Acceptance. In 2014, several students pointed out that the event had failed to recognize the full scope of diverse cultures that it initially tried to garner "tolerance" for, so a renovation was implemented. The Diversity Alliance emerged under the leadership of Mackenzie Foy (BCA Class of 2015), Mr. Victor Lynch (then BCA supervisor), and Ms. Katie Fernandez-Blake (current World History teacher and Diversity Alliance advisor). Ms. Nancy Systsma was also heavily involved in the first year of this organization's creation as she aided in guidance and support.  The Diversity Alliance hoped to improve upon this event and make it more welcoming and supportive through establishing a theme of acceptance rather than just tolerance. Another goal for the alliance was to install a continuous sense of community and love throughout the school year, acting as a reminder that acceptance and unity are always present within BCA. Ms. Katie Fernandez-Blake talked about the intention of Diversity Alliance, stating, "We hoped our initiative could remind students that there is a world beyond high school where they have the ability to enact positive change in ways they see fit, in areas they notice are in need of fixing or revitalizing." They also introduced workshops for IDA to expose students to a wider range of cultures and experiences. Under the current co-advisement of Ms. Katie Fernandez-Blake and Ms Carly Berwick,  the Diversity Alliance has created  workshops including topics on neurodiversity, representation of different ethnicities in films, discussions on diversifying schools, and so much more.
In the last seven years, IDA has provided students with platforms to start discussions on different topics while being recognized for their work to emphasize and celebrate diversity within the school. BCA's International Day of Acceptance was presented with the 2017 Aaron Flanzbaum 21st Century Democratic Heritage Award, given to them by the New Jersey Association of School Administrators and the Anti Defamation League of the New Jersey Regional Office.
 Some students have taken charge and included a wider range of communities within the performances such as the Deaf community and the LGBTQ+ community. ASL IDA, which is now called sIgnDA, was started by the ASL Wednesday club advised by Ms. Fillebrown. In their first ever IDA showcase in 2018, they performed  a song covered by Seal and originally by Sam Cooke called "A Change is Coming" to go along with that year's theme of Rosa Parks. Even though sIgnDA does try to represent the Deaf community, there are some flaws because as Ms. Fillebrown puts it, "[within the community, it is] very frowned upon as cultural appropriation of the language (because they tend to sign wrong and are creating those videos just for other hearing people to enjoy)." Nonetheless, the intentions behind the group are good and as she says, "[the performance] celebrates and encourages interest in ASL which can be a gateway into Deaf culture."
In the past year, sIgnDA encouraged other staff members and students to take part in the performance, pulling together a collection of videos where students from BCA would sign along with them. This demonstration revealed the collective unity and celebration the school has towards the diverse backgrounds present within the world.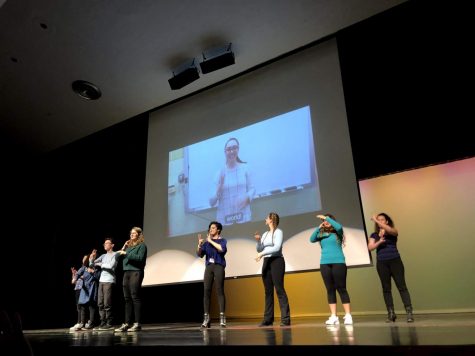 The positive attitudes and emotions brought on by this event have left an impact on both students and teachers. For many students, the BCA experience is not complete unless you take part in IDA in some way shape or form. The most common way is through joining different IDA groups and practice routines with fellow peers. Some students have expressed that they feel as though they get to be part of a bigger community than they could ever imagine. Students can also join the Diversity Alliance and organize workshops. Members contact knowledgeable speakers and work with them to create engaging workshops for their peers. Another common way to get involved in IDA is just taking the time to enjoy all the opportunities and events planned throughout the day, such as cheering on friends or actively engaging in the workshops.
Along with Profesora Seltzer, Profesora Lewitt, who has been trained by Profesora Seltzer for the past two years,  is one of the main teachers involved in the operation of IDA. Together, they organize the groups and performances for the International Day of Acceptance. Originally, Profesora Lewitt wanted to get involved because she believes cultural exchange can be a valuable lesson to all.  "[IDA] allows for students to claim ownership of their own school community and embodies our combined efforts to uphold our principles of social justice, denouncing all forms of hate and prejudice, and instead rejoicing in our differences."
Similarly to Profe Lewitt, Ms. Blake has cherished her time working with the Diversity Alliance on the International Day of Acceptance. The accomplishments and growth of this event and its accompanying organizations has reached new heights, leading the way to an even more diverse and accepting BCA community.