Zippy, Meet BCA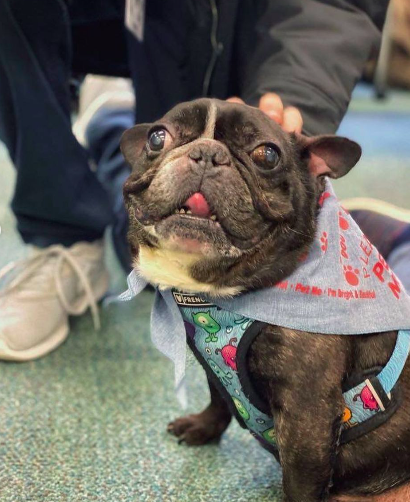 On March 2nd, a lucky group of students at Bergen County Academies were given the chance to hang out with Zippy. Zippy was invited to BCA in order to provide comfort, reduce stress levels, and decrease feelings of anxiousness. However, Zippy is not your ordinary therapist, but a dog.
But why dogs? Though a popular pet, many students question how they can be used for therapy. According to PAWs for People, an organization that provides trained dog visits, dogs improve our physical and mental health.
Research studies have exhibited that interacting with dogs lowers blood pressure, improves cardiovascular health, and helps the body release endorphins such as oxytocin to keep the body in a calm and relaxed state. This release of endorphins has a sizable impact on the mental health of students; reducing depression and anxiety while increasing positivity and social interaction are some of its benefits that create a more positive learning environment.
The idea of hosting therapy dogs at BCA has gained popularity among students since the beginning of 2019, the year when Jason Ping, former Student Council President, introduced the idea to administration. Soon after, the Student Council and administration held countless meetings to discuss the logistics.
Dash Beavers was only a freshman when the idea was introduced in one of the meetings he attended as a representative of the Class of 2022. Now the Secretary of Student Council, he reflects upon the long journey of organizing the therapy dogs to successfully interact with students.
"It took a long time," he sighs, "When I joined StuCo, the idea of therapy dogs had already been proposed but none of us were sure how to execute our goal." 
There were many factors that the student council had to consider before bringing the dogs into the school. "Ensuring the safety of the students and the dog was our number one priority," said Dash. "We wanted to make sure that the dogs were never overwhelmed in a crowded environment like the busy and loud hallways."
Another concern raised was the possibility of allergic reactions of the students, teachers, and staff. Though many students have pets, those who do not may have never had prolonged interactions with a dog and do not know if they experience any reactions. Fortunately, Zippy is hypoallergenic and he and his owner are certified. 
After a successful introduction to therapy dogs at BCA on Mental Health Day, the therapy dogs will be back. Although they will not visit every day, the current plan is for them to come every month. Dash stated the designated time for students to visit the dogs will be during gym class where they will participate in activities together with the wellness team. 
"It was on the desk of Dr. Lerner, our superintendent, for so long and when the proposal was finally passed three weeks ago, we were all really excited," concluded Dash.