2020 WINTER FASHION
A white blanket of snow envelops the cold grass, just as a fashionable wool coat may do to you. As the holidays approach, winter is here in extreme New Jersey climate "fashion." Layering is key with puffer jackets and cable knitwear alike. Below are rising fashion statements this season: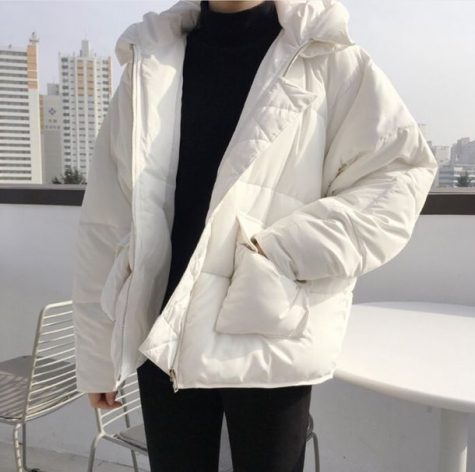 Puffer Jackets
Puffer jackets are all the rave this winter. Varying in lengths, textures, and puff-intensity, they are versatile pieces that can be styled as either statement or complementing articles. Cropped puffer jackets are typically styled as statement pieces to add a chic, modern edge to a look and elongate the legs, whereas longer puffer jackets are usually of a neutral tone to create an outfit cohesive from head to toe. Insulated by down, they are a practical piece for the winter. 
As corduroy is a fashionable texture on the radar of the fashion community, cropped corduroy puffer jackets are expected to make a dramatic entrance this season. "Big, oversized puffer jackets are really in style these days," said a BCA junior. "They can be worn by either gender and with anything—dresses, jeans, or even sweatpants."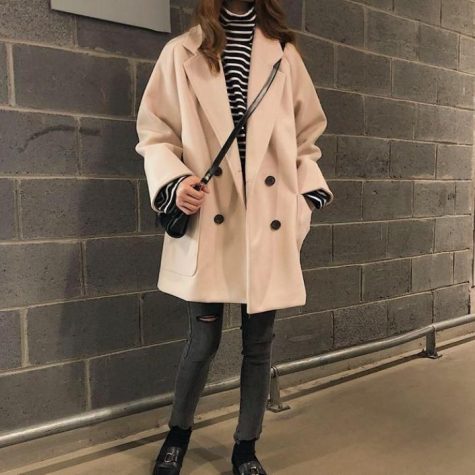 Wool and Wool-blend Coats
Wool and wool-blend coats are an elegant addition to anyone's winter wardrobe. As a timeless piece, they are worth investing in. Varying in silhouettes and button closures, it is the subtle details of a wool or wool-blend coat that make all the difference in the appeal of a look. Some may flare out from the waist to the knee for a feminine touch, whereas others may drop straight down for a clean, modern impression. Wool and wool blend coats popular this winter are of the neutral color palette and slightly below the knee in length.
"When the winter season comes around, I always look forward to wearing my wool clothing, specifically my pea coat," said Naomi, a junior. "I always feel slightly more dressed up in it, even if I'm wearing it with other more casual clothes, so for anyone looking to elevate their outfits in the winter, I highly recommend trying these types of coats."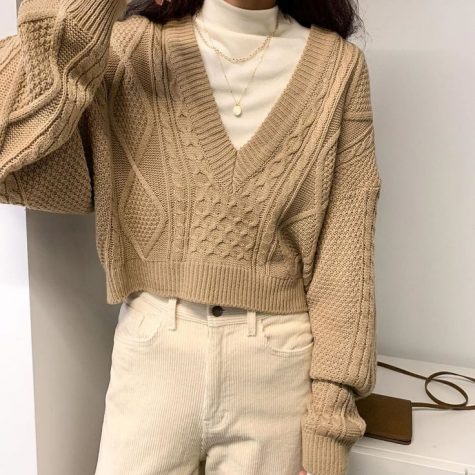 Cable Knit
Winter is marked by cozy cable knit tops. From sweaters to sweater vests to cardigans, cable knit patterns are more textured than your average knit or rib knit, adding depth to an outfit. Cable knit patterns vary in length, thickness, and design, thus one is able to communicate their style by the cable knit pattern they choose. Some may opt for a uniform knit pattern throughout, whereas others may opt for a combination of different knit patterns symmetrical down the center.
"I wore cardigans before they were cool so I'm a fan of cable knit cardigans," said Alyssa, a freshman. "Sometimes I think of how much future generations will make fun of us for wearing some of those patchwork ones."
Layering Neutrals
Neutral tones are in this winter and so is the layered look, thus the rise of the layered neutral look is inevitable. Common neutral tones are black, white, greys, ivories, beiges, and browns. Neutral tones are used on the daily as inconspicuous additions to an outfit to serve as a base for bolder colors to enter the eye more intensely. However, neutral tones this season are fashionably layered on top of one another, minus the interruption of a bold color to create a cohesiveness look rather than one with an distracting statement piece. A common look this season is a black and white turtleneck layered under a beige or ivory cable knit sweater or sweater vest paired with a tan wool or wool-blend coat of a slightly darker or lighter tone. 
"In the winter layering is essential, especially with neutral colors that can go with anything," says a junior. "It looks so simple, but it is very complex. One wrong combination and the outfit just doesn't work."
With a change in season comes a change in mood, for better or for worse. Fashion is a medium of expression, in every season of course, but doubles as a portable blanket to keep you warm in the winter.