2020 FALL FASHION
Stacey Na, Copy Editor
November 2, 2020|8 Views
Green going on red, orange, yellow and new semesters afresh, fall really is the season of change. Form-flattering wrap dresses are replaced by loose, cable-knit sweaters as beach-esque sandals are by weatherproof boots. Trends will stand the test of time, or more specifically, the consensus of the fashion community through time. "In" this season: sustainability and the preppy chic look.
Sustainability
Sustainable fashion is incorporating the practice of maintaining the Earth's natural resources in something as little as a person's everyday wardrobe, but as big as haute couture culture. As the health of the Earth becomes a more pressing matter and relevant point of today's conversation, campaigns to reduce the stress of human activity on the Earth are gaining traction, even in the fashion industry.
Sustainably made basics are hot off the press. YouTube creators and TikTok personalities alike are promoting the investment in good quality basics, or staples, that are versatile and timeless. These pieces may range from the classic white tee to a good pair of straight leg denim or a little black dress, as popularized by Audrey Hepburn in the 1961 movie Breakfast at Tiffany's. The trend of purchasing sustainably, and ethically, made goods combats fast fashion head-on, but asks the consumer to pay, in some cases substantially, more for something they can get for less.
When asked to provide an opinion on fast fashion and sustainability in the fashion community, Minato Shinoda, a junior in AVPA-M, agreed that fast fashion is indeed harmful to the environment. But, she points out that "for some people fast fashion brands are the only option: financially, geographically, and more" and how in some developing countries, fast fashion boosts economies. She adds, "Therefore, although I realize it is a privilege to care about fashion sustainability, I believe it's important to consider it when deciding what brands to buy clothes from and what to do with clothes you don't use anymore."
An inexpensive and arguably more sustainable route to approaching fashion is shopping at a thrift or second-hand shop. Thrifting extends the lifespan of a clothing article, thus lowering textile manufacturing demands and rates and reducing your carbon footprint.
Michelle Kim, a senior in AMST, notes the return of 90's and early 2000's fashion, available through sustainable means. "Thrift stores and secondhand stores have a plethora of vintage and classic items and pieces that can be curated to create a look that is both trendy and socially conscious."
Michelle also acknowledges, "I think our generation is more aware of the impact of each of our decisions—and this is quite obvious in many of our sustainable and social fashion choices."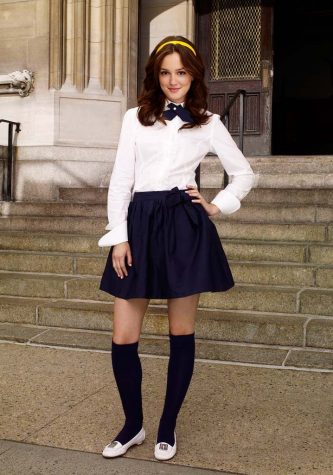 Preppy Chic
"Preppy Chic" is the aesthetic love child of nostalgia films and TV shows alike, such as Clueless (1995) and Gossip Girl (2007-2012). This trend revives older, but preppier pieces like blazers, pleated skirts, knee-high socks, and headbands in a person's wardrobe. 
Blazers are typically a solid tone or plaid. For a more modern integration of the blazer in someone's look, shoulder pads are usually removed and the blazer itself is either of a more oversized, baggy silhouette or perfectly tailored to curve in at the waist line. 
Pleated skirts and knee-high socks go hand in hand with this "Preppy Chic" look. Pleated skirts, like blazers, are typically a solid tone or plaid and, as it is a little chillier in the fall, are paired more often than not with neutral colored knee-high socks, most popularly black or white.
Headbands, as seen on TV and donned most notably by Blair Waldorf of Gossip Girl, have made a glorious comeback. They double as either statement or complementing pieces. An accent headband can juxtapose to elevate the more neutral colors of a "Preppy Chic" look, whereas a headband of a color already incorporated into the look can tie its individual pieces together for a more "put together," or intentional look. 
When asked for her opinion on preppy fashion this season, Naomi Becker, a junior in AAST, said, "I think preppy clothing is making a big comeback in today's fashion trends. Overall it has a really classic appearance, and I feel it can really give off a sophisticated and refined impression to anyone that tries it."
In truth, fashion trends vary by the season, but also year, decade, and century. Rachel Magdadaro, a junior in AMST, said "I believe that in the fashion community, different styles of clothing and what's 'in' is ever changing, supporting why the fashion world is so popular – because you never know what will become fashionable in this day and age."
Image Credits:
https://images.app.goo.gl/nVWTQZjzshY6gaJx8
https://images.app.goo.gl/8q2SWJBSu8hrmbis7