Knitting For Life Recognized on News 12 for Donations to Healthcare Workers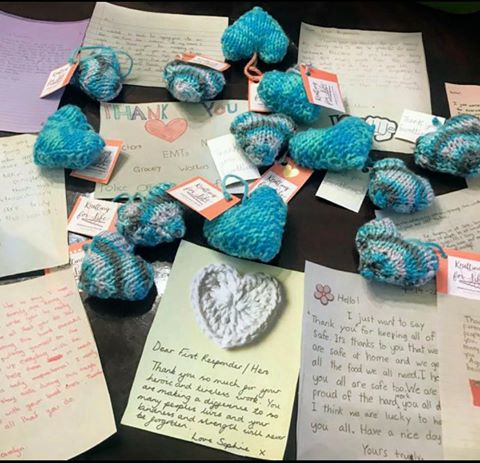 On April 20th, BCA students Francesca Osborn,  Hannah Ferrer, Rachel Mina, and Olivia Culleton were aired on News 12 for their efforts to thank doctors and nurses who are fighting COVID-19 through Knitting For Life, a non profit organization. They received recognition for donating knitted materials to hospital employees. 
The original purpose of Knitting For Life was to donate hand-knitted materials, like hats and booties, to patients in the Neonatal Intensive Care Unit, or NICU. The NICU is responsible for providing intensive care for babies that are premature, ill, or in need additional medical care. Usually, babies are sent to the NICU within 24 hours of birth and are constantly treated by health experts. 
However, due to the current situation regarding COVID-19, Knitting for Life was unable to directly donate materials to NICU patients. Instead, through their donations, they decided to express their gratitude for nurses and doctors. "We realized the amount of dedication and hardwork that the healthcare workers have done," said Francesca, "so we  decided to knit hearts and send letters for our local healthcare workers, to show them how grateful we are."
Just last week, Knitting For Life was aired on News 12 after making such donations to the Englewood Hospital. "We hoped to encourage viewers to write letters for healthcare workers and to thank them for their hard work during this crisis," shared Francesca. They are also collecting digital messages from others to send to the hospitals. 
The four members decided to start this organization to invoke and encourage change in the community. Since they enjoyed knitting prior to the creation of Knitting For Life, they decided to use this hobby to give back and help other people as well. Francesca added: "Hannah already started knitting for hospitals, and she encouraged the rest of us to do the same. However, instead of knitting independently, we decided to combine our efforts and form Knitting For Life."  They were able to raise funds through a GoFundMe page and gather the necessary materials. 
Aside from their recent donations to the doctors and nurses, Knitting For Life has also donated other items to NICU patients at the Englewood Hospital. They donated baby booties, hats, blankets, and hearts that they knitted themselves to the patients. For the future, they hope to raise enough money to maintain a stable status as a non-profit organization as well as continue donating to more hospitals. 
They are still accepting donations on their website (knittingforlife.org/) to continue knitting and donating to hospitals. Despite the unfortunate situation right now, Francesca and her friends have definitely found a creative and meaningful way to give back and express thanks to all of the people who are fighting the virus.
Thank you to Knitting For Life for showing generosity and compassion to everyone at the hospitals, especially in these difficult times, and good luck on your future endeavors!