The Academy Imposters
        BCA has a reputation as a top school filled with bright students and encouraging teachers; any hallway boasts awards, creations, and photos of smiling scholars whose accomplishments are clear. It is no small feat to be accepted at the end of the multi-step application process, and it would be common to think that the prized white affirmation letter would make any incoming 9th grader feel accomplished and worthy of their academic future.
        However, that is often not the case. An increasing number of studies have identified an ailment called "Imposter Syndrome," which is defined by the Harvard Business Review as "a collection of feelings of inadequacy that persist despite evident success." 
        A twelfth-grade Psychology student adds that "Imposter Syndrome is the pattern in which a person discredits their accomplishments and believes themselves to be a fraud," the student explains.  "[Imposters] often think that they are the only ones who feel this way, but the truth of the matter is, Imposter Syndrome affects [mostly] everyone at least once in their life. We are all prone to feeling unfit to complete a task, or as if we are the only ones in the world who do not already have their lives figured out."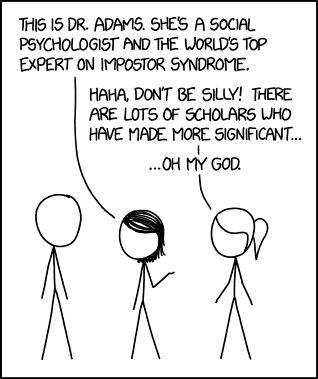 Basically, "imposters" feel that they are inadequate, regardless of what they accomplish. Imposters are often worried that their successes are not valid or simply a result of luck and chance, or that they will not be able to live up to their established reputation. Imposter Syndrome can, at its worst, lead to depression and low self-esteem. 
        Out of 37 randomly polled BCA students, only 24 had heard of Imposter Syndrome before and only 21 knew what it was. Yet all of them reported feeling overwhelmed and worried about their success at BCA. 
       One such student, a 9th grader in AAST, believes that her most frequent stresses stem from Imposter Syndrome. She explains, "I think that Imposter Syndrome has made me do stuff [in the past] that I didn't actually want to do, like joining clubs I didn't want to join or taking on academic activities that I didn't want to take on, just because I felt that the amount that I was doing wasn't enough. No matter what I do, [I feel that] I'm never good enough, and even if I achieve an accomplishment, the satisfaction lasts a minute and then it goes away, and I'm already focused on being good at the next thing." 
        Another 9th grade student in AMST, also reports having felt like an imposter. She says, "Impostering contributes a lot to the pressure I feel…I put some of it on myself, but there's also pressure from other people around me, and teachers who have high expectations." She describes that it mostly manifests during test season and that when she does poorly on exams, she feels moody and disappointed and continues experiencing negative thoughts for the rest of the day. 
        Both students reveal that thinking of themselves as imposters can push them to work harder, but sometimes to the point of burn out. says the AAST student and that the pressure is mostly negative. 
        The AMST student agrees. "It makes me work harder, but sometimes makes me push too hard. I tend to overwork myself for no absolute reason. It makes me sleepy, it gives me stress, and I lash out at people around me." 
        The AAST student theorizes that Imposter Syndrome is not limited to students, and her speculation seems supported by the trusted BCA Guidance Department. Counselors spoken to agree that Imposter Syndrome is a widespread ailment that can affect both students and teachers, and that anybody suffering should see them for professional help. 
       Despite the well-known pressure amongst BCA students, one 9th grader relays that she has not witnessed many students obviously suffering. "Even though there's stress, everyone's taking it into stride."
       She proclaims that she does not identify with experiencing Imposter Syndrome because she accepts setbacks in her life without letting them worry her. She summarizes that, by not putting an emotional investment in her results and instead focusing on purely learning, she does not receive failure in the same anxiety-inducing way that Imposters do. 
        However, the AAST and AMST students agree that distancing themselves from stress on their own is hard. When asked how she might conquer her Imposter Syndrome, the AAST student struggled. "I…don't really know," she said, and admitted, "It seems that even when I try to tell myself that I'm good enough, it doesn't really work." 
        The AMST student added, "I might try to meditate and take it easy on days when I have less work, so that I don't build up stress and feel unworthy, but I haven't really done anything cleansing like that just yet." 
        They agree that affirmation from adults will help reassure them and make them more open to risk-taking and positive thoughts. 
        "I think that if adults promoted feeling good about yourself and told you that what you're doing is enough and that you don't need to be better than you already are, we would all feel better," the AAST student concludes. She adds that it would be helpful for teachers to tell students what they are doing well at and to give breaks between large assignments and tests, so that students have time to recuperate and relax.
        Once again, the BCA Guidance Department is available for struggling students who need a positive voice in their lives or perhaps a bit of meditation to prepare for the tribulations of modern education. 
        Luckily, all three students interviewed say that believing in themselves is the best medicine. They state that accepting their failures and growing from them will help overcome inadequacy. Additionally, they find it helpful when they receive external support,  and luckily that help is available through a variety of trusted adults: as the school's guidance department explains, "Any student feeling that they have a mental health or emotional issue of any sort, Imposter Syndrome or otherwise, should feel comfortable meeting with their school counselor for support.  All such issues will be treated with respect and confidentiality." 
        Hopefully such resources will be utilized, and students view themselves as the capable and successful individuals they are.  
Works Cited:
Corkindale, G. (2008, May 7). Overcoming Imposter Syndrome. Harvard Business Review.
      Retrieved from https://hbr.org/2008/05/overcoming-imposter-syndrome
Image Cited:
https://imgs.xkcd.com/comics/impostor_syndrome.png