BCA Students Around the World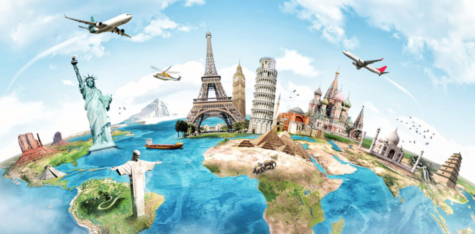 In a school as diverse as Bergen County Academies, the students are constantly exposed to a vast range of cultures and customs in their day to day lives. However, some have even been lucky enough to travel to foreign countries and experience different cultures and customs firsthand. Many BCA students have developed compassion, independence, and individuality throughout their high school careers because of their travels around the globe.
To gain more of a perspective on the extent to which BCA students have traveled, I spoke to some of my peers at BCA. Yenni Myung, a freshman in the business academy, has traveled to Canada and Korea. She said that during her trip to Korea, she was able to fully immerse herself in her own culture and experience it with no restraints. Yenni also remarked that although her trip to Canada was enjoyable, she found the country to be extremely similar to the United States. In the future, she hopes to visit Europe because she admires its beautiful and well-known architecture and customs.
Mekha Varghese, a senior in the medical science academy, told me that she regularly visits her family in India, and that she loves to travel. "While I haven't traveled to many places internationally," she said, "I think visiting other places is refreshing and it's definitely interesting to see how lifestyles differ across geographic areas." She also said that she'd like to travel to Greece, because she has heard that it's beautiful and she really appreciates Mediterranean food.
Kaylyn Lu, a sophomore in the business academy, has traveled up and down the east coast of the United States, including Boston, Portland, and Orlando. During these trips, she has learned many things about the history of our country. In addition, Kaylyn has gone on relaxing vacations to Bermuda, Jamaica, Dominican Republic, and St. Maarten. These trips have provided her with a well-deserved break from her busy schedule filled with school work and extracurricular activities. She has even been fortunate enough to travel to Mexico and China. Kaylyn said, "I found my experiences in foreign countries to be very eye opening because they let me immerse myself in different cultures and helped me become a more well-rounded and global person." Kaylyn would like to travel to Italy and France, because they are rich in history and have great-tasting food.
All in all, experiencing different cultures, either at school events or abroad, helps us appreciate each other as human beings. We are enabled to set aside our differences and understand varying perspectives and opinions. Diversity brings people to be accepting of others regardless of background or race.