BCA's Very Own Shakespeare in the Park!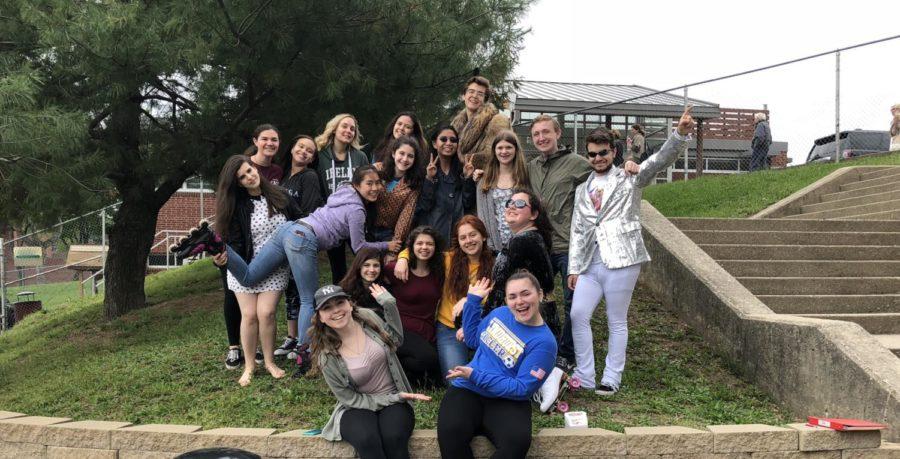 Casey Beidel
May 10, 2018|125 Views
This Friday, May 11th, BCA is bringing a classic Shakespeare play to you! At 7 PM, you can come support student-run theatre outside the checkerboard.
Even though Shakespeare wrote one of his most renowned masterpieces, Twelfth Night, over four hundred years ago, it is still performed today, often with different concepts that Shakespeare himself probably could have never envisioned. Thanks to Studio 216, BCA's theatre-centered club, students will have the opportunity to see a new take on Twelfth Night.
Separated into four sections, students will perform Shakespeare's text, each section with its own twist in setting: a frat party, a 1980s disco extravaganza, a 1950s diner, and a soap opera.
"
I think it's important to fully embody the character with costumes when performing, so that even I, the actor, think I am the character I am portraying."
— Aidan Winn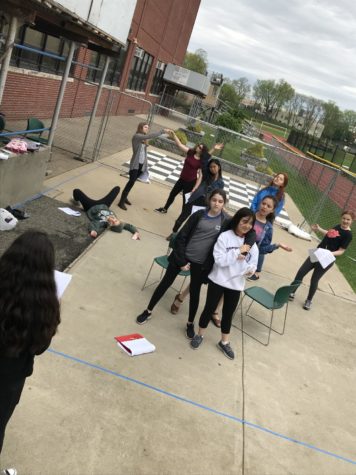 Each of the sections is directed by a current BCA student member of the Studio 216 club. Edie Crowley, an AVPA/T sophomore, is in charge of directing the 1950s diner section, which comprises all of the second act of Shakespeare's work.
About directing such an unconventional concept of Twelfth Night, Edie said, "It is an opportunity to take charge and build my own individual concept in a low-key setting that allows for experimenting." Directing isn't something that a lot of students at BCA have done, but smaller theatrical performances like this Shakespeare event give them the opportunity to experiment.
The actors are also BCA students, and some play multiple roles throughout the acts. Lily Cohen, an AVPA/T sophomore, is playing one of the most complicated roles. After playing the head frat boy Orsino in the first section, Lily will be playing Viola for the disco section. However, throughout the play, Viola is disguised as Cesario, a man, and Viola is forced to pretend that she is a man to woo another girl. Unfortunately, there is conflict in that the girl, Olivia, falls in love with, "Cesario," who has been a woman all along. It creates a complicated character for Lily because there are so many different aspects to the character.
"It's especially crazy for me since not only am I performing Shakespeare's play in a disco club, but I'm also playing a girl who's pretending to be a boy," Lily says. The range of characters that students get to play allows for development and contrast among the sections of the performance and, furthermore, enables experimenting with some things that many students haven't done before.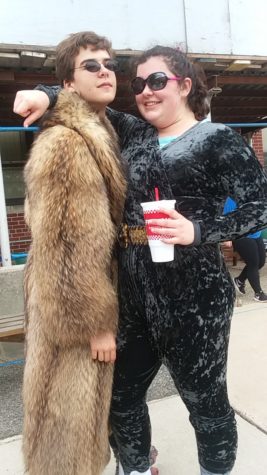 Like the unique concepts presented throughout this event, the costumes are also one of a kind. One student who is very familiar with these costumes is AVPA/T freshman Aidan Winn. He performs an entire sequence in roller skates, and his costume is not complete without his large fur coat. He thinks the costume is a vital aspect of getting into character. "I am able to get myself in character by envisioning the moment and the scene I am about to partake in," he said. "I think it's important to fully embody the character with costumes when performing, so that even I, the actor, think I am the character I am portraying." Having the costumes helps the actors become their characters, rather than pretending to be them.
The whole event is made possible by the Studio 216 club, run by AVPA/T senior Maddie Powell and junior Erica Ammerman. Organizing the even has not come without its obstacles, such as abridging Shakespeare, setting up rehearsals, and making sure all of the elements of sound, costumes, and set will be together for the performance.
Very impressively, the club has been on top of everything, and the two co-artistic directors have made the entire experience fun and comfortable for everyone.
As Maddie Powell recounted, "Admittedly, the process takes up a lot of time and energy. But, it's always so worth the craziness to see the other students performing in a low-pressure environment. We point people in the right direction and we're always amazed by what they bring back to us."
It should be very interesting to see how the production turns out, considering uncontrollable factors like the weather, which could completely change this Shakespeare-in-the-Park-type event. However, one thing is for sure: everyone has worked very hard for this process and are hoping it will come together.
As artistic director Maddie said, "These students create a hilarious, fun night simply because they really, really care about what they do."
About the Writer
Casey Beidel, Arts Editor
Casey Beidel, the Arts Editor, is a senior in the Academy of Visual and Performing Arts - Theatre Concentration. Aside from his love for journalism and...