5 Upcoming Movie Recommendations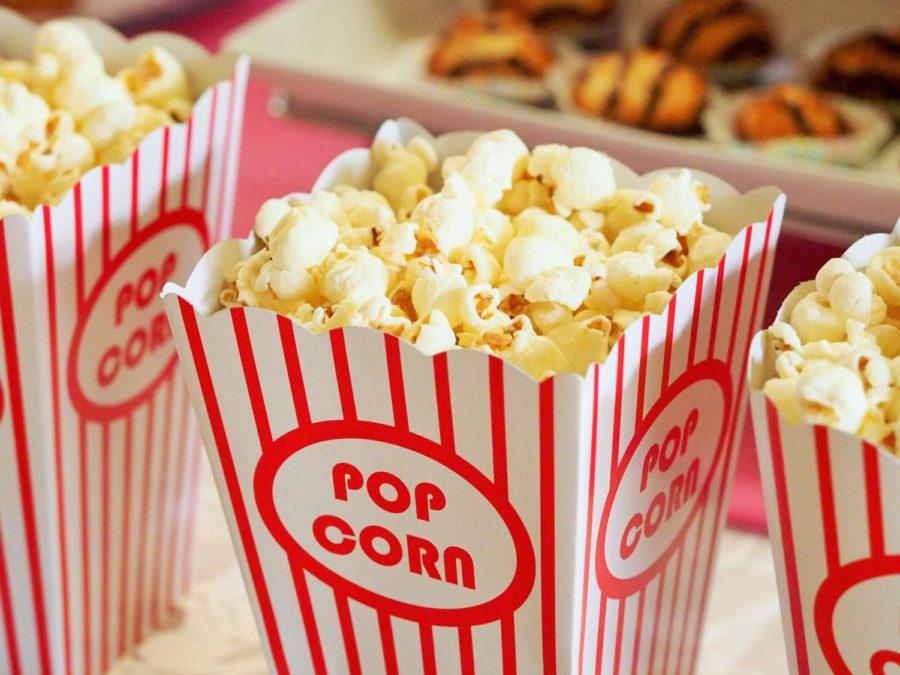 5 Upcoming Movie Recommendations
By Krishi Desai and Ashley Kim
THE INCREDIBLES 2
Trailer: https://www.youtube.com/watch?v=i5qOzqD9Rms
Walt Disney Studios has left fans in restless anticipation of the new Incredibles 2 movie, which is to be released on June 15, 2018. The Incredibles focuses on a superhero family consisting of Bob and Helen Parr, (Mr. Incredible and Elastigirl) and their three children, Violet, Dash, and Jack-Jack. The Parrs are forced to masquerade as an ordinary suburban family that doesnot use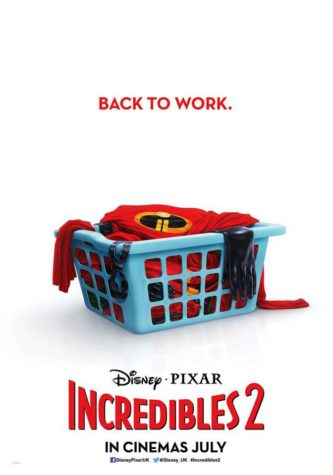 any superhuman abilities after lawsuits are filed against them. The first Incredibles film calls the whole family back into action in order to 
save Mr. Incredible from a trap. The Incredibles 2 film will begin exactly where the first film ended, but will now feature Elastigirl being the one out fighting crime while Mr. Incredible is at home taking care of the children. The movie challenges standard gender roles, indicating how much the world has evolved since 2004 when the firs
t film was released. The Incredibles is a movie series that appeals to viewers of all ages and interests, with the first movie bringing in $660 million in worldwide grosses, according to Variety. "I think it's really awesome that such a big part of our childhood is returning for the new generation. I have a feeling that there will be a lot of teenagers and adults going to see this movie," said Jaid Green, a sophomore in The Academy for Visual and Performing Arts. The Incredibles 2 is a classic animated film with a modern-day twist, and it could potentially be an interesting movie to watch.
OCEAN'S 8
Trailer: https://www.youtube.com/watch?v=n5LoVcVsiSQ
A spinoff of the 2001 hit movie, Ocean's 11, Ocean's 8 is a film about a master thief, Debby Ocean, who teams up with a group of 7 women to orchestrate a heist at the famous New York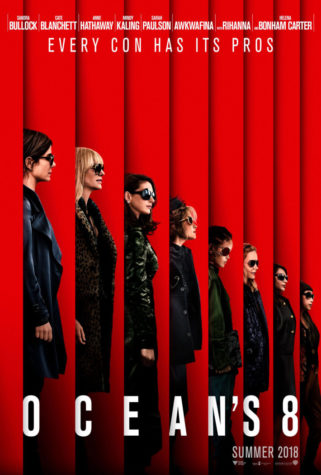 City Met Gala. The women are trying to steal a necklace worth over $150 million dollars out of a security tight atmosphere. The star-studded cast consists of Sandra Bullock, Cate Blanchett, Rihanna, Anne Hathaway, Helena Bonham Carter, Sarah Paulson, Mindy Kaling, Awkwafina (Nora Lum), and more. Ocean's 11 was a largely male-dominated cast,
while Ocean's 8 primarily includes females, in response to a growing trend in the entertainment industry about women's empowerment and equality, especially through the Time's Up and #MeToo Movements. "It's cool
to see a group of women being these powerful, comedic personalities. Also, I think a lot of people know about the Met Ball, so using that as a setting for crime is sort of funny to me,"
added Simona Vigodner, a senior in The Academy for Business and Finance. "I think based off of the trailer one of the best parts will be the dynamic between the different actresses and their personalities," she continued.
Ocean's 8 appears to be a good choice for moviegoers who are looking for a thriller, crime movie.
MAMA MIA! HERE WE GO AGAIN
Trailer: https://www.youtube.com/watch?v=G1MgMqTH72c
After ten long years, Hollywood is creating an addition to the movie that grossed more than $600 million in box offices around the world in 2008– Mama Mia! The original film boasted one of the greatest casts of all time, and Meryl Streep, Amanda Seyfried, Pierce Brosnan, and Dominic Cooper are all set to reprise their roles in the new movie. Mama Mia! Here We Go Again also features some new faces, including Lily James who will be playing a "young" Donna Sheridan (Meryl Streep). The movie is both a "sequel" and a "prequel" to the first film: It not only follows Donna through present time in her new life but the majority of the film reveals Donna's past life before marriage.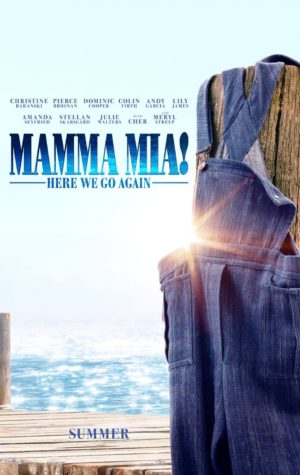 The original 2008 movie musical was based on the hit 1999 Broadway Musical Mama Mia and followed the story of Sophie, a young bride-to-be (Amanda Seyfried), and her single mother Donna Sheridan (Meryl Streep) in the Greek island of Kalok
airi. In hopes of finding her real father and having him escort her down the aisle on her special day, Sophie secretly invites three men from her mother's past to her wedding. The second movie picks up right where the original movie ended, revealing a pregnant Sophie afraid to tell her mother of the issues she's been facing with her pregnancy. Her mother helps Sophie find strength by telling the story of her own pregnancy. This creates the "sequel" and "prequel" characteristic of the movie. It flashes back constantly to the past to show a younger Donna and back to the present to show her current life.
The original movie was based on songs of the popular 1970's group ABBA, and the second movie is set to feature the group again, featuring songs including "Angel Eyes", "I Wonder", and "When I Kissed the Teacher".
"I wish it was out right now! The first film had such a fun soundtrack, storyline, and set that simply the image of a sequel being made (even after this many years) is so exciting to me!" said Olivia Chung, a sophomore in The Academy for the Advancement of Science and Technology. Mama Mia! Here We Go Again will appeal to all– including older fans of the original film, younger fans excited to see the new faces of the star-studded cast, and those who simply want to bring themselves back to the 70's and listen to Meryl Streep and Pierce Brosnan sing some ABBA songs again. Mama Mia! Here We Go Again hits theatres in July of 2018.
CHRISTOPHER ROBIN
Trailer: https://www.youtube.com/watch?v=425M4M3Opkk
Christopher Robin is an upcoming fantasy film based on the book Winnie-the-Pooh by A.A. Milne and the Disney cartoons. Set in 1949, the film follows of the story of a now grown-up Christopher Robin (EwanMcGregor) who has lost his innocence after enduring the horrors of World War II. As the manager of a luggage company, Christopher Robin must find a way to prevent laying off of his workers, causing him to miss the vacation he had planned for his wife and his daughter. While dra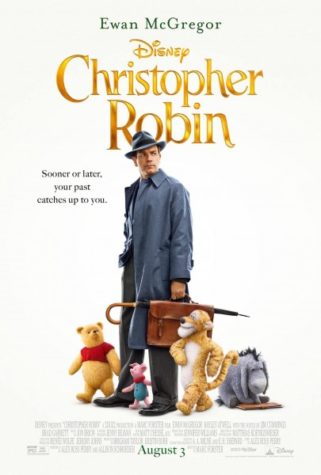 gging through London for a long day of work, Christopher Robin finds himself in Hundred Acre Wood again, talking to his old friend Pooh (Jim Cummings). Ewan McGregor shared, "In thoseolder stories, [Christopher Robin] purveys a lot of wisdom through the way he deals with Pooh. Pooh and Eeyore run through a lot of philosophical questions, and Christopher Robin is there to answer them somehow." Yet McGregor goes on to say that in the new movie, his character has "lost any of that childish wisdom and he's a bit stuck.He's just very work-minded and doesn't have any time for play" (Entertainment Weekly). Pooh helps Christopher Robin find his younger identity again.
   Christopher Robin is set to hit theatres in August of 2018, and the amount of excitement from all generations could not be higher. "I have always loved Winnie the Pooh; it's a part of my childhood! After watching the trailer, it's crazy to think that the bear that had only been illustrated in books is hitting the big screen in theaters! I'm proud of little Pooh doing big things!" said Grace Kim, a junior in The Academy for Visual and Performing Arts. The movie explores the meaning of friendship in the real world, going beyond the restrictions of the Hundred Acre Wood. The teaser trailer has only featured Pooh and Christopher Robin, but the movie is set to reunite the whole Hundred Acre Wood crew. Get ready to see Tigger (Chris O'Dowd), Eeyore (Brad Garrett), Owl (Toby Jones), Piglet (Nick Mohammed), Rabbit (Peter Capaldi), and Kanga (Sophie Okonedo) in theatres!
MISSION IMPOSSIBLE FALLOUT
Trailer: https://www.youtube.com/watch?v=wb49-oV0F78
The action-packed spy film franchise that began in 1996 is continuing on with its sixth installment: Mission: Impossible – Fallout. The serie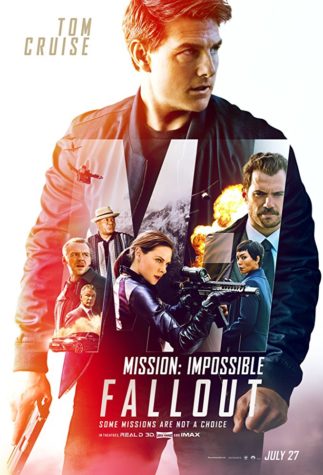 s is the 20th-highest-grossing film of all time, grossing more than $2.7 billion worldwide. The newest installment features Ethan Hunt (Tom Cruise) and his Impossible Mission Force Team (Alec Baldwin, Simon Pegg, Ving Rhames) trying to fix a mission gone wrong. Ethan Hunt's loyalty to the government is questioned by the CIA, forcing him to endure a race against time, attacked by both enemies and former allies. The film will be directed by Christopher McQuarrie, who had also directed Mission: Impossible – Rogue Nation. This is the first film in the franchise that features a recurring director, making fans excited and hopeful for the success of this newest installment.
Mission: Impossible – Fallout features 55-year-old Tom Cruise performing his most difficult stunts yet. He was recently spotted at the top of London's Tate Modern building, seemingly unafraid of heights. Cruise said, "They're the hardest. This is definitely the most challenging film I've ever made, because it's producing, it's acting, and we do all our own action work."
BCA students are definitely excited of this film. "I cannot wait for this sixth film. Tom Cruise never fails to impress his audience and the action-packed story of the first five installments have never disappointed me. This is going to be big," said Alex Ku, a sophomore in The Academy for Visual and Performing Arts.
Mission: Impossible – Fallout is set to hit theatres in July of 2018. Don't miss it!