The End to A Four-Year Journey: the AVPA-M Class of 2018 Senior Recital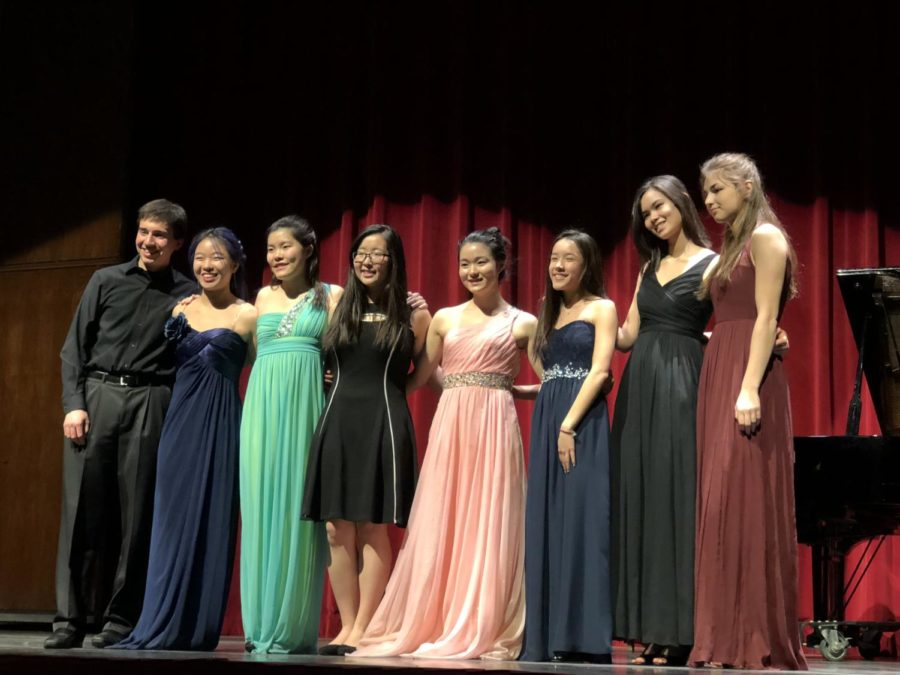 Ashley Kim
April 11, 2018|201 Views
Tuesday, March 13th, marked the last time the eight seniors of the AVPA-M Class of 2018 would perform together at Bergen County Academies. With their senior recital, they treated the  enthusiastic audience with a night of spectacular music and remarkable talent.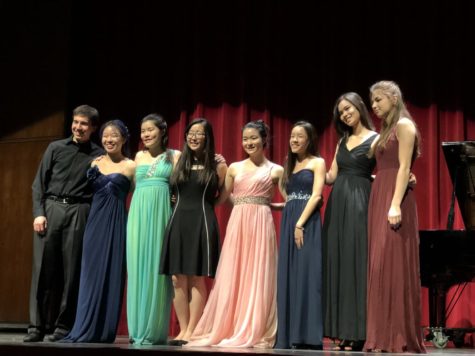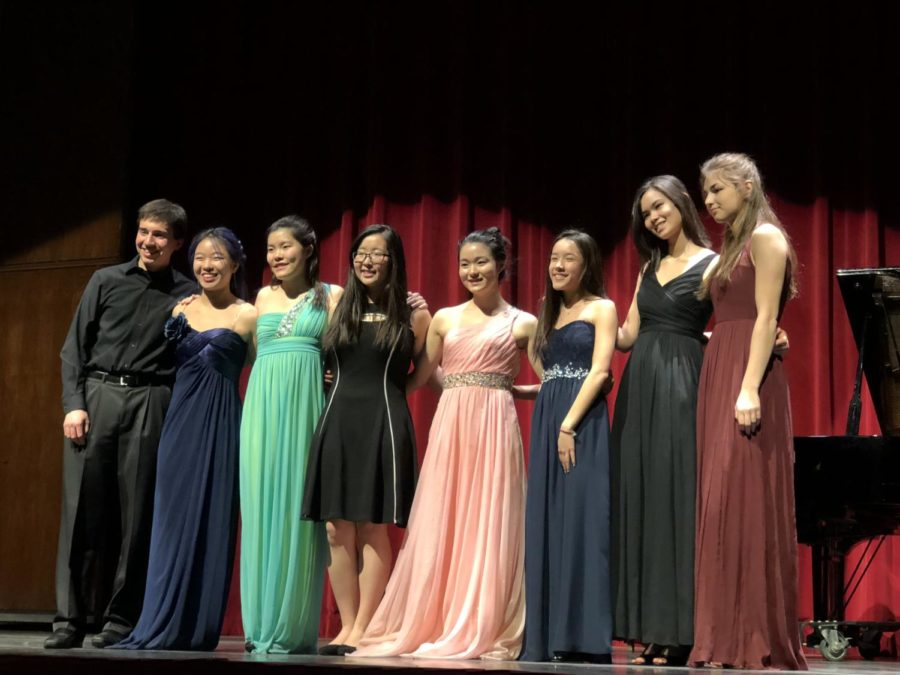 The AVPA-M Class of 2018 consists of Sharon Ahn, Alana Chernyak, Melissa Cui, Julie Ha, Juhyun (Julie) Lee, Maya Reilly, Charlotte Whatley, and Justin Zeitlinger. Each senior performed a solo piece, which showcased their extraordinary skill and dedication to their craft. The night was predominantly filled with classical music, but hints of jazz were also noticed throughout the concert.
The concert was opened by Justin Zeitlinger who performed "Sonata for Solo Violin No.2 in A minor" by J.S. Bach. The piece began with a slow movement that Zeitlinger performed with the utmost passion and quickly trickled into a fast-paced second movement that highlighted his incredible technique and precision. The night could not have been opened with a better number.
Maya Reilly was next. She performed the 2nd and 3rd movements of Saint-Saens' only oboe sonata. Reilly carried Zeitlinger's theme of "slow-fast" in her own performance with a delicate rendition of the sonata's second movement (Allegretto) and a short yet brilliant third movement (Molto Allegro). She played the Molto Allegro with such virtuosity— making playing such a difficult instrument seem effortless.
The evening continued with Alana Chernyak who performed a powerful and impressive rendition of "Zigeunerweisen 'Gypsy Airs'" by Spanish composer Pablo Sarasate. Chernyak played"Zigeunerweisen 'Gypsy Airs'" with such ease in both bowed and pizzicato passages. Throughout her performance, the auditorium was filled with a rich, passionate sound.
Next was Julie Ha who played the 1st movement of a flute concerto by French composer Jacques Ibert. She tapped away on her flute at such great speed; it was a demanding piece played with the utmost accuracy.
The fifth performance was Juyun Lee on violin. She performed the fourth movement of the "Violin Sonata in A Major" by César Franck. Her sound completely cut through the audience, filling the auditorium with her deep vibrato and musical intensity. Next arrived pianist Melissa Cui. She played a breathtaking rendition of "Etude No.4 'Embraceable You'" by Earl Wild, who had based his transcription off of George Gershwin's popular jazz song "Embraceable You." Her fingers effortlessly flowed through the keys of the piano, creating a sound that carried amazing depth.
Charlotte Whatley played sixth, on the cello. She performed the 1st and 2nd movements of "Sonata in G Minor" by Rachmaninoff. It was a moving performance. The excitement of the 1st movement, and the sudden mood change brought on by the second movement was heart-stopping.
Sharon Ahn commenced the concert with "Ballade No.3 in A-flat Major" by Chopin on the piano. Each key that was touched rang through the auditorium, and considering the last four chords she struck on the piano, it seems the concert could not have been closed in a more effective manner.
When all the solos had come to an end, the eight seniors of the AVPA-M Class of 2018 joined together on stage with bright smiles. The seniors thanked their advisor, Mr. Michael Lemma, the Director and Founder of BCA's music department, and shared a large group hug. Maya Reilly said, "This was our last concert together. It has been a long four years, but today was a great way to close that journey."
Sharon Ahn said, "The senior recital was sort of our last hurrah as music seniors, and it was awesome to do this event altogether as a class, especially because we don't get the opportunity to perform together very often." She added, "I'm just so proud of how far we've all come as musicians (even if not all of us will pursue music in the future), as students, and as people. Sharon shared that they have all grown so much since freshman year and really went through this high school process together. She said, "This recital was a chance for us to come together and share our music with others as a unified group.
The senior recital has been a long-standing tradition for AVPA-M seniors at BCA.
As Mr. Lemma said, "Although the idea of having a formal recital for the seniors was discussed since the inception of AVPA-M in 2002, it was really AVPA-M class of 2013 that brought it to life." Mr. Lemma explained that class of 2013 had wanted a venue to perform at for their senior year, and this marked the birth of the AVPA-M Senior Recital tradition. He added, "The first concert was terrific. Each student prepared his own solo and it began and ended with a group work, one of which was composed by Jesse Hartov (a class member)." Mr. Lemma has been thankful for the initiative of those students ever since. He said, "I knew right away this would be a tradition!"
However, there have definitely been changes to the senior recital since the first one in 2013. Starting this year, the senior recital is part of the AVPA-M End of Program Assessment (EOP). This means it is the final assessment that is required in order to  graduate from high school with regards to this particular program.
Mr. Lemma talked about the EOP in further detail.  "All programs in Vocational-Technical Districts are required by the state to have an approved EOP for their particular program. Students are evaluated by members of the BCA Advisory Board—  music professionals who meet with us a few times a year and offer feedback and advice about our program and how it relates to the professional world of music."
But it wasn't just the Advisory Board that filled the seats of the auditorium that night. There was a great number of BCA alumni that came back too. Mr.Lemma said,  "The biggest compliment is always to see the alumni return. At this particular concert, there were alumni going back as far as 2006 (the first graduate of our AVPA-M program) and as recent as last year. There is always good energy at the reception and time for everyone to catch up and congratulate each other."
What made the senior recital even more special is the fact that it was completely student-run. The recital comes out of a core class for AVPA-M seniors called "Senior Music Seminar." Mr. Lemma explained,"In this class, students decide which work they will perform and break up into committees who take ownership of creating the program as well as the photos, stage management, public relations and reception. So, the entire concert is run by students."
The fact that the whole recital was "student-run" definitely made this event more special. Sharon Ahn said, "Despite the fact that it was all individual solos we really planned everything ourselves from the programs to the pictures and bios and reception." She explained that all the work that went into it also made it an opportunity to hone their teamwork skills and compromise at times they didn't agree. She added, "I think I'll definitely recall this performance in the future with fondness for my fellow AVPA/M seniors and also for just an awesome night of music in my music and high school career."
Mr. Lemma added, "I want the students to graduate having experienced the nuts-and-bolts of running a concert on their own. This is very important to me as an educator. I also want them to have a positive experience, something they will always remember." He concluded, "Perhaps they will come back to see classes that follow or even serve on the Advisory Board!"
The even was certainly a milestone in the seniors' lives. Julie Ha said, "The recital was definitely a landmark in how much I've grown and developed not only musically, but also as a person." Julie shared that she knows that she'll remember this concert in the future beyond high school. She said, "It was a point where I learned to understand myself, realize how much I've grown, and how much I can continue to grow in future performances.
Overall, the senior recital was more than just a showcase of music by the AVPA-M seniors. It was the culmination of a four-year musical journey at BCA. Mr. Lemma hopes this journey goes beyond the BCA stage and that the eight AVPA-M seniors graduating as part of the Class of 2018 carry this experience with them onto the next chapter of their lives.