Oprah Winfrey: The Future President of America?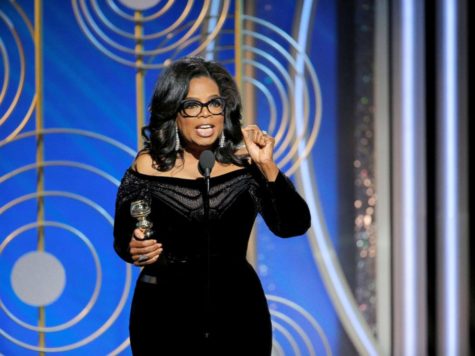 On Sunday, January 17, 2018, media proprietor Oprah Winfrey delivered an electrifying speech at the Golden Globes for her lifetime achievement award; but to her supporters, this speech was more than a simple "thank-you" – it hinted towards a presidential run in 2020. This moment has inspired a new movement in which personalities all over the world are saluting Oprah as possibly America's next presidential candidate.
Sources close to Winfrey have stated that she is "actively thinking" about running for president, while her confidants have been privately urging her to run. Stedman Graham, Oprah Winfrey's longtime partner, has hinted towards the possibility of a presidential run, stating, "It's up to the people…She would absolutely do it." Before we know it, "Oprah 2020" may become the next social media trend.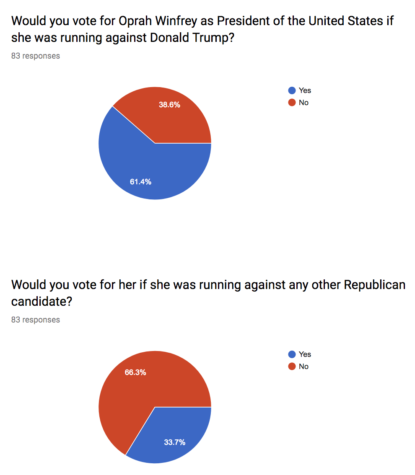 BCA students seem to be on the fence regarding Oprah's possible candidacy. In a 83-person survey, 61.4% of respondents stated that they would vote for her if Oprah was to run against Trump; however, only 33.7% of respondents stated that they would vote for Oprah if she was to run against any other Republican candidate. Many of Oprah's BCA supporters stated that she was an appealing candidate because "she is a thoughtful person who knows her capabilities and stands up for those without a voice." However, others, as expected, argue that Oprah is too "inexperienced". It can generally be concluded that most BCA students would vote for Oprah solely because "she isn't Trump", but many see hope in her campaign, with one person stating, "…I think her lack of experience would be damaging. But then again, Donald Trump won the 2016 election, so what do I know?" 
Oprah Winfrey, also known as simply "Oprah", has paved the way for many great television hosts today. She formally began her career as the host of her own television program The Oprah Winfrey Show in 1986 and also launched her own television network the Oprah Winfrey Network (OWN) in 2011. She gained popularity and respect from the American public by keeping the contents of her programs free of popular-yet-trashy tabloid topics. Her mature decision making skills and calm persona has made her America's favorite "television host, actress, producer, philanthropist, and entrepreneur,"
Her three-decade long career won her the lifetime achievement award at the 75th annual Golden Globes awards. Her empowering acceptance speech touched upon important aspects of her life as well as recent events and movements, but many spectators suspected that the speech threw jabs at the current Trump administration and even suggested an interest in running for president.
An analysis of Winfrey's speech by the Washington Post highlighted Oprah's statement that "the press is under siege these days…uncovering the absolute truth that keeps from turning a blind eye to corruption and to justice, to tyrants…secrets and lies…[Oprah values] the press more than ever before as we try to navigate these complicated times…" This comment suggested a direct challenge to President Donald Trump, who has been accused of being a "tyrant", spreading "secrets and lies,"
Can anything hold Oprah Winfrey back from running in the upcoming Democratic primary of 2020? After her speech at the Golden Globes, the American people have serious begun to take in the possibility of Winfrey winning the presidency. Some have even called for an "Oprah Winfrey and Michelle Obama" partnership in 2020. Although people may argue that Oprah has not had enough political experience to run a country, she has had experience campaigning for Barack Obama 2008 and also endorsing Hillary Clinton in 2016. There is no doubt that Winfrey has gained respect and an immense following from the American people, with some rumors claiming that her endorsement allowed Barack Obama to win the 2008 Democratic primary. In addition, did not Donald Trump prove that one does not need political experience to be elected President of the United States?
As of now, Oprah Winfrey has all the qualities needed run a successful campaign. She has the support of the public, respect, a stable background, and more. Although she may seem like the perfect anti-Trump candidate, her campaign may be similar to that of Trump's; she is a successful businesswoman as the CEO of OWN, a "special correspondent" of CBS newsmagazine "60 minutes", and an investor in companies like Weight Watchers. Winfrey also has the full support of the former First family, as she vacationed with the Obamas in Tahiti last spring. In the case that Oprah Winfrey runs for President in 2020, she will have the Obamas behind her, both for support and for advice.
Will "Oprah 2020" become a reality? Only time will tell. She is in the perfect position to run; Winfrey clearly has won America's heart with her charming wit, sincerity, and charisma. She also has the necessary connections to have a strong chance of winning. Various celebrities have come to Oprah's aid, such as a Meryl Streep, who stated, "I want her to run for president…I don't think she had any intention [of declaring]. But now she doesn't have a choice." Democrats have also announced their support, such as Jackie Speier (Democratic Representative of California), who tweeted, "Run, Oprah, run! An army of women would fight for you." In today's political environment, anything is possible; perhaps Oprah will be America's next president.