Meet the Guidance Counselor: Mrs. Acuña
Hang on for a minute...we're trying to find some more stories you might like.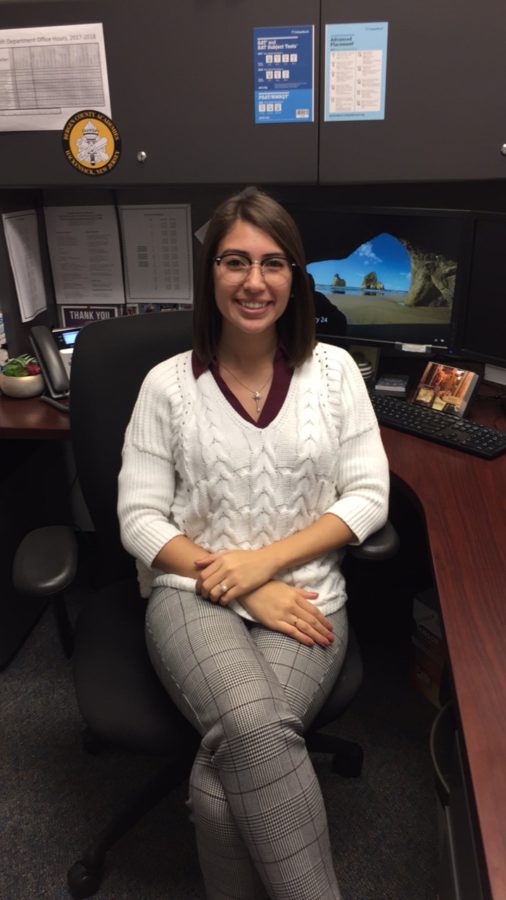 The Academy Chronicle recently sat down for an interview with Mrs. Kymberly Acuña, the newest counselor in the Bergen County Academies' Guidance Department. Mrs. Acuña first came to BCA to fill in for another guidance counselor who went on maternity leave. This year, however, she became the official guidance counselor for the Academy for Business and Finance and the Academy for Technology and Computer Science.
 AC: What are some of your hobbies outside of school?
Acuña: Sleeping, I love to sleep. I'm also an avid reader, so I run the Harry Potter club here, along with Dr. Mayers. I'm a huge reader of fantasy, fiction, and those types of novels. I love to run, but only when I feel like it, because again, my biggest hobby is sleeping. I'm also really into yoga, which I have been doing since my sophomore year of college.
AC: What is your favorite novel?
Acuña: You know, everyone would think that it would be a Harry Potter one, but it is either Insomnia by Stephen King or The Girl Who Loved Tom Gordon by Stephen King.
AC: What is your favorite food and why?
Acuña: My favorite food for a very long time was penne vodka with shrimp. But marrying my husband, he's Filipino there's this dish called dinuguan and it's made with beef blood. It's beef and rice, and it's this black looking dish, but it is so so good. It has a spice to it, almost like a beef stew, but I didn't know it was made with blood until my mother-in-law brought me into the kitchen after I ate it for the first time. She was like, "Oh by the way, this is what I used to cook it with," and there was a gigantic container of blood. It's cured and everything, so there's no harm, but it was the most frightening thing I've ever seen.
AC: What is the most important item that you have in your office?
Acuña: Frederick, my therapy alpaca. Without him, I think a lot of students would have a really hard time coming in here. Because regardless of me trying to be as open as humanly possible, it's not always the easiest thing to come in. I have a lot of students on my caseload now that weren't in my life last year or the times that I were here before. Having the students hold Frederick actually helps them by calming them down and giving them something to play with. A lot of the kids here tend to fidget, and although I'm not a big fan of fidget spinners, this kind of goes in lieu of that.
AC: Is there anything interesting or particularly exciting going on in your life right now?
Acuña: I'm already married, but my husband and I got married in a courthouse, so we're actually planning a really large reception now for our entire family. My family is mostly in Puerto Rico, and his is in the Philippines, so we wanted to plan it two years out so we can have everyone come.
AC: Where did you go to high school and what kinds of activities did you participate in?
Acuña: I actually went to Teterboro (Bergen County Technical School), and I was a law and justice major so I was kind of already busy with that. But I was in debate, I was on the track team, I was in a whole bunch of other clubs. There wasn't a Harry Potter club back then like there is now at BCA, but I was involved in quite a lot of clubs and activities.
 AC: Which college did you attend and what were some of your favorite aspects of the college experience?
Acuña: Montclair State University, where I did both undergrad and grad. I can tell you that I did not do my research on the school. I honestly applied, a last-minute thing, didn't even visit it, and just going there ended up being the most important thing I've ever done in my life.
The experience was fantastic. Montclair offered a wonderful program in psychology and education— even in counseling as well. The staff members were amazing, they really took the time to get to know you. A lot of times counselors will tell you, "Oh you know, your professors won't care about you because you are going to be in a room of 100 kids." But professors, they know you, they'll know if you're absent, things like that. I'm still actually in contact with a few of my professors, just in terms of connections. But yes, the experience was fantastic, I loved it.
AC: What or who inspired you to become a guidance counselor?
Acuña: My little sister. I have a sister who is eleven years younger than me, and she has Asperger's. She would always talk to me about her school life and tell me how her counselors weren't really receptive to her, and understanding. I felt like there was a need for that in many schools, regardless of whether it was elementary or high school. So she kind of inspired me to go into this.
AC: What initially attracted you to BCA?
Acuña: It's the fact that the kids here are really driven, dedicated, and passionate, and I think that they need guidance in the form of, "Hey, you have all this potential, I see it in you, and I'm here to be your number one fan." I love all my kids here. I just love the students; I think that the school brings in the best and the brightest, but also the kindest kids around the area of Bergen County.
AC: If you weren't a guidance counselor, what career path would you have followed?
Acuña: When I was in school, I was actually studying to be a psychologist, specifically working in a prison. I would have worked in a prison because I thought it was really important to assess the prisoners and make sure that there was reform. I wanted to make sure that they really comprehended what they've done and were suitable to at least go back into the world.
Or I would have been a rock star!
AC: What is the most satisfying thing about your occupation?
Acuña: Working with kids. I think all of you have such unique personalities, and having the opportunity to meet possibly 1,000 different students is fantastic to me. I've been here since 2015 as an intern, so I've worked with a multitude of academies. I've had engineering, science, I've had visual performing arts, and now, business and computer science. It's almost as if I have hit all of them, except maybe one or two (medical and culinary). It's been great— just the kids, they are the best part of it.
AC: What is the best advice that you have ever been given?
Acuña: I guess, don't live in the past. A lot of people have said that, you know, "Don't live in the past!" but one thing I heard was live through this and don't look back. It's important to look back occasionally but not in terms of, "Oh my goodness, this happened in the past. I'm miserable and I can't believe that happened." You live through it and you look back on it every now and then but more of as a learning experience. So don't live in the past, accept what happened, and move forward. If you're not in the present moment, you can't actually enjoy and triumph over what you're dealing with now.
AC: What advice would you give to students at BCA for coping with the workload and stress of high school?
Acuña: Come and talk to somebody. It's not going to be as bad as you think it's going to be. I understand that some of you are honestly staying up until 3 in the morning. As much as I would hope and pray that none of you do that, it's going to happen.
So in those moments of weakness, and in those moments of absolute fear and dread, come and speak to someone. That doesn't necessarily mean come to your counselor. If you aren't comfortable, or if you're a little nervous, go talk to your teachers, talk to your parents — just be communicative and open.
It's important to address when you're feeling anxious because if not, it can even lead to more feelings of stress and being overwhelmed. Everyone's going through the same thing here, regardless of if you're a freshman or even a senior. So it's really important just to talk and understand that you're not alone, that's the biggest part of that, too.
AC: What is the best quote or lesson that you have heard from a student?
Acuña: There's been so many kids that have changed things for me…So a student, who already graduated— she didn't really give me advice, but more so realized that I was stressed out. She had noticed that I was in my office, constantly busy and frenzied at times, and she would come in here and do breathing exercises with me. She would calm me down. To have a student recognize that and not even feel, I guess, disheartened by the fact that their counselor was all over the place, showed that she cared. It was really just beautiful to see somebody recognize that and want to do something for another individual, even though it is someone that they respect and who is an adult. She basically taught me to take some time out of my day and really sit back and breathe when I need it. I'm forever thankful for her, she's great.
AC: What is one thing you like and one thing you dislike about BCA? Do you see any room for improvement at this school?
Acuña: There's always going to be room for improvement, no matter if this school was the most perfect school ever.
So I'll start off with more of what I would like to improve, rather than a dislike, and that is just the focus on mental health and wellness. At BCA, we talk about embracing the journey and different things like that, but it's important to recognize that this journey is going to have its pitfalls and its difficulties. So how can we address that? I think it's important for us as a counseling department to be more visible within the school. We have seminar classes, but it's important to be present in your lives always. I really make a point to walk through the halls, and say hello to everybody. I go into classrooms, and I do that not because I want to be friends with all you lovely kids, but because I want you to know I exist and that I'm available to you. That's the one thing that I would really want to focus on.
On the other hand, what I like most about the school —  besides the students—is the staff here. They really genuinely care, and I know some kids will doubt that sometimes, but they truly care and make such a difference in your lives, even if you don't realize it until you graduate. The staff here would do anything for their students, and the amount of passion and selflessness they have makes it an honor just to work with them.
AC: Thank you to Mrs. Acuña for allowing the Academy Chronicle to gain some insight on her life and role in the Bergen County Academies community.