"ACAHA Express" Holiday Creation 2017
Hang on for a minute...we're trying to find some more stories you might like.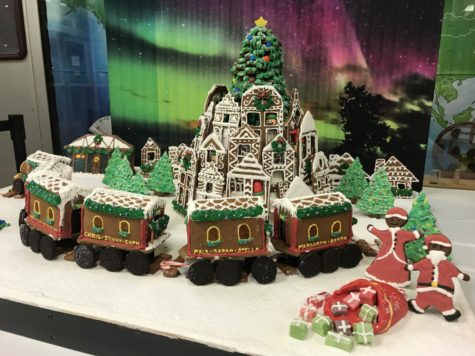 All aboard the ACAHA Express! Take a trip to the main entrance and you'll find the long-awaited annual creation of the Culinary Academy seniors; the edible gingerbread Polar Express.
Every year, ACAHA seniors come together and construct a sweet engineering project just in time for the holidays, and it is displayed for the students and staff to admire. You may have noticed some personal touches to this year's scene, including the names of all the students on the center train. Look closely and you'll see Santa's toy bag, little elves peeking through the windows, and individually decorated houses.
It's not hard to appreciate all of the details that went into the scene, right down to the shining snow on the roofs.
Jenny Uber was in charge of the project after volunteering for manager's position right after Thanksgiving break. She knows how to handle and guide a large group, and her efforts were clearly demonstrated during the process of creating it.
"It was really hectic at first, we had this big idea in mind, but really weren't sure how to get it started. But eventually, everyone took their roles and put it into action. It was a team effort, everyone contributed so much time."
Jenny worked with Chef Brace, Culinary Instructor for Juniors and Seniors, and planned out the size and scope of the design, making sure all technical standards and specifications would be met. She worked with her classmates on templates and then executed the project as soon as possible.
"Chef B was a little worried that we weren't going to be able to finish in time. But we were really determined to make this year's gingerbread project a great one, and that's why it turned out to be such an amazing creation," says Jenny.
They decided the theme as a group effort, and eventually, all of the other leadership positions for the project were decided based on interest and skills, such as head engineer and architects, executive chefs and creative directors.
As always, the week before the reveal was busy for the seniors, and some were still on their toes about college applications and acceptions. However, they came into The Grill during their frees to bake and decorate in order to make this project a success.
All of the edible components were made from scratch, including frosting and gingerbread cookies, but of course, they needed some help from chocolate sandwich cookies and festive candy canes.
The students enjoyed working so hard on a fun and festive project that brings Christmas cheer to the school. Senior Allison Jaworski says, "We were really excited about the idea and when it seemed things wouldn't work we always found a way to make some changes or make it even better."
Determined to make it fantastic, the students managed to bake, decorate, and construct the ACAHA Express in just under 4 working classes, plus their free time.
"We were all really happy with the finished product and it wouldn't have been possible without the help of all the ACAHA seniors," says Allison.
So stop by, check out the train, and spread a little Christmas cheer before we head off on break. Happy holidays, BCA!