Eric Johnson and Mike Stern Amaze at the Blue Note Jazz Club
Nicholas Cho
August 23, 2013|13 Views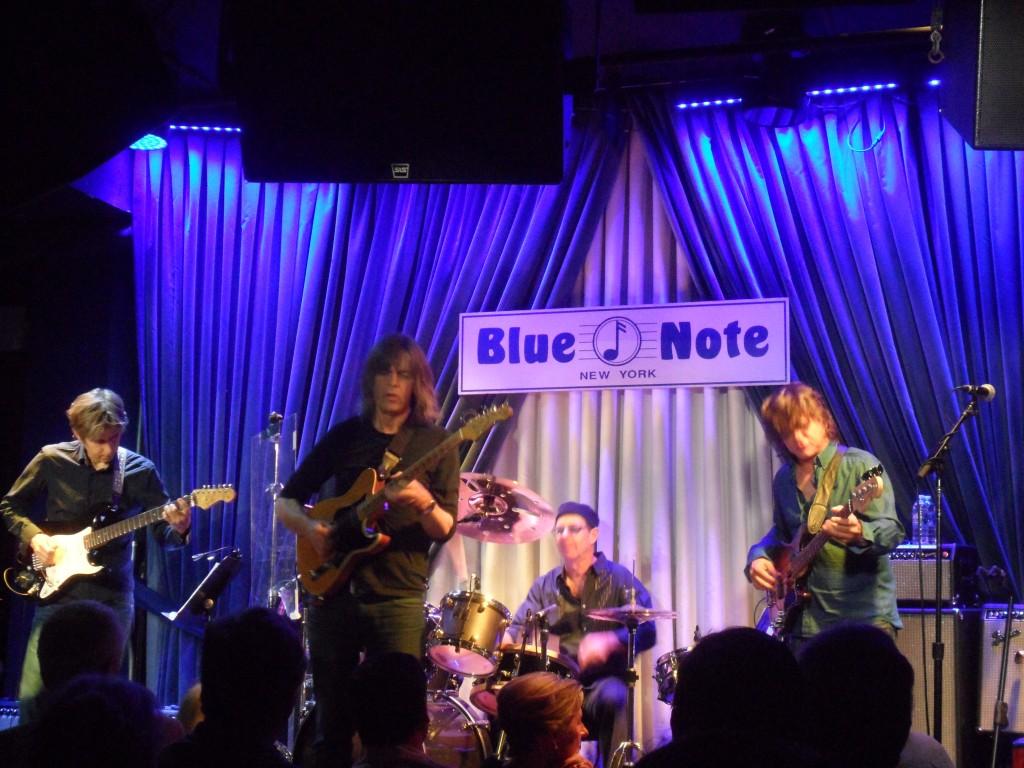 On the evening of Saturday August 17, 2013, guitar masters Eric Johnson and Mike Stern performed together at the heralded Blue Note Jazz Club in New York City as part of their Eclectic Guitars Tour. When the tour was announced, I thought that their unique styles and different musical backgrounds seemed incompatible, but on Saturday night the two guitar virtuosos proved otherwise.
Instead, these artists showed that these differences were the elements for the stunning set of jazz and instrumental rock that left the audience awed throughout the night.
I caught the earlier of the two sets that night, and long before the scheduled show time of 8 PM, the Blue Note Jazz Club was packed with eager fans curious to see how the two guitarists would play together. Fans of Johnson were wondering how he would play Stern's jazz fusion material, a genre Johnson has not played much throughout his instrumental rock solo career after playing in a jazz fusion group in the 70s, The Electromagnets. On the other hand, fans of Stern were interested in seeing how he would play Johnson's instrumental rock material, since Stern is known as a jazz guitarist with blues- rock influences. And for fans of both, like myself, we simply had no idea what to expect.
Accompanying the two guitarists were drummer Anton Fig and bassist Chris Maresh. Fig, like Stern, is a local New York City musician and plays with the CBS Orchestra, the house band for "The Late Show with David Letterman." He has also played with many other musicians including Oz Noy, Joe Bonamassa, and B.B. King. Maresh has been Johnson's touring bassist for many years now, and his ability to play numerous genres made him the perfect addition to the band.
A little past 8 PM, the band walked onto the stage and started the set with "Out of the Blue," a song written by Stern, which appears on his latest album All Over the Place. Right from the start, I could tell that there was a magical chemistry between the two guitarists.
This song, like many that followed, turned into a long jam, with all of the musicians playing jaw-dropping solos. Stern started off with a blazing solo that built up with so much intensity and energy that the whole room became electric. Johnson followed with a stunning clean chord solo, with each chord transporting a beautiful melody, before kicking in the distortion and playing fast jazz licks. Maresh then played an incredible solo, followed by Fig with his thunderous drum solo before the song turned into a four-way tradeoff of solos between all of the musicians.
After "Out of the Blue," the band then moved into a soothing jam, which allowed time for the audience to recuperate before going into Johnson's classic, "Manhattan." Johnson captured the vibe of this serene song perfectly, and I especially loved Stern's interpretation as he soloed in it too. I've never heard anyone play this tune except for Johnson, so it was very exciting and enjoyable to hear Stern's unique approach to one of Johnson's trademark songs.
Next was "Wishing Well" by Stern, which I thought was the best performance of the night. Stern sang scat, and Johnson, known for his dulcet melodies, played a solo that was both riveting and enchanting. Even Stern was impressed, having a look of wonder as he watched Johnson solo.
"What Might Have Been," another song by Stern, followed "Wishing Well." The emotional performance of this dark, yet calming song was enhanced by the candlelight setting of the Blue Note. After followed "Dry Ice," a song by Johnson's previous band, The Electromagnets. This song featured speedy solos by both axemen, and it was a very fun and lively performance.
The final song of the evening was Johnson's most well-known hit, "Cliffs of Dover." It began with Johnson playing an improvised intro of beautiful and melodic chords followed by rapid fingerwork before the whole band broke into the song. Stern shone in this performance as well, playing a solo that kept true to his style while magically blending with Johnson's signature song.
A surprise birthday cake then made its way to the stage for Johnson, who was celebrating his birthday that day. Everyone in the audience sang "Happy Birthday" to him before he blew out the candles, a festive way to end this unforgettable show.
"Eclectic Guitars" was really the best way to name the tour because the two guitarists have such different approaches to the same instrument. While Johnson tends to play with a piercing clean or violin-like distortion tone, Stern chooses to play with a clean or distorted tone with chorus. Moreover, their styles of playing are so distinct, and their approach to the same music is vastly different that it is inspiring to hear such different sounds coming from the same six-stringed instrument. Nevertheless, their unique tones and styles of playing were complementary, and hearing the two guitarists play each other's songs was truly exhilarating and fascinating.
The most enjoyable part though was how obviously the two enjoyed playing with each other. Stern was definitely Johnson's loudest and proudest fan that night, for he was going wild and cheering whenever Johnson soloed. Johnson, too, had a fixated gazes on Stern whenever the jazz virtuoso soloed, thoroughly enjoying the playing of the great jazz musician and fellow guitarist.
As I walked out of the Blue Note and into the August night I couldn't help but hope that this tour would happen again.
And if it does happen, count me in- I'll definitely be there.
Click here to see a list of Eric Johnson's tour dates.  For a list of Mike Stern's tour dates, click here.