Kurt Rosenwinkel's New Quartet Takes Audience on a Cosmic, Musical Journey at the Jazz Standard
Nicholas Cho
January 21, 2014|26 Views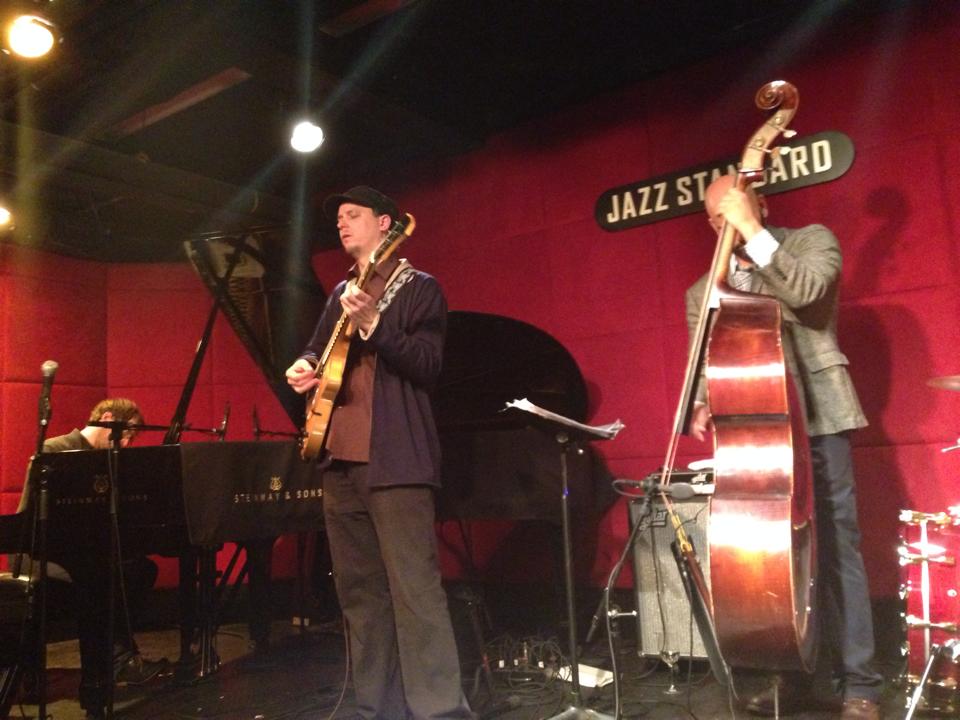 On the night of January 11, 2014, Kurt Rosenwinkel and his New Quartet performed a riveting set at the Jazz Standard in New York City.  The intimate setting of this concert allowed the audience to connect with Rosenwinkel's celestial music, sending the crowd on a mystical journey, all compliments of his exquisite guitar playing.
Rosenwinkel had just come off from an exciting 2013, having performed with Eric Clapton at Madison Square Garden during Eric Clapton's Crossroads Guitar Festival not to mention a gig in front of President Obama and Michelle Obama during the 2013 Kennedy Center Honors Concert.   His recent run of concerts at the Jazz Standard from January 8-12th were his first performances in 2014, and these shows added to the forceful drive of the previous year.
Rosenwinkel and his New Quartet, featuring pianist Aaron Parks, bassist Eric Revis, and drummer Kendrick Scott, were touring in support of Rosenwinkel's most recent release Star of Jupiter, a graceful and gripping double album that truly showcases Rosenwinkel's songwriting as well as his fast and legato playing style.
I saw the first of three sets that night, and the quartet began with "Our Secret World" from the album Heartcore, which was a thrilling start to the evening.  This was followed by the Star of Jupiter portion of the set, which began with "Welcome Home."  This song cast a feeling of serenity that lingered over the audience.   Next was a racing version of "A Shifting Design," which had Parks and Rosenwinkel trading-off solos followed by Scott playing a captivating drum solo that had all in awe.
My favorite performance was "Heavenly Bodies." The song began with an eerie introduction that conjured a mystical mood through Revis' screeching bass notes as he rapidly played with a bow, Scott's alternative percussion as he clanged on the hardware of his drum set, and Parks' dissonant piano lines as he sent his fingers all across the piano.  The song then commenced with Parks repeatedly playing a chord on the piano that lingered like hovering clouds as Rosenwinkel's guitar pierced from the heavens.
The quartet then played "Isle of Everything," a song written by Parks that highlighted his masterful piano playing.  Next was "Under It All," another song from Star of Jupiter that featured a powerful bass line that provided the foundation for Parks and Rosenwinkel's melodic solos.  After, the musicians finished off the set with the upbeat "Cheryl" by Charlie Parker, ending the mesmerizing musical journey in a lively and energetic fashion.
Rosenwinkel performed exceptionally well throughout the whole set.  His guitar playing was articulate, yet fluid as he matched speedy lines with chord melodies.  His notably smooth and synth-like tone added to the phenomenal performance as well.
What intrigued me most was that all of the musicians were singing as they were playing, allowing them to channel their inner music through their instruments.  Their solos were inherently lyrical, and they evoked strong emotions and tensions from the musicians to the audience.
During the concert, Rosenwinkel lifted the audience members closer to the cosmic origins of his music, and I loved every second of it.
Click here to see a list of Kurt Rosenwinkel's tour dates.