Super Bowl in BCA
On Sunday, February 13th, the Los Angeles Rams beat the Cincinnati Bengals
in Super Bowl LVI. The Rams were led by coach Sean McVay, the youngest
head coach in modern NFL history, and the Rams finished the game with an
impressive touchdown drive in the fourth quarter. The Cincinnati Bengals, a
team that was said to have 0.8 chance of making it to the Super Bowl defied
those odds and found themselves in the biggest game of the. year. In the end,
Aaron Donald's sack against Joe Burrow ended the game and gave the team
their second Super Bowl win in 22 years. The Academy Chronicle was
interested in finding out BCA students' reactions to this big event.
We first wanted to know how how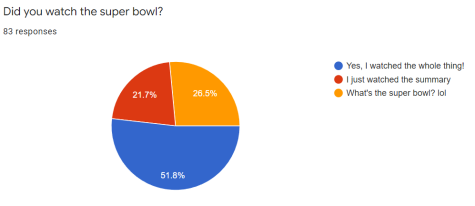 many people actually watched the super Bowl. Of those who responded, 52 percent said they watched the entire game. This is a surprisingly large number, since many students in BCA are usually busy with their school work.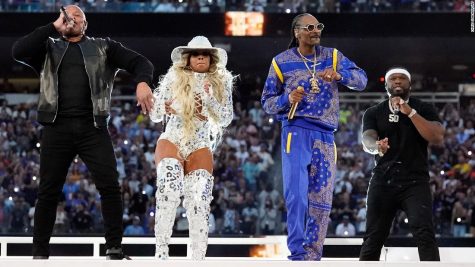 Next, we asked students about their favorite part of the game. WE got a variety of answers, and it seemed that many really loved not so much the game, but the half time show. One student wrote, "I really liked the halftime show, and how it put hip hop at the center of the popular entertainment world for the first time." The Super Bowl halftime was surely a great break for both the players and entertained the viewers at home.
Others responded that they liked the commercials as well. According to CNN,
each company had to pay 7 million dollars for 30 seconds of advertisement. For
viewers, there were many funny commercials. In fact, one student said, "My
favorite commercial was the bouncing QR code commercial. It reminded me of
a scene from The Office." The commercials clearly attracted the attention of
BCA students who are not football fans.
Finally, we wanted to know students' thoughts on which team they thought was
going to win.
The responses showed that many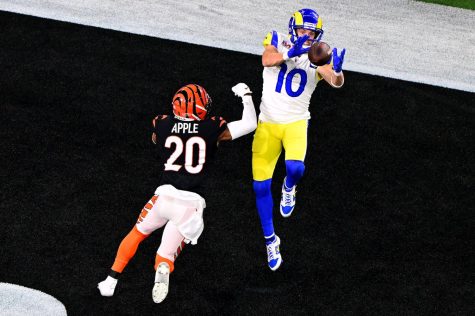 students initially thought the Bengals would win the Super Bowl. After a heartbreaking loss for the Bengals fans,
we asked them how they felt about the Rams winning.
A student replied, "I was really upset that my favorite team lost the game, but
I'm really happy for the Rams as well. The game was intense, and I think the
Rams played well."
Although this year's Super Bowl did not go the way many expected, many BCA
students enjoyed the game, the commercials, and the half time show. Overall, it
was a relaxing experience for BCA students.