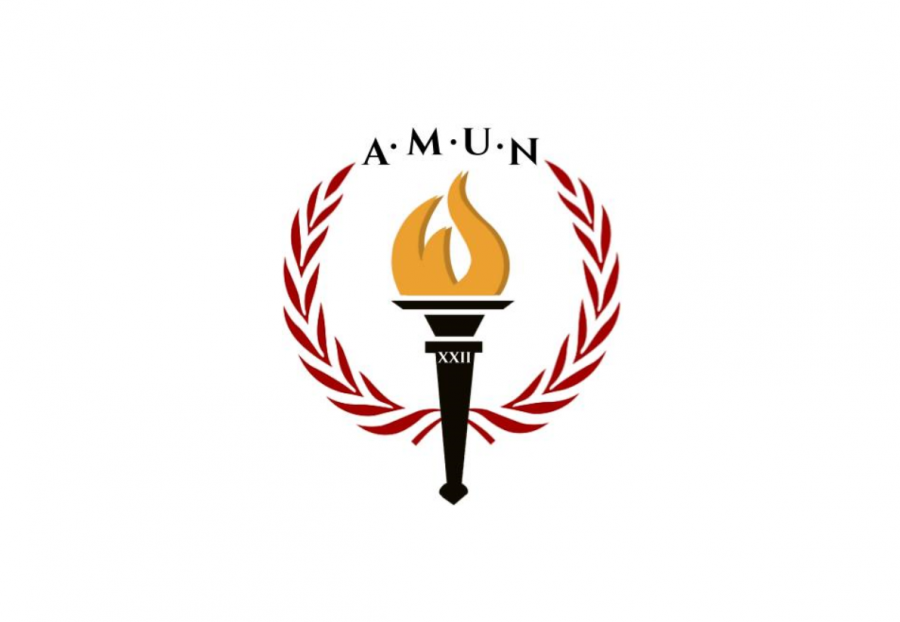 On February 4th and 5th, Bergen County Academies (BCA) held its annual Academy Model United Nations (AMUN) conference virtually. Though the organisers faced unique challenges due to the virtual setting, they persevered and ultimately conducted a successful conference.
The Significance of AMUN
AMUN is BCA's own Model United Nations (MUN) conference, run by BCA's staff members and students. Why is AMUN so important? For Rochelle Xavier, a junior who has participated in MUN every year, it's because of the people: "I've learned so much about MUN as a whole and because our school was hosting, I got a lot of genuine feedback from people I loved and admired." 
She added, "At a college conference…[since] the chairs [or crisis directors don't] really know you that well, they can't give feedback to help you grow. But because I see our upperclassmen for clubs as a youngin' every week, they get to see me grow and change as a [delegate,] so it was a very meaningful experience each year."
David Wang, a fellow junior and co-chair of the United Nations Commission on Science & Technology for Development (UNCSTD) committee, echoed Rochelle's sentiments. "As a delegate, it's a good learning environment because the people chairing you are often your friends; as a chair, you're working with your friends to pull off something very complex." He commented, too, that "It was really fun to watch [the delegates] get better as committee progressed"; his favourite part was giving feedback to delegates, "heaping praise on the [delegates] who improved the most."
AMUN's Secretary-General, Aaron Thammavongxay, also highly values the experience of being "on the flip side of things" — that is, as a chair. "When you go to a conference, you're focused on the other delegates and competing with them; however, running a conference lets you understand better as a delegate what chairs are looking for when considering awards, which is the important other half of Model UN."
Rochelle included, AMUN has been many delegates' introduction to MUN. "AMUN will always hold a special place in my heart because it was my very first MUN everything: my first conference, first crisis committee, first Ad-Hoc" — she asked for a shoutout to #sophstakeonadhoc — "and first time directing a crisis!" 
Virtual Conference
Due to the COVID-19 pandemic, this year's AMUN conference is another "first": the first AMUN conference to take place virtually. As Chargé d'Affaires Kaylyn Lu put it, "Even just one year ago, the possibility of doing Model UN virtually, let alone running AMUN, never crossed our minds." Even as the possibility of a virtual AMUN became more and more real, no one knew how to conduct a virtual conference at first. As a result, Kaylyn said, "I don't think anyone had high expectations. We were resigned to the idea of running a sub-par AMUN, which would be especially lacklustre following the incredible successes of recent years."
Kaylyn's worries were not for nothing: as a virtual conference, AMUN would miss many components dear to past participants' hearts. For example, the bonding experience of dinner after two long, intense days is a fond memory for many. Rochelle, too, brought up the inter-delegate interactions that were limited by the virtual format: passing notes, taking breaks, and the aforementioned dinner are all unique moments of bonding that were not possible. Although the logistics of running the conference were simpler this year due to the virtual setting — there was no need to cater, reserve rooms, coordinate transportation, et cetera — there were new concerns of Zoom security and fatigue. Given the circumstances, I asked Aaron, what did he envision for this conference and what were the goals?
"With this year's AMUN, I wanted to give delegates a chance to have an experience that was as close as possible to a real conference while still holding true to AMUN's central identity as a conference for both absolute beginners and hardened veterans." 
Authenticity
For those running the Star Wars joint crisis committee (JCC), Zoom did not hinder their zeal to bring the delegates an exciting and meticulously prepared experience. Rochelle, the crisis director of The Galactic Republic, for example, brought crisis updates to the delegates as an underpaid news anchor with fake glasses, her blazer, and an old microphone. In a JCC, as the name states, there are multiple committees. Though the committees do not directly interact, their actions affect each other.
Emphasising this link, at one point, Rochelle delivered information to the Galactic Republic as a leaked hologram message from the Separatists. In addition, for realistic battles and worldbuilding, the committee used spreadsheets, Desmos, Wookiepedia, and an interactive galactic map, made by senior and Director of Committees, Elliot Lee. The backroom — a "lovingly chaotic mess" of a team, in Rochelle's words, that responds to developments in the world — used equations to determine battle outcomes, the wealth of planets, and costs and build-times of ships. On the delegates' side, each received a unique link to the galactic map that allowed them to move their fleets and their fleets only, while showing the movements and planet-occupancy in all the explored regions. Rochelle hopes that the delegates' takeaway from this committee is "to be as creative and chaotic (safely if possible) as you can be in a crisis," and hopes that the delegates had as much fun as she did.
In their general assembly committee, David and his co-chair, Minato Shinoda, put no less thought into giving the delegates an enjoyable experience. According to David's estimation, about a third of the time he spent in preparation for the committee was spent with Minato on deciding an apt pace of progression. "My co-chair and I spent a long time figuring out when we wanted things turned in by: can't have papers due too soon, or the rest of committee will be kind of a drag; can't have them due too late, or all of committee will be a drag." To determine the right time, David drew upon his experience: "I've been in committees like this before, so you have a sense." He added, "Plus, when everyone sounds like they're repeating themselves, you know it's about time." To maintain a lively atmosphere, Minato and David also encouraged as many people to speak as possible.
As an organiser responsible for the entire conference, Aaron's strategy to preserve authenticity was broader. For example, in accordance to the end of the opening ceremony of an in-person conference, the Secretariat "[dismissed] delegates to their respective committee rooms from the opening ceremony Zoom link rather than allow[ing] them to independently go to their committee links." The closing ceremony, too, continued the tradition of announcing and congratulating notable delegates from each committee, ending with the motion to close AMUN and the time-honoured "I declare AMUN closed." Though Aaron called these traditions "small things," they nonetheless sustained the flavours of an AMUN conference. 
Inclusivity
For the second goal of accommodating delegates of various experience levels, Aaron said that the Secretariat sought to accomplish this in two ways: a "wide variety of committees," and requiring each chair "to go over the basics of Model UN at the start of the conference." 
From a chair's perspective, David said that encouragement, patience, and guidance were critical to making delegates feel welcomed. Especially for new delegates, speaking in front of the whole committee can seem daunting; being considerate of their initial shyness helped to bring them out of their shells. 
Rochelle, too, said that the organisers of her committee tried to "[get the] committee to a relatively fast pace where galactic battles are fought often and…encouraged the delegates to be more creative and wild in their notes."
There was also a personal aspect: Rochelle wanted to honour previous crisis directors of AMUN with her "cooky JCC that will bring that little wide-eyed freshman into our MUN family." She continued, "That's what AMUN did for me, and I want to do that for someone, too." Echoing Kaylyn, Rochelle said that she wanted to maintain the conference's prestige: "I don't want to disappoint everyone else in our little BCA comMUNity" — she requested the joke — "if our committee flops." She hopes that the "delegates gained something from this experience like I have" and "when Mr (Mark) Kramer (a faculty advisor of MUN) and the Secretariat hear feedback from advisors and delegates from these competing schools[, it] is that they enjoyed themselves and this was an experience worth remembering positively."
Conclusion 

Everyone's efforts were not in vain: "Not only were retention rates between Thursday and Friday's committee sessions nearly 100% across the board," Kaylyn said, "but we also got amazing feedback from delegates and advisors who enjoyed virtual AMUN just as much as we did." Reflecting on the experience, she added, "In hindsight, we shouldn't have underestimated the viability of virtual conferences, especially with an incredible team like our own secretariat…Really, we were afraid that the real-life Model UN experience couldn't be recreated in a Zoom format. Luckily for us, our chairs stepped up to the plate."
Through this experience, Rochelle said that she learnt a lot through "the constant collaboration it took for us [to] write back to notes, fix the map, add the ship and money, calculate battle damage, writing and performing the updates, and turning that into a little synchronized dance." She also gained an appreciation for crisis directors from conferences she has attended, now that she "understand[s] the work, time, and effort they put into creating these worlds our committees end up becoming." She thanks her chairs, Annie Li and Emilio Aleman, whom she loves "with all of [her] heart," for "moving committee forward while having fun with the delegates" and "work[ing] their magic in the frontroom." She also thanks Elliot and Maximo Bustillo for their help with the website and the mathematical logistics, as well as her co-crisis director, Laurence Lu, and her "super cool" backroom staffers.
David would like to thank his co-chair Minato, who "kept the ship sailing…and got really good at managing [the] committee really quickly"; he "can't be more impressed." He also wants to thank the Secretariat and the faculty advisors, without whom the conference would not have been possible.
As the Secretary-General, Aaron gained more experience than he thought he would ever need about Zoom, spreadsheets, and managing a team. He credited Anjali Anbu, a Secretary of Internal Affairs of Junior AMUN, for the idea of asking people to RSVP when they receive an email, which helped with tracking progress without physical meetings. To him, the most meaningful and most enduring element of the conference was "the dedication and passion that the rest of the Secretariat, chairs, and staffers showed for AMUN." He thanks the passionate students who were willing to dedicate their time to an online MUN conference during a pandemic: "seeing them care so much was very fulfilling as their Secretary-General."
With hope, next year's organisers will not need to face the trials and tribulations that accompanied the virtual setting.