Farmers' Markets: Support Businesses and the Environment During COVID-19
Based on the fact that you are currently sitting in front of a screen reading this article, I have a pretty good feeling that you are in dire need of fresh air and sunlight. While hikes and walks are great ways to explore the outdoors, there is another way to get fresh air: farmers' markets. Farmers' markets not only allow you to experience a change in scenery while doing your weekly shopping, they also have additional benefits. For example, buying from farmers' markets boosts the local economy, so you can feel better about buying a million cookies and eating all of them on the car ride home.
Farmers' markets host a wide range of businesses from the classic produce stands to prepared food and artisan crafts. Mr. Gutierrez, a business teacher at BCA, explains one benefit of the farmers' market model: "It is really nice for us as consumers to have access to these products and services, a lot which are local to the community, so you can support New Jersey farmers, and craftsmen and women. It's a great way to see different products that you would not see in a large chain."
They also have a more personal feel, and businesses can directly form connections with their customers. Mr. Gutierrez mentions that "they add to the social fabric of the community."  The people selling at these places are strong reflections of community values and they are catering directly to local consumers.
Ms. Kennedy, BCA's AgriScience research advisor, points out how "food miles"—the distance your food travels between harvest and consumption— create a key difference between locally and non-locally harvested foods. "Farmers' markets usually have local merchants so it decreases food miles which is really good for the environment."  This allows customers to get fresher food and reduces waste from shipping and packaging which helps the environment.
Another way to maximize the benefits of fresh produce is to buy in season. Chef Branda, a culinary teacher at BCA better known as Chef J, recommends purchasing "an array of leafy greens, squash, root vegetables, pickled veggies and different styles of pickles" in the fall.
Of course, markets are not COVID-19-free vacuums, but then again, no place is. In order to minimize risk, farmers' markets have given considerable thought to precautions. The Ramsey Farmers' Market, the largest farmers' market in Bergen County, has published an operational plan with rules for customers, vendors, and volunteers. The key rules are as follows: wear masks, social distance, leave your dogs at home, pay and order ahead when possible, and leave after 20 minutes. 
There is also a maximum shopper capacity that differs from state to state. In Ramsey, make sure to enter at the red tents where volunteers are stationed to count shoppers, but get there early or at an off-hour so the market is not full when you arrive. Volunteers and vendors have ample access to cleaning supplies, so the surfaces you may come in contact with are sanitized. However, it is always a good idea to bring your own hand sanitizer and gloves. You are not permitted to touch items—gloved vendors will hand them to you.
Understandably, there will not be samples because of a no-eating policy. Only occasional sips of water are allowed, after which you should immediately pull up your mask. You may also notice the market takes up more space than in the past because tables are spread further apart.
As BCA's Nurse Hynes explains, "The spread of COVID-19 comes down to how big a space, how many people are gathered, outside vs inside (outside being better!) and how much time was spent at the gathering." The increased area, wait times, and capacity limit directly address these factors. By following all the rules you can keep yourself and those around you safe. If you preorder and prepay you could be there for under five minutes—less time than you would spend indoors at a grocery store.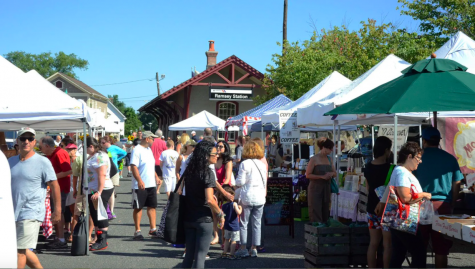 Small businesses are struggling under the ever increasing but necessary restrictions, so farmers' markets are a great way to support multiple vendors at one time. Mr. Gutierrez says, "Unfortunately being a small business is a really tough environment—even in a healthy economy—so with really tight profit margins it's really difficult for businesses like these to survive." Businesses have likely used up most government financial aid from the summer, and consumers are having a harder time shopping due to high levels of unemployment. This is why it is so helpful for businesses to be able to sell at farmers' markets and for consumers to support them whenever possible.
Not only are you getting fresher food at Farmers' Markets, but you are also helping local organizations survive at a time when sales are slow and challenges are numerous. Ramsey  Farmers' Market typically transitions indoors during the winter, but this year, it is extending its outdoor shopping season to help vendors and customers. I definitely recommend taking advantage of the extra time. Oh, and maybe pick up some vegetables while you are there. You need more vitamins.