Meet the Principal: Mr. Davis
Krishi Desai
April 11, 2018
Hang on for a minute...we're trying to find some more stories you might like.
Meet the Principal: Mr. Davis
            The Academy Chronicle recently sat down for an interview with Mr. Russell Davis, the principal of almost 10 years at Bergen County Academies. This interview allowed the Chronicle to learn more about Mr. Davis' life experiences and his career as an educator and principal. 
AC: Is there anything interesting or particularly exciting happening in your life right now?
Davis: It's a busy time of the school year. We're already working on next year's schedule and the recent Global Exchanges have been fantastic, so in terms of the school side, that is exciting. On a personal note, my wife and I are celebrating our 29th wedding anniversary this month which is a nice milestone.
AC: What are some of your hobbies outside of school?
Davis: I enjoy sports and music in my free time. I play organized volleyball and recently my wife and I joined a bowling league which is also a lot of fun. I've been playing piano since I was nine and I still love to play when I can find the time. My advice to students would be no matter what career you choose, don't give up the hobbies you truly enjoy.
AC: What is your favorite food and why?
Davis: I like a big meal so, I enjoy steak and potatoes, partly because I'm Irish.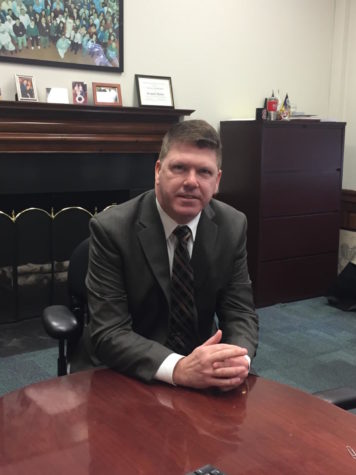 AC: What is your favorite novel and why?
Davis: Tuesdays with Morrie, (Mitch Albom) which is a book that had a personal impact on me. I think that it is probably one of the more enjoyable books among the many that I still keep. The other one would be the Five People You Meet in Heaven, which is by the same author. Both are very touching and meaningful to me.
AC: What is the most important object you have in your office? What significance does it hold?
Davis: I guess that would be the picture of my family. I've been here for almost 30 years working with young people and in that time, I've watched my own kids grow, so having pictures of them here is comforting for me.
 AC: Where did you go to high school and what kinds of activities did you participate in?
Davis: I went to Paramus High School and I also took college courses at Bergen Community College during my senior year. I participated in sports and music throughout high school. I ran track, and outside of high school I played recreational baseball up until the age 17.
AC: Which college did you attend and what were some of your favorite aspects of the college experience?
Davis: I actually went to a state college, Kean in New Jersey. I think you're lucky if you get to go to college and meet a professor who you get to form a close relationship with. The teachers I met there had a profound impact on me. One of those professors moved to a Midwest college, but I've always considered him a mentor. So, I think that one of the most significant aspects of college is finding people who care about you and your success.
AC: Who or what inspired you to become an educator/principal?
Davis: That would be my high school teacher, Mr. O'Lear. I think many students go through various grades, meet new teachers, are in their classes, but don't have that personal connection with the teachers. For some reason, when I walked into Mr. O'Lear's room, he always seemed to go out of his way to welcome me as well as the other students. His actions inspired me to become an educator. So early on in my college career, I knew I wanted to be a teacher. Later in my career I decided to become a supervisor and eventually a principal.
AC: Prior to becoming a principal, did you teach any specific subjects and for which grades?
Davis: So, I actually began here before the Academies formed, in 1987, teaching visual arts. I left for a few years and when I came back in '94, it was more visual arts and computer technology. I'm proud of the fact that many of my former students are doing very well in their careers and still keep in touch.
AC: If you had not become an educator/principal, what career path would you have followed?
Davis: I would love to say that Billy Joel and I could have switched professions. Music was something that I always loved and always enjoyed doing. I realize now, looking back, that I needed to be a lot more proficient in composing my own songs. Most of the time I played other peoples' songs. If I had to do it all over again, I would've written more of my own personal works.
AC: What is one thing that you would like to focus on improving at BCA?
Davis: That's a great question because we have been talking about that a lot, lately. I think we have a rigorous school, and a school that we can be proud of, but I'd like to see the student satisfaction rise. I'm having conversations with the student council and students, in order to not only have a meaningful experience, but also have one that doesn't overburden them. I want to focus on finding out more about what can continue making this school challenging and enjoyable at the same time.
AC: What is the most rewarding part of being a principal?
Davis: The most rewarding part is seeing students come in as ninth graders and then walk across the stage, four years later, as they graduate, and knowing that we had some part in their success as they move forward. Beyond that, meeting our long history of alumni, seeing all the places they have been, and seeing how they are progressing in their own careers is very gratifying. This past weekend, I ran into a former student, and it's always great to see them and hear how well they are doing. Across the board, our alumni tell us that we prepared them well for college and success beyond, so we revel in seeing their successes.
AC: What is one cause or issue that you feel passionate about in 2018?
Davis: With all the school shootings and violence that has happened, I feel passionate about safety. Many of us were here at this school back when Columbine happened and we certainly stepped up security since then. But I have to say I'm saddened, that as a country, we haven't tackled that problem to the level that we probably could. I think that the issue is in the limelight right now, and everyone's concerned about it, but as a father and a school principal, school safety is something that's always on my mind.
AC: Based on recent events, many students across the country are concerned about their safety when coming to school. As principal, what actions do you think are necessary for our school to take in order to ensure the well-being of students?
Davis: I think it goes back to something as simple as "if you see something, say something." It would be hard for us as adults to always know what's going on among students. You know your friends, you know your classmates, and if any concerns arise, the best thing to do is reach out to someone. You should let us know if there might be a possible threat to someone's own safety or the safety of others.
AC: Could you please describe a challenge that you once faced in your life (general or academic/career-based) and how you went about overcoming it?
Davis: I think the toughest challenge that I've had was losing my dad at age 11. It was a sudden death, which was difficult to get over, but was something I gradually learned to move on from. I've lost close friends and family members over the years which made me enjoy life more and appreciate the things that I have. It also made me think more about what kind of an impact I can have on others. I hope that when students face those same types of challenges, they know that yes, it hurts, but it's also important to keep moving forward.
AC: Who is one of your inspirations or heroes in life?
Davis: I would say my mother, who passed away a few years ago. I saw the hardships she encountered when my dad died, but she never stopped working. She always kept us moving forward, so she was my hero. Growing up, seeing what she'd faced, it was always my goal to not disappoint her, and to do the best I could to be a good son over the years, and that's the way that I think I could give back. She had dementia before she died, so it was kind of like we lost her before her death, and that was tough to deal with, but she is definitely my inspiration.
AC: What is the best advice that you have ever been given?
Davis: Don't give up. Things are tough in life, and I try to teach my kids the same thing. Not everything goes the way you want it to go, but you just have to keep pushing forward and if you do, success will come. One of the other best comments I ever heard was from two parents who lost their son to suicide and gave a presentation here at the school. As sad as the tragedy was, the mother said, "There is joy to be had." It reminded me that even when you face tough times, and you're in some area of despair, there is joy to be had.
AC: Thank you to Mr. Davis for allowing the Academy Chronicle to gain some insight on his life and role in the Bergen County Academies community.