One Act Play Festival 2016
Hang on for a minute...we're trying to find some more stories you might like.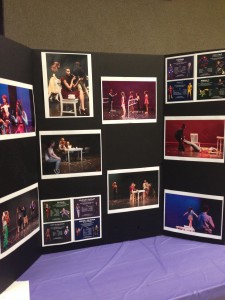 As the year winds down, so do the main stage theatre productions at BCA. This spring is especially laid back due to the absence of the annual Spring Play. Yet the senior directed One-Act Play Festival, also put up annually in the spring, is in full swing this year.
This annual production of one-act plays, directed by the theatre seniors as part of the AVPA-T core directing class, has evolved over the years. For example, the Theatre Class of 2014 directed original works, while the Theatre Class of 2015 directed works the directors themselves wrote.  The Theatre Class of 2016 will be directing all BCA student original written works.
This year marks the change of venue of the event. In past years, the festival has been put up in the beloved Theatre Arts room (ThArts). This year the absence of the spring play has opened up the main stage for the one acts to be put up with three-quarter seating where the audience sits on the stage and watches.
These changes will make this year's one act play festival bigger and better than ever. Be sure to catch the plays before they are over! Performances: Thursday, June 2 at 7:00 pm, Friday, June 3 at 7:00,  Saturday, June 4 at 2:00 and 7:00, and Sunday, June 5 at 2:00 and 7:00.
Find more information about each one act below!
L'AIRBNB by Tova Tencer
Directed by Chloe Catoya and Jordan Goldberg
Anita is just your average professional murderer on the verge of a difficult retirement; Kyle is just your average teenage punk trying to fight "the system." When they both hatch a devious plot to prove themselves, the two characters  wind up in an all out battle of wits and aggression, where only one can emerge victorious. In this hilarious romp of blood and guts, chaos ensues in this rented space on Airbnb (a website for people to list, find, and rent lodging), as these two characters have finally met their equal. Oh, and, did we mention there's blood?
AFTERTHOUGHT & FORETHOUGHT by Rachael Chau and Angla Muzai
Directed by Rachael Chau and Angela Muzai
What happens to someone after they die; do they linger in the shadows of the living, or are they haunted by their own past? While trying to figure out their place in the world after life, Emma and Devon watch as detectives Vanna, Silver, and Brazier investigate Emma's murder. "Afterthought," winner of a 2016 Scholastic Gold Key, follows up the homicide investigation, while "Forethought" rewinds to the events leading up to it. Inspired partially by ideas and characters present in the myth of Orpheus & Eurydice, this story is about life, death, and the love that can define both of them.
DISARMED by Josie DeRosiers
Directed by Jillian Rezen and Erin Browning
Disarmed, "a play about mattering," follows Charlie and Marie, two nihilistic lovers in a toxic relationship, from their adolescence to their 40s. As teens, Marie and Charlie argue about the effect a human life has on the grand scheme of things. Flashing forward thirty years, we see Marie and Charlie now married, and the toxic elements of their relationship are in full effect as they sit in their kitchen playing Russian roulette, a very dangerous game of chance.
SYLVIA'S by Rachael Chau
Directed by Camila Sanchez and Maya Wassermann
Sylvia's captures the story of your ordinary dance studio and 5 prima ballerinas all in it for the win. With drama, fighting, pirouettes, and pointed toes, there is no question the Brynn will always capture the spotlight with her sassy, demanding attitude, and amazing talent. That leaves the other girls with a thirst for reestablishing hierarchy. But how will they kick Brynn out of her spot? Perhaps messing with her head will work.
SIDEKICK by Jordan Goldberg
Directed by Gabe Green and Jessica Campanile
It's a bird! It's a plane! It's Casey, everyone's favorite sidekick! But when a sidekick loses her hero, and consequently her job, what happens next? Tap dancing?! And what happens when she falls in love with the enemy? Jordan Goldberg's quirky new musical Sidekick will give you all the answers. Featuring a sidekick named Casey, her hero Maggot, Taylor the super romantic hench-person, a vindictive villain named Adrian and a tap-dancing, storytelling ensemble, this is a musical for the world ahead!
TEQUILA by Jasmine Sharma
Directed by Katie Kane and Camille Tejeda
Life has a funny way of bringing people together­­ and keeping them apart. For Mona and Peter, something always seems to stand in the way. Tequila catches glimpses of their unconventional relationship, plagued by a cheater boyfriend, a forgetful dad, a crazy girlfriend, a cake-less birthday, love, loss, and, of course, a fated first tequila shot. Proving that, oftentimes, fate doesn't seem to work out the way you might expect it to, the award­-winning play Tequila is a love story with a twist.
WHAT FELT LIKE ETERNITY by AJ Dennis
Directed by Matthew Digerattu and Carlos Tariche
What Felt Like Eternity is a modern re imagining of The Judgement of Paris. In this twist of the Greek story, the mortal Paris strives to balance both of his romantic relationships with the sisters, Athena and Aphrodite. As the goddesses of wisdom and beauty, they entice Paris, forcing him to contemplate his own mortality and what it means to be in love. Hera, the goddess of women and marriage and mother, is the mother of both Athena and Aphrodite, and she urges them to not waste their time on mere mortals. This doesn't prove enough and Hera takes matters into her own hands by forcing Paris to choose between them.