Top 15 K-drama Recommendations
Melissa Cui
April 27, 2016
Hang on for a minute...we're trying to find some more stories you might like.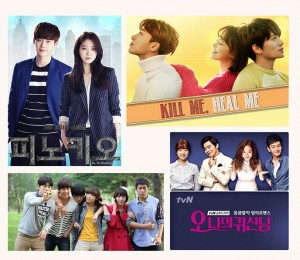 Korean dramas are an essential part of Korean culture, but many people from other countries, including students here at BCA, watch these shows as well. We decided to gather up some dramas from different categories (ranging from action to fantasy to romance) that you may be interested in and review them for your convenience. Whether you are a novice k-drama watcher or a long-time fanatic who wants to start a new drama, this list will give you something to go off on. Enjoy!
TOP 5- Melissa
Kill me, Heal me-
Kill me, Heal me is a medical/romance drama that's centers around Cha Do Hyun, a business heir who has Multiple Personality Disorder after a traumatic event in his childhood. After he meets our protagonist, Oh Ri Jin, he starts to regain control over his life, and his personalities, thanks to her help.
When one of Do Hyun's personalities gets a reason to stay in control, the relationships between the characters reveal several aspects of personal relationships and what it means to be alive.
MC: This is honestly one of my favorite K-dramas, and it's really high up there for a good reason- the characters are really relatable, the plot is good, and the chemistry is amazing; I could totally see the actors actually having a relationship in real life- yes, it's that realistic.
Without giving too much away, Do Hyun is a literal gift package, one of those 7 in 1 deals. This drama is a great introduction to a lot of mental health issues and personal relationships in general, and it gives a great outlook on how people manage with so many things at once! 
When it's time to say goodbye to the characters, you will definitely cry. I remember first watching this and I wish I could watch this for the first time again.
It's Okay that's Love
It's Okay that's Love is a medical drama based around the relationship of Jang Jae Yeol, a prickly radio host, and Ji Hae Soo, a psychiatrist; they immediately clash after meeting on  Jae Yeo's talk show.
When things go wrong in Jae Yeol's life, he's forced to move into Hae Soo's home, who lives with another psychiatrist and a young man with Tourettes (a nervous system disorder). It's Okay That's Love deals with both characters' emotional scars and getting through the good and the bad of a relationship as well as dealing with emotional pain.
MC: First off, the acting in this drama is amazing, but my love for this drama stems mainly from the relationships. Hae Soo's family is so dysfunctional, yet they all have this love and connection to each other (it reminds you of the connection between friends). Throughout the drama, bonds form between unlikely characters that make you want to go and give your closest friends or family a big hug.
This show is so good- it's got moments that make you want to cry and others that make you laugh, sort of like life! It's Okay, That's Love gives a fresh new take on how everyone has problems and the journey through dealing and accepting the emotional scars and pains in our hearts. 
*But it's okay, that's love.*
Rooftop Prince
Rooftop Prince is about the journey of a crown prince and his cohorts. But a twist: it spans two time periods: Joseon-era and modern day Korea. Crown Prince Lee Gak literally falls into a new world when he lands on our protagonist's, Bak Ha's, roof. Lee Gak is surprised to realize that the people around Bak Ha are people he knows- from his time!
When he finds an uncanny resemblance to his deceased wife's CEO, he takes the opportunity to uncover more about his new world as well as his wife's murder. Will he be able to solve the mystery of his wife's death, as well as get back to his original world?
MC: Rooftop Prince is a classic. The characters are so unique and their personalities blend so well; I got really attached to all of them throughout watching the show.
Lee Gak (and his colorful power rangers) and Bak Ha together are a riot, and their 'Joseon Power Rangers' are funny to watch as they struggle to adapt to a new world. Rooftop Prince is a fusion of several different elements of a well-made show: it has plot, humor, and likeable characters.
This show is one of a kind and is one of the most memorable k-dramas I have ever watched, and it is definitely a great show for people who have never watched k-drama before.
Oh My Ghostess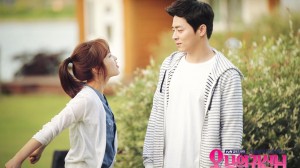 Na Bong Sun is a timid assistant chef (who can also see ghosts) at Sun Restaurant.  Her life takes a dramatic turn for the worse when the ghosts she sees start to harass her. One day, she is possessed by a virgin ghost, Soon Ae, whose only goal is to lose her virginity so she can move on into the afterlife.
Soon Ae, the complete opposite of the shy Bong Sun, changes her into a confident and dynamic woman, who catches the eye of Bong's boss, Sun-woo. When Bong Sun and Soon Ae clash, they realize that they can reach a compromise and help each other with Bong's love life and Soon Ae's death.
MC: The relationships in this drama are so good; watchers also pick up insight into side characters (cough, coffee ghost?). But you get really attached to the main pair; seriously, they fit so well that you'll be shipping them in no time, guaranteed.
Most people don't like the average cooking drama, but this drama throws in everything that's good into the pot-a great balance of romance, horror, and good food.
Definitely watch this if you're tired of the average romance and are looking for something new to watch!
My Love From The Stars
Do Min Joon is an alien who landed on Earth 400 years ago during the Joseon era (after missing the spaceship back home) and he knows that he will must wait 400 years before he can return to home. While on Earth, he vows never to help humans because he fears the consequences of his powers.
In the modern day, he teaches at a South Korean University, when he meets Cheon Song Yi, a sassy actress with a knack for saying everything that's on her mind. After Song Yi is blamed for a rival's death, she becomes entangled in a murder and love mystery, in which Do Min Joon has to decide whether to help her and risk missing his trip back home.
MC: My Love From the Stars is such a great romance! Things really get switched up in this drama.
This is not the classic dominant male and submissive female plot; instead, Song Yi is the one doing the bossing around. She has to have everything her way, which may be sort of annoying in the beginning, but it really spices up the relationship as the drama unfolds.
This show is a bizarre combination of heartwarming moments between characters, countless laughs, and a great romance! AddDo Min Joon's alien powers into the mix and you have the recipe for countless hours before the screen!
TOP 5 Su Min
I Hear Your Voice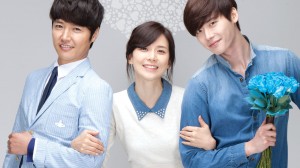 What would you do if you could read other people's minds? Park Soo Ha, your "average" high schooler, has that special ability; he can read minds! When he was a young boy, his father was murdered by Min Joon Gook, but this case was able to be settled thanks to the witness testimony given by a girl named Jang Hye Sung. The story then flashes forward to the time where the main plot takes place, where Soo Ha is a 19-year old high schooler.
Soo Ha (shockingly) discovers that Hye Sung, who had also been Soo Ha's first crush, has become the most sassiest, boldest, and materialistic public defender known in the district. Soo Ha aids Hye Sung in tackling the toughest law cases, but what will happen to them when Min Joon Gook, the murderer of Soo Ha's father and the person who threatened to kill Hye Sung for giving the testimony, is released from prison?
SK: This drama is a must-watch, especially if you love mysteries and law-related shows. Literally, I was inspired to become a lawyer for a whole year after watching this drama.
The cases are all intriguing and you'll be sucked into the intense debates that go on in the courtroom. There will be several shocking moments and moments when you'll feel like crying, but you'll have moments when you'll squeal and bend over in laughter; it's pretty much an emotional roller coaster.
And not failing to mention, as Hye Sung and Soo Ha solve case after case, you will be waiting desperately for the moment the ship will sail (this is guaranteed; I love the two characters so much). I would recommend this for everyone, especially for someone who is just starting to delve into the world of Korean dramas!
Rooftop Prince (My Take)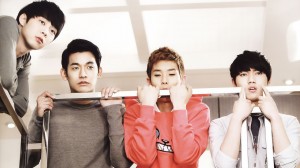 SK: This drama will give you a short taste of the world of historical dramas while focusing more on the modern world. There are unexpected twists and turns along the way, and certain plot twists are sure to make you have a "mind-blown" moment.
The bromance between between Lee Gak and his men is sure to make you laugh and wishing that you could have that kind of bromance (or sis-mance?). And of course, the romance doesn't disappoint! You'll find yourself wishing that you could marry the Joseon king. However, I would say that the best part about this drama is the intricate plot.
The Moon Embracing the Sun
This is a classic tale of love: King Lee Hwon and a female shaman named Wol. In the past when he was still a prince, Lee Hwon fell in love with a girl named Yeon Woo, a girl filled with wisdom, kindness, and every good quality you could think of. He had planned on marrying her, but she suddenly died from a mysterious illness and Lee Hwon was forced to marry another girl, Kim Bo Kyung.
Even in the present, King Lee Hwon continues to look for clues that could lead him to find the actual cause of Yeon Woo's death while struggling against the web of politics that surrounds him. In the midst of all this, he slowly falls in love with Wol against his will.
SK: The Moon Embracing the Sun is a great drama for those who want to start watching a historical drama for the first time. I think some of my favorite episodes were the first few episodes where the child actors portrayed the childhood versions of Lee Hwon and Yeon Woo. The child actors did a great job of showing how the two characters met and fell in love.
I loved how the story had a political side to it as well as a tragic and romantic element (what do I mean by tragic? You'll have to watch to find out!).
Be prepared to feel happy, sad, angsty, and frustrated (rinse and repeat) as you get engrossed in this intense drama!
Dream High
The Kirin High School of Art in Korea is the dream school for all theater kids. This high school is a magnet school that attracts students who are interested in the performing arts who must go through a demanding audition before being accepted. Ko Hye Mi is a rising star in the world of performing arts; she is a young prodigy with a wonderful voice, and she knows it.
However, when she auditions for the Kirin High School, she is rejected due to her haughty, egotistical personality. But she makes a deal with the director of the school, and she is able to be admitted under the condition that she gets a genius student named Song Sam Dong to apply to the Kirin High School. The two join other talented students: Jin Gook, Jason, Baecky, and Pilsuk, and enter the sturggle to end up at the top of the performing world.
SK: If you enjoy the world of k-pop, this drama is a must for you!
I loved the incorporation of music and dance into a Korean drama, which gave the story of a High School Musical-esque feel. I found myself humming along to some of the songs after getting them stuck in my head.
The main focus of this story is on friendship and comedy, although there is a considerable amount of romance. There were many funny scenes to make me laugh, and the character development was incredible. The main character starts off as a snob with a high-horse attitude, but by the end you'll fall in love with her character.
Reply Series: (1997)
This is a nostalgic, coming-of-age Korean drama set around the year 1997. It tells the story of a group of high schoolers as they deal with growing up and managing their social lives (and romantic feelings for each other!). Follow the humorous journey of characters who try to balance their love for the rising world of k-pop and balance the academic work of high school (sounds familiar to me).
This story is set mostly in the past, but flashes forward to the present to when the high schoolers have grown up. The audience is told that there are two people within the friend group that will be getting married, and keeps viewers on their toes as they hunt for clues as to who the couple may be.
SK: This drama contains a lot of references from the past generation of Korea, so if you're curious to see what that was like, this is a great drama to watch. I didn't understand all of the references they were making to old songs and games, but this is only because I wasn't living back then.
This is definitely a romantic comedy, and I loved seeing all of the characters' relationships play out in the end (let the ships sail!).
Warning: You may experience heart pain and heartbreak when you realize that these characters aren't real and will never be your friends.
Other Recommendations:
Boys Over Flowers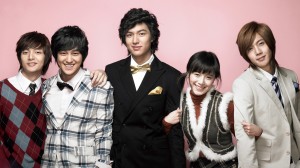 After Geum Jan Di saves a student from bullying, she is transferred to the exclusive Shinhwa high school. Shortly after arriving there, she realizes how shallow and pretentious her classmates are, especially the elite group F4, the leaders of the school that nobody dares to stand up to.
When Jan Di angers Jun Pyo, F4's leader, she triggers several events in which she gets bullied while they try to break her spirit. But when Jun Pyo falls for her feisty personality, suddenly many obstacles block their relationship. Can they stay strong and keep their love alive?
MC: Boys Over Flowers, comfort food, and a good chair are your starter pack for this kdrama. It sets the standard for so many other kdramas, namely Heirs (if you liked that one you should watch this too).
This was one of my first kdrama and is one of the most unique kdrama out there. You might see some kdrama cliches, but this show is the one that started the trend!
You see the characters go from hating each other to becoming one of the most close-knit groups who stay close even when they get in fights with each other. The relationships are very well developed and you get sucked into the show! 
Master's Sun  
Tae Gong Sil has been able to see ghosts from a young age. They haunt her, making her unable to live a normal life when she has to worry about the spirits around her. After another incident with a ghost, Gong Sil finds herself stranded, alone, and penniless. Naturally, she tries to hitch a ride when our male lead, Joong Won's car passes her.
Suddenly, lightning strikes and Gong Sil takes that chance to hop in the car. Later, she realizes that when she touches him, the ghosts miraculously disappear. Master's Sun follows Tae Gong Sil and her journey in confronting her fear, and her blossoming relationship with Joong Won.
MC: This is one of the most heartwarming dramas with the best characters, not to mention amazing actors (did I say So Ji Sub and Gong Hyo Jin??) with even more amazing relationships.
This drama seems really far fetched, as the main lead sees ghosts, and when she touches a man, the ghosts go away, but the plot actually works in the couple's favor. It's so great to watch them become your ship, and not to mention a second favorite couple (which actually works out super well) and seeing them go through the classic ups and downs of a relationship.
The first few episodes will definitely pull you in and keep you interested until the end! This is one of the best and most unique kdramas I've watched and I wish I could watch it again!
D-Day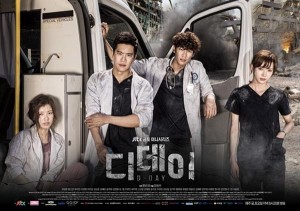 If a natural disaster suddenly struck your city, what would you do? On D-Day, South Korea is hit by an earthquake, and the city of Seoul is thrown into a state of panic. In the midst of all this, medical personnel in hospitals try to deal with this situation and struggle to save all the patients they can. However, resources are depleting quickly, all the electricity is gone, communication is limited, and most of the roads are so damaged that it is impossible to get anywhere by car.
Lee Hae Sung is a passionate and altruistic trauma surgeon who works under the hospital owned by a calculative man named Park Gun. When disaster strikes, Park Gun only demands treatment of the rich and important political figures, but Lee Hae Sung rebels against the hospital director. How will Lee Hae Sung save the injured while suffering under the eyes of Park Gun?
SK: LISTEN UP, ALL MED KIDS! This is a great drama to watch if you're interested in emergency surgeries and being an EMT/paramedic. Sure, this show dramatizes surgeries and may be somewhat inaccurate, but then again, what show doesn't?
This is one of my favorite medical dramas because of the way the storyline was based more on the action rather than the romance (there's still romance, but not as much as most dramas). This drama has great plot twists and an intense build-up to the climax. The close bond between the doctors is sure to make you envious, and the characters were all thoroughly developed.
The actors were all very skilled, so much so that you'll want to either punch them in the face or become their best friend. I highly recommend you watch this, but be prepared for some emotional ups and downs!
The Heirs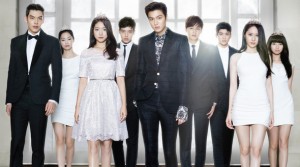 Cha Eun Sang lives a life as a poor high school student. Her mute mother works as a housekeeper, and Eun Sang works several part-time jobs to afford living expenses as well as her sister's college tuition (or so they think). Eun Sang decides to visit her sister in the United States, but is shocked when she discovers that her sister had secretly dropped out of college to marry an abusive boyfriend.
Due to some misunderstandings, Eun Sang is forced to stay in the U.S. for a short time, and she meets a boy named Kim Tan, who is the heir of a large conglomeration. When she returns to Korea, she enrolls in a rich private school as a scholarship student and meets Kim Tan again. However, trouble arises as Eun Sang gets involved in the personal relationships of the other heirs attending the school.
SK: This is quite a cheesy drama, but if you can handle the cheesiness, it's a nice one to binge on. If you enjoyed Boys Over Flowers, you'll probably like this one too. I can guarantee that there will be moments where you want to slap some characters in their faces, but there will also be moments where you wonder, "Why can't I have a guy like that in my life?".
Pinocchio
Imagine having a syndrome where you hiccup whenever you tell a lie. In-Ha has this fictional condition, which is referred to as the Pinocchio Syndrome. Her dream is to become a reporter like her mother, but she fails most of her interviews because of her syndrome. However, her friend Dal-Po encourages her not to give up, and he decides to become a reporter with her.
The two end up at rival companies and they discover how dishonest the news companies can be, especially the reports given by In-ha's mother. As the show goes on, the two young reporters fit together the puzzle pieces of Dal-Po's past (which I won't spoil!) and decide to battle against the dishonesty and corruption of the news stations.
SK: I thought this drama had a very interesting concept of creating the Pinocchio Syndrome. It added a fresh element that had not previously been present in Korean dramas before.
This drama is perfect for all those honest, truth-seekers out there as well as those who want to become news reporters (this drama will inspire you). I also loved the mystery element behind the plot as the characters struggled to uncover the truth behind Dal Po's past.
If you enjoyed I Hear Your Voice, I would recommend this to you.