Who Knew Thanksgiving Could Be So Exhausting?
Sophia Wolmer
December 9, 2015
Hang on for a minute...we're trying to find some more stories you might like.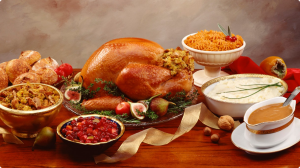 After your family has gathered around the table and indulged in a feast of turkey, mashed potatoes, and stuffing, do you ever feel tired? Your stomach is full and you feel fatigued, but why does this occur?  The common misconception, is that this effect is a result of the turkey included in our Thanksgiving meals.  Recently however, this myth has gone bust.
This misapprehension has stemmed from the fact that turkey contains tryptophan, which forms the basis of brain chemicals that make people tired. In fact, tryptophan is an element of the chemical serotonin.  This chemical is converted in a person's brain to melatonin, a hormone which is associated with sleep.  Nonetheless, turkey is not anymore sleep inducing than any other type of poultry.  In fact, almost all types of poultry as well as other various foods contain similar amounts of tryptophan.  So the question remains; what makes people sleepy after their feast?
The truth is that drowsiness is induced by the various and sundry foods that have been ingested during your meal.  The abnormal amounts of carbohydrates (and for adults alcohol) is the true reason for "the Thanksgiving-meal snooze," scientists say.  It turns out, that the traditional thanksgiving cuisine contains large amounts of tryptophan.  According to experts, consuming vast amounts of carbs triggers the release of insulin. Insulin's job is to remove amino acids from the blood, however, it is incapable of doing so with tryptophan.  This allows this hormone to enter the brain, form serotonin, release melatonin, and as a result, induce the post feast fatigue.
 Another interesting fact about the hormone tryptophan is that is causes vivid dreams when ingested on an empty stomach.  This is why tryptophan was commonly used as a sleep aid in the 1980's.
Just remember, turkey is not the only reason why you need to take a nap after indulging in a delicious thanksgiving dinner!  And if you are wondering why you had a happy but sleepy thanksgiving , don't blame it all on the tryptophan, put more of the blame on those massive amounts of mashed potatoes ingested.